In recent years, coffee cocktails have been growing in popularity, and we've compiled a collection of coffee-centric cocktail recipes below to help you celebrate National Coffee Day, which happens this Tuesday, September 29.
If you're looking to dive deeper into the catalysts behind the intersection between coffee and cocktails, be sure to read our Behind the Bar column published this past spring—maybe even with a coffee cocktail or two in hand!
Galliano Hot Shot
Ingredients: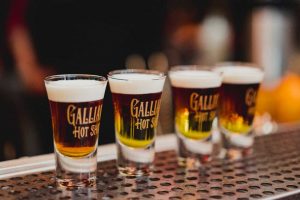 15ML of Galliano L' Autentico
15ML of Hot Espresso
15ML of Cream
Directions:
Layer ingredients in the given order in a shot glass.
Recipe courtesy of Galliano.
Espresso Martini
Ingredients:
1 ½ oz  Mulholland Vodka
1 oz Mr. Black Coffee Liqueur
1 oz  OM Dark Chocolate Sea Salt Liqueur
Garnish, Dirty Sue Whiskey Cherry
Directions:
Pour all the ingredients into a shaker with ice, shake and pour into. a Martini glass or coup, and garnish with Dirty Sue Whiskey Cherry.
Recipe courtesy of Claire Mallett, Catch One (Los Angeles)
Haitian Coffee Recipe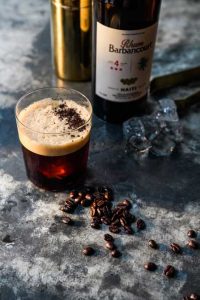 Ingredients:
1 oz Rhum Barbancourt 3 Star, Aged 4 Years
1 oz Coffee liqueur
Coffee
Directions:
Pour Rhum Barbancourt 3 Star, coffee liqueur and sugar into a mug. Fill with coffee and stir gently. Top with a bit of whipped cream or add sugar if you would like it to be a bit sweeter.
Roe & Co Irish Coffee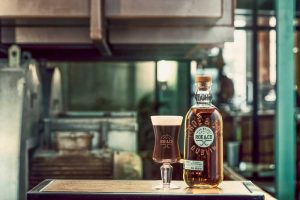 Ingredients:
40 ml Roe & Co Whiskey
60 ml freshly brewed americano coffee
10 ml porter syrup/sugar syrup
15 ml fresh lightly whipped cream
grated nutmeg & 3 coffee beans
Directions:
Heat the Irish coffee glass with boiling water. Once heated empty the water out and add 60ml of freshly brewed hot coffee and in the syrup. Stir lightly. Pour in 40ml of Roe & Co and layer lightly whipped fresh cream on top. Garnish with 3 coffee beans and a light dusting of grated nutmeg.
Recipe courtesy of Roe & Co.
Kraken Black Roast Espresso Martini
Ingredients:

2oz Kraken® Black Roast Coffee Rum
Shot of Espresso
1oz Sweet Vermouth
Directions:
Combine all ingredients in a shaker tin. Add ice and shake for 10 seconds. Double strain the cocktail into a glass. Enjoy!