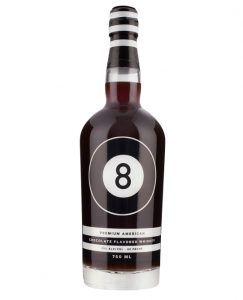 As America's first premium, 100% all-natural, chocolate-infused bourbon whiskey, 8-Ball Premium Chocolate Whiskey continues its exponential growth in both scope of distribution territories, as well as number of agreement acquisitions, making it one of the nation's
fastest-growing whiskey brands. Headquartered in San Diego, the hand-crafted spirit has inked a distribution deal with Southern Glazer Wine & Spirits in Nevada, and is also working with distributors in New York, New Jersey, Illinois, Colorado, Michigan, Tennessee,
Georgia, South Carolina and Florida.
It also has secured a distribution deal with High Country Beverage that will introduce the in-demand, handcrafted spirit to Colorado.
Bottled at the source, 8-Ball Premium Chocolate Whiskey blends the world's most popular flavor – chocolate – with the most notable spirit – whiskey – using only the finest all-natural ingredients sourced from Madagascar, Indonesia and Mexico, combined with premium bourbon, aged in charred American Oak barrels. The result is a smooth and sophisticated flavor with subtle notes of oak, maple and vanilla, yielding both a drinkable whiskey on its own as well as a prime cocktail spirit.
The company was established in May 2017 by Paul Thomas, the founder and visionary behind Julian Hard Cider – the first craft hard cider to hit Southern California, now distributed nationwide. During his many global pursuits, Thomas discerned that the two most illustrious flavors worldwide were chocolate and whiskey. Yet, he had never seen them united in a way that showcased their complementary elements, while honoring each ingredient's distinctions. Inspired by travel, motivated by experience and driven by unmarked roads, Thomas was determined to pioneer a product that funneled his findings into something uncharted, and over the course of the next two years, concocted countless batches of chocolate and whiskey combinations, until 8-Ball Premium Chocolate Whiskey was born.
Due to the brand's rapid surge in demand, the company recently expanded its operations to a 5,000 square-foot urban distillery in Spring Valley, California, in order to accommodate a large automated bottling line, ample warehousing space and loading dock for delivery
trucks transporting the product to distributors.
"8-Ball Premium Chocolate Whiskey is truly unlike anything available on the market today," Thomas said."Through extreme precision and undeniable dedication to providing the most quality product, we've created a spirit that not only honors both chocolate and whiskey
flavors, but elevates the entire drinking experience. We have already seen a high demand for 8-Ball Premium Chocolate Whiskey and are looking forward to receiving continued feedback from our loyal customer base as we continue to grow across the nation."
Enjoyed on the rocks, as a shot or in a craft-cocktail, 8-Ball Premium Chocolate Whiskey brings a splash of something different to your glass. The handcrafted spirit is 66 proof and can be found online, as well as at select locations that can be found on the website's 'FIND' widget, which will be updated with the brand's more recently established locations soon. The price for a 750 ml bottle starts at $29.99.