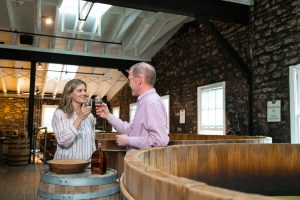 There is a burgeoning market for brown spirits, and whiskey is a big driver of that growth.
According to the Distilled Spirits Council, American whiskey was up 6.6% from $224 million to $3.6 billion in 2018. Irish Whiskey climbed 12% or $108 million to $1 billion, and Canadian Whisky generated $2 billion in revenue in 2018. The Distilled Spirits Council notes that growth is being driven across these categories by high-end premium and super premium products.
We spoke with three brands about their offerings and the current trends they're seeing.
Woodford Reserve
Created 23 years ago, Woodford Reserve is a super-premium bourbon with a distillery located in Versailles, Kentucky.
"[Woodford Reserve] has looked to history for inspiration in its products, but it is ultimately a modern bourbon focused on flavor," says Elizabeth McCall, Assistant Master Distiller at Woodford Reserve. "All of Woodford Reserve's bourbon is created using the same five sources of flavor (water, grain, fermentation, distillation, and maturation), but Woodford Reserve does something special with all five. Our whiskeys are crafted through an artisanal process that creates bourbon rich in complexity with a distinct taste and crisp, clean finish.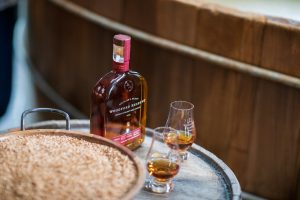 "Our balanced flavor comes from a careful batching process of whiskey distilled both in our iconic copper pot stills and column stills."
According to Woodford Reserve Master Distiller Chris Morris, after Prohibition, the Federal Alcohol Administration Act of August 29, 1935 provided guidelines to four styles of American straight whiskeys, each with a different majority grain: bourbon, rye, wheat, and malt. Woodford Reserve is among the first American whiskey brands to create four unique expressions based on those standards, which are now part of its permanent family of brands—Woodford Bourbon, Woodford Rye, Woodford Malt, and now the newly released Woodford Reserve Kentucky Straight Wheat.
"Our new wheat whiskey is complex and interesting with four different grains comprised of 52% wheat, followed by 20% malt, 20% corn, and 8% rye," says McCall. "Woodford Reserve Kentucky Straight Wheat is what we like to call our fruit-forward expression. I pick up aromatic spices (cinnamon and cedar) and cooked fruit (apple, pear, banana) that mingle with a delicate floral character, sweetened with light vanilla bean and brown sugar notes. The taste delivers spicy applesauce and toasted coconut notes that enliven an earthy mint and cocoa nib mix, rounded out with a lingering apple peel finish."
McCall recommends using the whiskey in any classic cocktail to add
a more fruit-forward flavor.
Blackened American Whiskey
Blackened is the whiskey that resulted from a collaboration between rock band Metallica and late Master Distiller Dave Pickerell, known for his tenure as Master Distiller of Maker's Mark as well as for his unique rye, WhistlePig.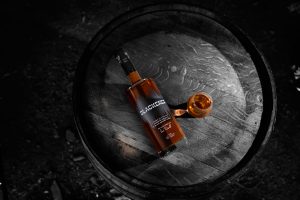 Rob Dietrich recently took over as Master Distiller. "I'm very honored to be able to help continue to carry Dave's legacy forward, and I really feel like it's important to maintain the whiskey the way he created it," he says. "At the same time, I'm also very excited about bringing my skill set to the table and creating my own version of new expressions.
"Dave was very rye and bourbon forward, and I very much come from the single malt background, so I've got some ideas that I'm really excited about pursuing."
Dietrich has a background that includes both music and whiskey. He spent a decade in the music business building tour sets before he landed at Stranahan's Colorado Whiskey, where he worked his way up from night distiller all the way to Master Distiller. Dietrich became known for his innovative Snowflake blend.
Blackened is a blend of bourbons, ryes, and whiskeys from North American distilleries handpicked by Pickerell. The blend is finished in black brandy casks. "It's very well balanced. You get the sweetness of the bourbon and of the corn. I love that little spiciness of the rye," says Dietrich, who notes that the black brandy barrel lends a touch of plum to the blend as well.
What makes Blackened really unique is the proprietary sonic enhancement process that the whiskey undergoes called Black Noise™. For each batch of whiskey, a Metallica band member chooses their own playlist, and then the barrels are pummeled with the music. "It's at a subsonic level so you actually aren't even hearing the music, you're just hearing this noise," says Dietrich.
There's science behind the Black Noise technique that proves it has a significant effect on the whiskey. When Pickerell was putting together the process, he sent two barrels to a lab—a control barrel and a barrel that had been treated with sonic enhancement.
"There was a lot more penetration into the barrel with the sonic enhancement. So when you char the inside of a barrel, you're going to get all these natural sugars and vanillas and tannins in the wood created in that nice band of caramelized sugar," says Dietrich. "There's what we call the red line, right past that band, and there's other flavors in there that normally the whiskey line doesn't get to. But the sonic enhancement was able to push it past that red line and get it into that area so you're pulling out all these unusual notes."
Brenne Whisky
Brenne was founded by former ballerina Allison Parc, who was looking to start a business after retiring from dance. Whisky innovation outside of Scotland was just starting to take off, so she decided to turn her love for the spirit into a business and set out to make something she couldn't find on the shelves—a single malt whisky that showcased the terroir of a specific place. Which place? France.
Parc chose France for a number of reasons: the country is the originator of terroir, it has an established reputation with consumers for making luxury goods, and it's one of the largest consumers of Scotch whisky.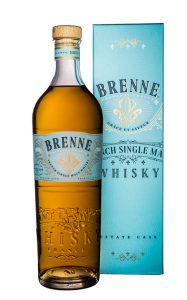 Parc discovered a third-generation farm distillery in Cognac, France that had been producing eau de vie (the spirit that turns into cognac) for centuries. The distillery had been experimenting with creating a whisky to share with its friends that was made from all-French ingredients—organic barley grown on the estate, a cognac strain of yeast, and all-local water from the Charente river—the perfect set-up for a terroir-focused French whisky.
Parc inked a deal with the distillery and started producing Brenne. The whisky is made from two types of heirloom barley grown on the estate. After malting, a proprietary strain of yeast that has been in the distiller's family for generations is added for fermentation, creating a floral mash. This is then twice-distilled in an alembic Charente still (which is typically used for making cognac), creating a fruit-forward new-make spirit that pairs perfectly with the floral notes of the starting mash. The liquid is then aged in new French Limousin oak and Cognac casks—the world's first single malt to be aged in both these barrels.
Parc saw the double-barrel maturation as another opportunity to showcase terroir. "New French oak and cognac barrels feels really true to who we can be as a brand and also very respectful to what the whisky industry has also done," she says.
After maturation, the whisky is proofed with water from the Charente river for bottling. The result is a 100% organic whisky rich in fruit-forward, floral, and creamy notes that's exceptionally smooth. It also provides a true sense of French terroir in its taste and smell.
In 2015, Parc released her first edition of Brenne Ten, a limited-edition, 10-year-old single malt whisky blended from four select barrels. The expression gives Parc another way to showcase terroir by highlighting the vintage of heirloom barley from decade to decade or the adjustments made to barrel management and aging.
Trends

Parc has seen more collaboration across categories of the alcohol industry when it comes to finishing. "I see a ton more experimentation happening with finishing—mostly in the barrel management space. With rum finishing, with sharing whiskey barrels with the beer industry, with the wine industry sharing their barrels with the whiskey industry," she says. "I think it's a really exciting level to take it to."
Dietrich notes that single malt whiskeys are coming back. He also says whiskey blends are on the rise. "In the U.S., historically, blends were looked at with a bad connotation," he says, explaining that they weren't well regulated in the past. "We're working to transcend those bad connotations and to bring a good reputation back to the craft of blending in the United States."
Whiskey experimentation has also extended to cocktails. "Our favorite serve right now for Brenne is a highball. It's refreshing and lower ABV," says Parc. "My hope is that the next trend is culinary and that chefs start to play with more whiskeys."
By Ashley Bray
Photos (top to bottom): Woodford Reserve, Woodford Reserve, Blackened Whiskey, Brenne Whisky.