The sober curious movement has evolved beyond a trend or monthly challenge, as Nielsen reported a 21% increase in non-alcoholic beverage sales in the months following Dry January for the first time in 2020. An increase in quality products played no small part in this growth, with the highly-awarded Lyre's Non-Alcoholic Spirits emerging as a category leader. This month, Lyre's Italian Spritz launches in the United States, joining the line as the 13th variant to capture the taste, aroma, and texture of an essential liquor. Lyre's Italian Spritz is now available for purchase via the shop at Lyres.com for $36 per 700ml bottle and will be available on Amazon beginning February 2021.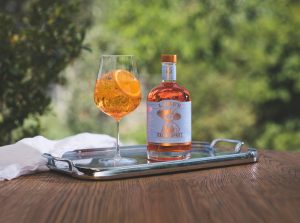 Already a best-seller in Australia and the United Kingdom and awarded 92 points from Beverage Testing Institute, Lyre's Italian Spritz is crafted using a proprietary mix of high-quality fruits, spices, and botanicals that capture the desired bittersweet notes of an Italian bitter aperitif. Classic bright orange in color, Italian Spritz features a nose of rhubarb and bitter orange, lifted with herbal edges and balanced with a soft bitterness. On the palate, an orange sweetness is fused with the complex and astringent flavors of rhubarb, with a dry and refreshing finish. As with all Lyre's products, the Italian Spritz is vegan, dairy free, nut free, egg free, and gluten fee.
The creation of each Lyre's variant requires deconstructing elements of existing spirits, sourcing all-natural essences, extracts, and distillates from 39 different countries of origin, and developing proprietary non-alcoholic formulas, which are constantly being updated to produce refined products. The Lyre's portfolio also includes another chic Italian aperitif, Italian Orange, as well as an American Malt, Absinthe, Dry London Spirit, Orange Sec, Coffee Originale, Amaretti, Aperitif Dry and Rosso, and a Dark, White, and Spiced Cane Spirit, all of which can be used in conjunction to recreate low and no-alcohol versions of favorite cocktails.
"The new year will bring continued discovery for the alcohol-free category with health and wellness being top of mind for consumers," says Mark Livings, cofounder and CEO of Lyre's. "While the category faces challenges in the synthesis of the alcohol burn when creating non-alcoholic spirits, Lyre's has found a way to increase flavor intensity and create an analogue for warmth using natural extracts. Building on the existing popularity of the Spritz globally, we believe that our new variant will truly shine in the American market, offering freedom to enjoy an aperitif replacement alcohol free."
The recommend serve for the Italian Spritz is the Amalfi Spritz, a take on the classic Venetian Spritz, which can be enjoyed in a low or no-ABV format pending the Prosecco used. All Lyre's products can be enjoyed in a highball with tonic and soda water, or when matched with other Lyre's spirits to create other delicious variations on classic cocktails.
Suggested recipes follow:
Lyre's Amalfi Spritz
Ingredients:
2 oz Lyre's Italian Spritz
2 oz alcohol-free (or low ABV) prosecco
1 oz bottled soda water
Directions:
Add all ingredients to a large wine glass, stir, fill with fresh cubed ice. Garnish with an orange slice.
Lyre's Italian Highball
Ingredients:
2 oz Lyre's Italian Spritz
2 oz bottled tonic water
1 oz bottled soda water
Directions:
Build over ice in highball glass and stir. Garnish with an orange slice.
Lyre's Rosa Negroni
Ingredients:
1 oz Lyre's Italian Spritz
1 oz Lyre's Aperitif Rosso (sweet vermouth alternative)
1 oz Lyre's Dry London Spirit (gin alternative)
Directions:
Build over ice in an Old-Fashioned glass. Stir.