The Big Game kicks off on Sunday, February 7 at 6:30 p.m. If your bar is hosting a viewing of the biggest football game of the year, you'll also need some cocktail recipes just as big.
Your game-day menu is sure to score a touchdown with the cocktail recipes below.
Recuerdo Mezcal Lombardi
Ingredients: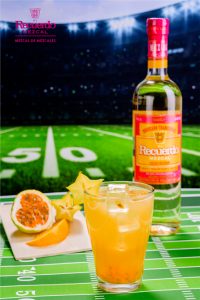 1.5oz Recuerdo Mezcal Joven
1oz passion fruit juice
1.5oz orange juice
.5oz lime juice
.25oz simple syrup
Club soda
Instructions:
Shake all the ingredients except for the club soda over ice, strain and serve into a highball glass with fresh ice, top off with club soda, and garnish with a slice of star fruit.
BACARDÍ Coco Conga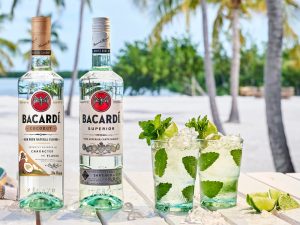 Ingredients:
2 ounces BACARDĺ Superior Rum
1 ounce lime juice
12 mint leaves
2 tsp extra fine sugar
1 ounce Club Soda
Splash of BACARDĺ Coconut Flavored Rum
Directions:
Add the BACARDĺ Superior Rum, lime juice sugar and mint to a highball glass. Press mint with a bar spook to release oil. Add crushed ice, almost to top, and churn. Top with Club Soda and crown with a splash of BACARDĺ Coconut Flavored Rum. Garnish with a mint sprig and lime wedge.
Recipe and photo courtesy of BACARDĺ.
BACARDÍ Spiced & Ginger
Ingredients: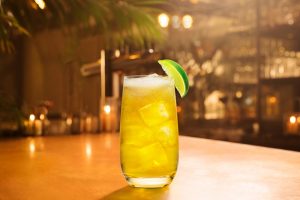 1½ ounces BACARDÍ Spiced Rum
3 ounces Ginger Ale
Lime wedge for garnish
Directions:
Fill a highball glass with cubed ice. Pour in BACARDÍ Spiced rum, followed by ginger ale. Give it all a gentle stir. Garnish with a lime wedge and serve.
Recipe and photo courtesy of BACARDĺ.