A new addition to Cutwater's Bali Hai Tiki Rum series, Cutwater Bali Hai Tiki Holiday Spirit begins with Cutwater's exceptionally smooth Bali Hai Rum with the subtle flavors of pineapple and coconut. These flavors are combined with cream, cinnamon, and a hint of holiday spirit for the perfect libation to celebrate the holiday season. The result is reminiscent of an eggnog, but with a Cutwater tropical twist.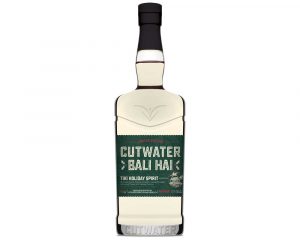 This 20% ABV ready-to-drink spirit can just be poured over ice and then enjoyed.
Cutwater Bali Hai Tiki Holiday Spirit is available for a limited time in 750 ml bottles for $29.99.
Cutwater meticulously distills its award-winning portfolio of spirits including whiskeys, vodka, gin, rums, tequilas, and liqueurs, and incorporates them into its canned lineup. Armed with some heavy experience and boundless determination, the brand invites all who share its passion to join the journey.