Everyone's favorite wine in a can adds a brand-new product to its lineup. Introducing BABE 100 – it's light and refreshing like a seltzer (with only 100 calories and zero grams of sugar), but it's actually wine! You can find BABE 100 in the iconic Rosé style on shelves across the country now.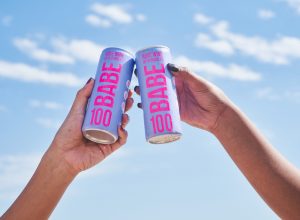 Real talk: we know people love the light refreshment and lower calories that seltzers offer, but some people just prefer the taste of wine. Enter, BABE 100. With the crisp and delicious taste of wine, 100 calories and 6.9% ABV, what's not to love? Each can of BABE 100 is equal to one full glass of wine and is perfect to grab and go for any occasion. It's made for everything from beach days spent with your whole crew to wine nights watching cheesy rom-coms with your best friend. Even better, BABE 100's lavender can is easy on the eyes and sure to pop in those Insta stories.
"Seltzer is one of the fastest-growing categories in alcohol, and over one-third of seltzer drinkers came from wine," says BABE's General Manager Chelsea Phillips. "But why should wine drinkers have to choose between the taste they love and a light and refreshing drinking experience? After our successful soft-launch in San Diego last year, we've decided to expand BABE 100 Rosé nationally."
BABE 100 joins the rest of BABE's canned wine line up of Rosé, Red, and Grigio canned wines. Learn more about BABE 100 Rosé and find it near you here!