San Diego Brewers Guild released details of the 14th-Annual San Diego Beer Week, which will take place from November 4-13. Guild Fest, the official kick-off event for the celebration of the local independent craft beer industry, will be held Saturday, November 5 at Surf Sports Park in Del Mar. The festivities conclude with the Beer Garden at The Lodge at Torrey Pines' Arroyo Terrace on Sunday, November 13. Brewers Guild Executive Director Paige McWey Acers made the announcement.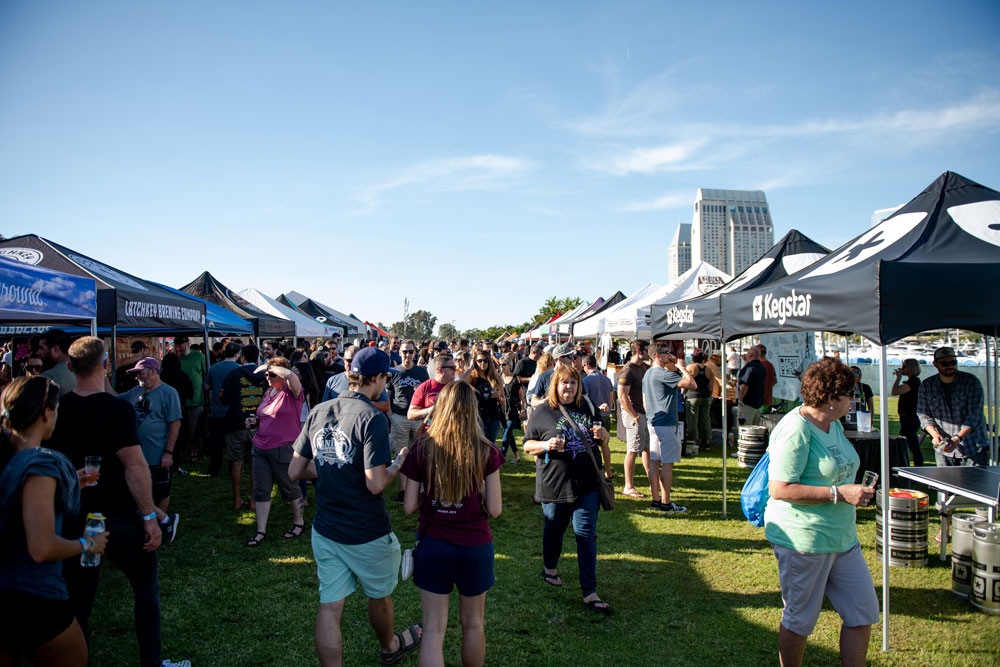 Individual breweries will host events and have beer specials throughout Beer Week, all of which will be posted on the Brewers Guild's calendar within the next two months.
The 2022 Capital of Craft™ IPA collaboration beer will be brewed by eight Guild member breweries and released for the 10-day celebration. Pizza Port Brewing Company, which won five medals (two gold) at the World Beer Cup in May, is hosting the creation of the specialty beer. The other seven participating breweries for the collaboration are BattleMage Brewing, Culver Beer, Fall Brewing, Mcilhenney Brewing, Mujeres Brew House, My Yard Live, and TapRoom Beer.
San Diego County is known as The Capital of Craft™, a moniker that was trademarked in 2015. San Diego has the most craft brewery locations among all counties in the United States with more than 150. The Brewers Guild, which is celebrating its 25th anniversary in 2022, was founded in 1997 with 15 breweries.
"Craft beer really is one of San Diego's great industries along with the military, tourism, tech, and medicine," McWey Acers said. "We are The Capital of Craft for a reason and Beer Week is a fall tradition unlike any other in America's Finest City. We look forward to another incredible 10 days of suds and fun. It will be here before we know it."
Guild Fest tickets are on sale now at www.sdbeer.com/guildfest. General admission tickets (1:00 – 4:00 p.m.) are $55.00 and include unlimited samples from more than 60 breweries. Early admission tickets (12:00 noon – 4:00 p.m.) are $70.00 and include the unlimited samples as well as an added hour of specialty beers for the first hour.  Guild Fest will include food trucks, as well as live music from Totally 80's Band and Paging The 90s. The event is 21+ only and parking is available onsite for $12.00. Designated driver tickets will be sold at the door for $20.00 as well.
The 2022 Guild Fest will be the first to offer a selection of beer alternatives such as wine and kombucha. Guild Fest had been held downtown since its inception in 2005, beginning at the WorldBeat Center in Balboa Park. This will be the first in-person Guild Fest since 2019, when more than 2,000 beer enthusiasts attended.
"We felt it was time for a fresh start for our signature event in a more centrally-located destination," McWey Acers said. "The beauty of Del Mar and the clean ocean air speak for itself. We have so many wonderful Guild members and their loyal followers in North County, so this gives them all an opportunity for a quicker commute to the event. We can't wait to see thousands of beer enthusiasts gather where the hops meet the turf down at old Del Mar."
On Friday, November 4, a virtual kick-off toast will occur at all Guild member breweries at 7:00 p.m. Photos of toasts being posted on all social media platforms should use the hashtags #SDBeer and #SDBW22.
The Beer Garden at The Lodge at Torrey Pines once again will feature 28 breweries paired with 14 chefs. The breweries are selected by lottery and will be announced prior to tickets going on sale September 14. Tickets are $145 and will be available for purchase at https://www.sdbeer.com/beergarden.
San Diego Brewers Guild, which organizes Beer Week, is a nonprofit 501(c)(6) organization that promotes local small businesses and entrepreneurs of craft beer via education, events, and community involvement.