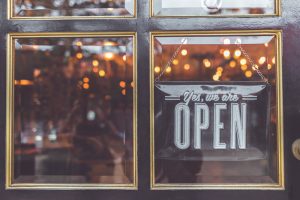 At press time, the U.S. is focusing on how to reopen safely amidst the COVID-19 pandemic—especially within the hospitality industry. Approaches vary across the country as some states have already allowed restaurants and bars to reopen for dine-in service while other states are still only allowing takeout/delivery.
A number of outlets have released guidance for reopening bars and restaurants, including the National Restaurant Association (NRA) and the U.S. Food & Drug Administration (FDA). Both agencies have released guides covering employee health and hygiene, social distancing, cleaning and sanitizing, and pick-up and delivery.
The biggest takeaways are ones you've heard before—encourage frequent hand washing and monitor employees for illness. If employees show signs of illness, tell them to stay home. Below, we've compiled some additional recommendations and advice from the FDA & NRA.
Cleaning & Sanitizing
If your establishment has been closed, the NRA recommends thoroughly cleaning and sanitizing the entire facility before opening. Focus on high-contact areas that would be touched by both employees and guests like doorknobs, but don't overlook seldom-touched surfaces. Avoid all food contact surfaces when using disinfectants.
Make sure the person-in-charge has an up-to-date ServSafe Food Manager certification as the FDA requires every facility to have a person in charge on site during open hours and also directs that the person in charge should have a food manager certification.
Once open, restaurants should clean and sanitize table condiments, digital ordering devices, check presenters, self-service areas, tabletops, and common touch areas between seatings. Discard single-use items and consider using rolled silverware and eliminating table presets. Also consider single-use paper menus and condiments versus reusable ones that will need to be frequently cleaned.
The FDA recommends that bars/restaurants verify that their ware-washing machines are operating at the required wash and rinse temperatures and with the appropriate detergents and sanitizers.
When it comes to shared food areas such as salad bars, buffets, and beverage service stations, the FDA recommends discontinuing operations. However, the NRA says where such stations are permitted by local/state officials, they must have sneeze guards in place. Change, wash and sanitize utensils frequently and place appropriate barriers in open areas.
Employee Health & Hygiene
To keep employees safe, the NRA says to use physical barriers such as partitions or Plexiglas barriers at practical locations such as registers. Where possible, workstations should be staggered so employees avoid standing directly opposite one another or next to each other.
Employers should also consider using face coverings, even in states and jurisdictions where they are not required. Per CDC recommendations, face coverings have been shown to be effective tools to mitigate risk from individuals who show symptoms as well as those who don't, especially in close environments where it's hard for people to maintain a three- to six-foot distance.
Something else to consider is taking employees' temperatures. The CDC has not mandated this practice, but the NRA says that any operator who chooses to do so should engage health officials first and adopt policies aligned with proper procedures.
Social Distancing
The FDA says to find ways to encourage spacing between customers while in line for service or check out in accordance with state or local requirements.
Within your establishment, conduct an evaluation of your facility to identify and apply operational changes in order to maintain social distancing. According to the NRA, owners should update floor plans for common dining areas and redesign seating arrangements to ensure at least six feet of separation between table setups. Be sure to limit party size at tables to no more than the established "maximums approved" as recommended by CDC or approved by local and state government. Consider a reservations-only business model or call-ahead seating to better space diners.
If still allowing walk-ins, the NRA says not to allow guests to congregate in waiting areas or bar areas. Ensure guests stay separate with floor markings, outdoor distancing, waiting in cars, etc. Consider an exit from the facility separate from the entrance and determine ingress/egress to and from restrooms.
Technology can also help owners maintain social distancing, and the NRA says owners should consider contactless payment systems, automated ordering systems, mobile ordering apps, website updates, and simple texts messages.
Takeout/Delivery
The FDA says when offering delivery/takeout, ensure hot foods hot and cold foods are stored in appropriate transport vessels. Ensure that any wrapping and packaging used for food transport is done so that contamination of the food is prevented. Also, routinely clean and sanitize coolers and insulated bags used to deliver foods.
In addition, the FDA says to establish designated pick-up zones for customers to help maintain social distancing. Offer "no touch" deliveries (such as placing orders in the trunk of the customer's vehicle) and send text alerts or call when deliveries have arrived.