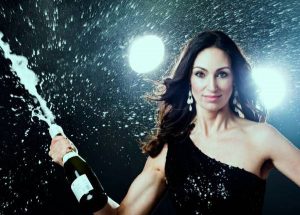 We recently reached out to well-known hospitality industry figure Mia Mastroianni to get her take on the effects of COVID-19.
Mia has over 15 years of experience in the service industry from Boston to Miami, and she became one of the founding bartenders of Soho House West Hollywood – the private members-only club where she remained a well-respected and often requested mixologist for the who's who of Hollywood until 2016. She has also opened Soho House locations in Miami Beach, FL and in Toronto, Canada. Her expertise led her to be cast as an expert mixologist on highly rated TV show Bar Rescue. Mia stays current with industry and consumer trends by attending and speaking at various seminars and conferences, and by traveling both locally and internationally to various distilleries. Mia's also been a bar consultant on various feature films and regularly consults on new bar programs.
See our Q&A with Mia below where she discusses the future of the bar industry, how she's staying busy during quarantine, and provides a cocktail recipe that's easy to execute at home.
Bar Business Magazine (BBM): Do you have any advice or words of encouragement for bar owners/bartenders/bar staff currently out of work or struggling to keep their businesses afloat?
Mia Mastroianni (MM): These are certainly unprecedented times for the hospitality industry. F&B is struggling in ways we have never experienced before. With mandated closures, so many of us are left without jobs, which have suddenly been replaced with Stay at Home orders and the anxiety of questioning when or IF businesses can reopen safely. Worry and concern are warranted, however, now is the time we should be focusing on ways to adjust business procedures moving forward, implementing strict sanitation policies, and streamlining inventory and steps of service for the safety of our guests for when we ARE allowed to reopen.
There is no right or wrong way to deal with the rollercoaster of emotions that are hitting hard these days, however, we need to be prepared for big changes ahead. Physical distancing is inevitably going to be part of the "new normal" for the foreseeable future, and all businesses will have to take that into account.
I do not claim to have the answers, but in terms of encouragement, it helps to know that we are all in this together, and we will find a way to emerge and return to the industry that was designed to bring people together. We will learn from one another and slowly shift hospitality in a new direction.
BBM: What do you think the bar industry will look like in the wake of the COVID-19 pandemic? How will it change?
MM: This is a very difficult question, mainly because I can't realistically envision returning to work "business as usual." The responsibility of keeping our guests and employees safe will have to be the number-one priority.
Seating charts will need to be adjusted so that social distancing can be adhered to. Sanitation will be crucial—with constant hand-washing (even more than usual for a bartender) and scheduled wipe-downs of surfaces. Executing a cocktail that we wouldn't have ever given a second thought to making could now become a painstaking task of mindfulness—being conscious of all the bottles that have been touched, the cash being exchanged (which we all know is filthy), and becoming particularly aware of the cleanliness and washing/handling of all glassware. These are just a few of the concerns off the top of my head. We need to be ready to pivot our businesses because change is definitely on the horizon.
3. How are you keeping yourself entertained during quarantine? Any good TV show/book/movie recommendations?
MM: "Wow, that really depends on any given day! While I'm attempting to stay positive and productive, there truly are some days where the weight of the pandemic, being isolated, screen fatigue, and loneliness can keep me in a solid loop from the bed to the couch. Yet there are no rules during quarantine—you can have ice cream for breakfast and pancakes for dinner! On a good day, I will put on a mask and go for a walk around the neighborhood, noticing the flowers and butterflies that have managed to thrive since our air quality has improved and there are less cars on the road. I have several adult coloring books, some Legos, and a Lite Brite for when I'm feeling the need for mindless crafts. My juicer has become my favorite appliance, and along with everyone else, it seems I am spending a lot more time in the kitchen preparing meals—although I may be the only person I know who hasn't taken up a bread-making hobby! It's entirely possible that I have watched everything on TV. All of it. Some good, some very, very bad—it all depends on the day I'm having. No judgement. We all need to do what feels right for ourselves while staying safe at home.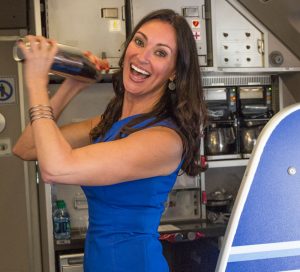 BBM: Can you share a great cocktail recipe to make at home?
MM: Simplicity is key—at least at my home bar these days. While grocery deliveries can be infrequent, I've had to rely on what I already have. A current go-to is the classic Lion's Tail:
Lion's Tail
4 dashes Angostura Bitters
.5 oz Fresh Lime Juice
.5 oz Simple Syrup
.5 oz Allspice Dram (available online and at most liquor stores)
2 oz Bourbon
Combine all ingredients into a mixing glass. Add ice and shake vigorously. Strain into a coupe or martini glass. Garnish with an expressed orange peel.
I predict that managing inventory and production costs are going to make or break some businesses that are allowed to reopen, so I think we may see a temporary shift towards simple cocktails that don't sacrifice on flavor, yet require fewer ingredients. I could be wrong, but I look forward to a day where we can all return to the bar and share a meal and a cocktail with good friends.