Projected by the IWSR to overtake wine as the second largest alcohol category in the United States, the ready-to-drink (RTD) sector has seen rapid growth in response to consumer demand for convenience and quality ingredients. Leading independent non-alcoholic spirit producer Lyre's builds upon its trailblazer status in the beverage category with the launch of two new RTD cans: Lyre's American Malt and Cola and Lyre's Dark 'n Spicy (SRP: $12.99 per four-pack, $44.99 per 12-pack). Starting this month, both RTDs are available at select retailers and for nationwide shipping via Lyres.com and Amazon.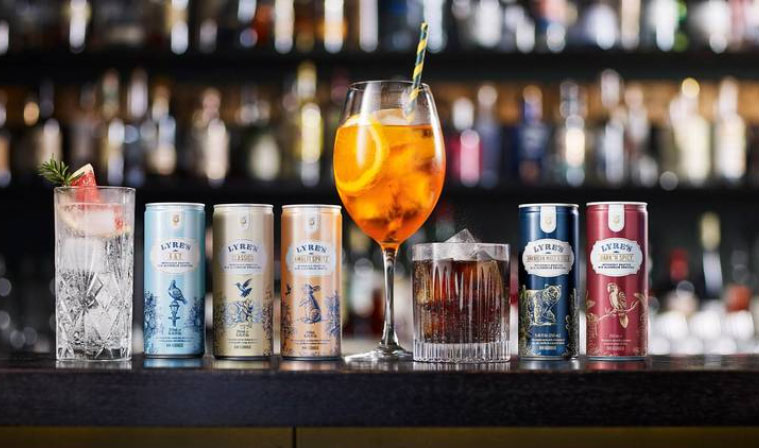 As its name suggests, Lyre's American Malt and Cola is a non-alcoholic take on bourbon and cola, recreating the happy hour staple with caramel, toasted nut, spice, and rye flavors. Meanwhile, Lyre's' spin on the famed Bermuda highball pairs Lyre's Spiced Cane and Dark Cane Spirits with ginger and lime zest, with notes of spiced dark fruits, ginger, citrus, and toffee. The Lyre's RTD collection can be served over ice in a highball glass for a more elevated experience or enjoyed straight from the can.
"Since Lyre's launched in the United States in 2019, the beverage industry has seen a massive shift towards convenience, manifesting in a constant stream of quality ready-to-drink products," says Mark Livings, cofounder and CEO of Lyre's. "Lyre's has always touted a comprehensive line of beverages oriented towards mindful drinkers. For that reason, it was absolutely necessary for us to convert our popular spirit-alternative recipes to a canned format to keep our existing customer base and reach new audiences."
Lyre's American Malt and Cola and Dark 'n Spicy join the RTD collection that includes a Lyre's G&T, made with the brand's Dry London Spirit; Amalfi Spritz, a faithful interpretation of the Lyre's Venetian Spritz; and Classico, a bubbly cocktail reminiscent of prosecco. Both the Amalfi Spritz and G&T cans received Gold Medals at the 2021 San Francisco World Spirits Competition (SFWSC), with Amalfi Spritz also recognized with a Gold Medal within the No & Low category at the 2021 International Spirits Challenge. The wider Lyre's portfolio, which includes 13 bottled variants that capture the essences of classic spirits, remains the most-awarded non-alcoholic line, receiving praise from the Beverage Testing Institute, SommCon's Concours d'Spirits, the SFWSC, and the ISC.
"Since introducing the Lyre's RTD collection, the range has sold out twice globally, with fans frequently requesting that additional cocktails be added," continues Livings. "With their almost impossibly accurate flavors, we anticipate that our American Malt and Cola and Dark 'n Spicy will enjoy the same success and stand out in an increasingly crowded space."
Lyre's is now available in 50 countries and on menus at opinion leading restaurants and bars around the world such as Eleven Madison Park in New York, The Tippling Club in Singapore, The Black Pearl in Fitzroy, and select Soho House locations.