Jordan Salcito, founder and CEO of the innovative beverage company, Drink RAMONA, is excited to announce the forthcoming launch of Drink RAMONA's newest flavor, Amarino,
a certified organic, 3E Certified Sustainable spritz inspired by the classic amaros of Italy. Named for the way that it tastes — Amaro means "bitter" in Italian and "ino" as a suffix means "little" — the bright, effervescent beverage is a proprietary recipe of grapes, citrus and herbs. With this launch, Drink RAMONA pays homage to the Italian spritz that inspired the company, minus the sugar and carcinogens.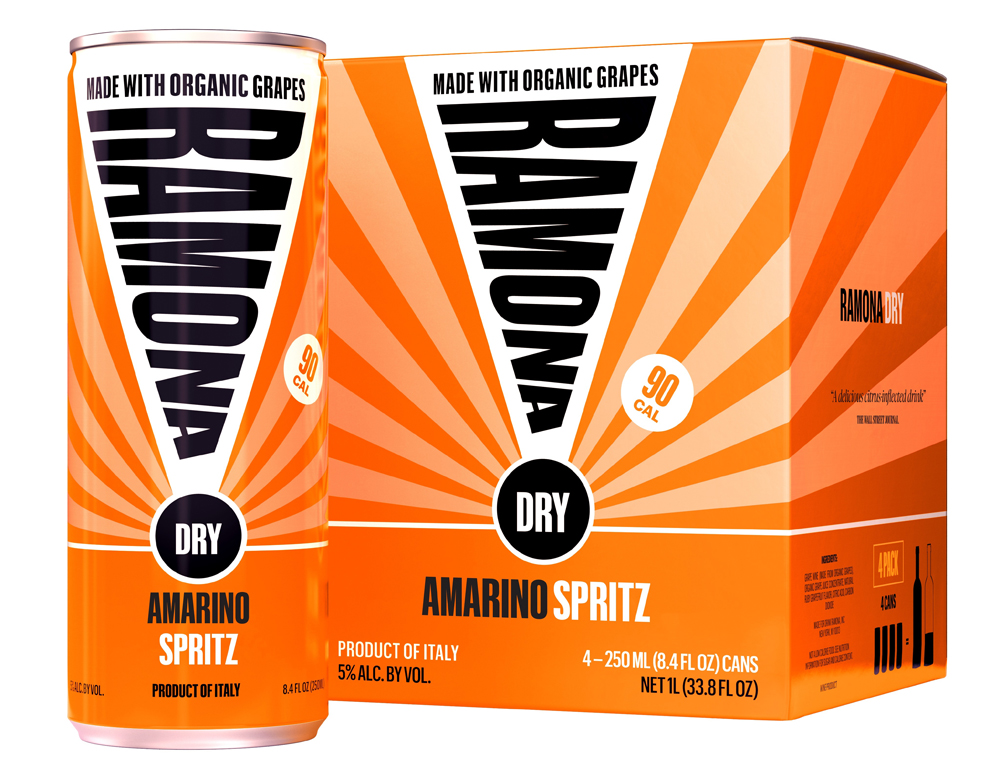 Unlike other popular aperitivos, Amarino is free of carcinogenic artificial colors, high sugar content (up to 279 grams per liter) and harmful byproducts such as coal tar — all of which brands are not required to disclose on packaging.
The base wine is made from organic grapes harvested from Italy's vineyards (in both Sicily and the Veneto) and bitter oranges grown in sun-drenched groves. Amarino is dry, low-alcohol at 5% ABV and low-calorie at 90 calories per can and launches nationwide on November 1, 2021.
The Amarino Spritz is vibrant orange, celebrating the bright colors popularized during a foundational moment for spritzes, the Italian Futurist cocktail movement. RAMONA's new spritz reinterprets Italy's carefree drinking culture and is made from ethically sourced ingredients.
RAMONA's blue chip credentials offer several key differentiators in the category:
Salcito, who oversaw the beverage programs at David Chang's US Momofuku restaurants for years, worked as a sommelier at Eleven Madison Park and passed the famously difficult Master Sommelier blind tasting exam on her first try, iterated the recipes among a trusted group of sommeliers, mixologists and winemaker friends.
The line-up has received numerous accolades including recognition from the James Beard Foundation as well as multiple Double-Gold medals at the prestigious San Francisco International Wine Competition.
The Amarino Spritz represents the brand's first launch since becoming a Certified 3E Sustainable Winery via the Italian organization Equalitas, which certifies that the company is sustainable environmentally, ethically and economically. (Everyone in the supply chain is paid a fair wage, one of the many reasons the company will never release a malt-based hard seltzer, a beverage beholden to the notoriously exploitative sugar industry)
All products in Drink RAMONA's portfolio have been Certified Organic through Suolo e Salute since 2017.
The portfolio of spritzes is produced without harmful additives and carcinogens, such as artificial colors, flavors or the neurotoxin preservative Velcorin, which does not have to be disclosed on consumer packaging.
Drink RAMONA, Inc. is a certified Women-Owned Business through WBENC.
Salcito worked on the recipe over the span of two years and wanted the flavor profile to reflect her love of Italian spritz culture as well as Italy's commitment to high agricultural standards and 4,000-year history of organic viticulture. In a world where beverage companies are continually incentivized to prioritize the bottom line, Salcito took inspiration from the country's natural and forward-thinking agricultural practices (the country led Europe in banning pre-harvest glyphosate in 2016).
"I reeled when I learned my favorite aperitivos were made from a 'secret recipe' of artificial colors and flavors, sugar, and other known carcinogens. As a business owner and a parent, I feel accountable to future generations to make decisions that impact our bodies and
our world for the better. Consumers deserve beverages made with sustainable ingredients and an equitable supply chain. In my experience, these also tend to be the most delicious," explains RAMONA's Founder and CEO, sommelier Jordan Salcito. "A lot of companies
have mastered the positive-sounding but meaningless buzzwords. We believe in integrity and transparency."
RAMONA has positioned itself not only as the first-to-market leader of what is now a burgeoning ready-to-drink (RTD) category worth a projected $782.8 million for 2021. The New York-based company continues to lead at the premium level. RAMONA's investment in doubling down on their value system is working — the company's sales in Q2 were up over 800% and, by June, the brand had sold out of three of their five flavors.
This release marks Salcito's sixth flavor in the portfolio since founding the company in 2016. Amarino falls in line with current trends in the RTD canned cocktail space — ​​the fastest growing beverage alcohol category in the U.S. market, per IWSR.
Further, RTD cocktails are currently taking up a larger piece of the pie than all spirits in the U.S., and are projected to bypass total wine by the end of 2021.
RAMONA's Amarino spritz is the third in the brand's "Dry" sub-category alongside the Dry Grapefruit Spritz (also 5% abv and 90 calories) and the Dry Sparkling Rosé (12% abv, 125 calories) per 8.4oz can. Amarino will arrive less than one year after the brand's direct-to-consumer debut and just three months following the launch of it's subscription service, The Spritz Society.
The Amarino spritz retails at MSRP $20/4-pack (or $5/can).