National Lemonade Day is Friday, August 20. We've rounded up some refreshing lemonade cocktail recipes for you to add to your bar menu to celebrate this weekend.
The Calmer Palmer
Ingredients: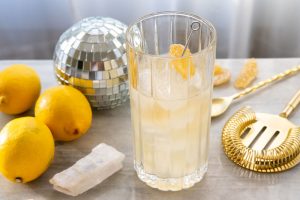 1.5 oz Hanson of Sonoma Organic Meyer Lemon Vodka
1oz Recess Peach Ginger
1 oz fresh-squeezed organic Meyer lemon juice
.5 oz organic agave
Garnish with candied ginger
Directions:
Combine Hanson of Sonoma Organic Meyer Lemon vodka, lemon juice, and agave in a cocktail shaker. Add ice and shake for 10 seconds. Pour into a Collins glass with fresh ice. Top with Recess Peach Ginger and garnish with candied ginger.
Jasmine Honey Lemonade
Ingredients: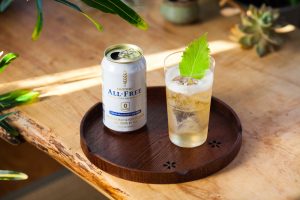 2 ounces Jasmine Tea
0.5 ounces Honey Syrup
0.25 ounces lemon juice
Jasmine Tea
5 grams jasmine oolong tea leaves
200 ml water (195 degrees) steeped for 1.5 minutes. Strain and chill.
Honey Syrup
2 parts honey to 1 part water by weight.
Directions:
Combine in a shaker tin and shake to chill and aerate. Pour into a chilled glass of ice. Top with Suntory ALL-FREE and garnish with fresh herbs.
Recipe by Julia Momose (Kumiko, Chicago) for Suntory ALL-FREE.
Glenmorangie X Date Night
Ingredients: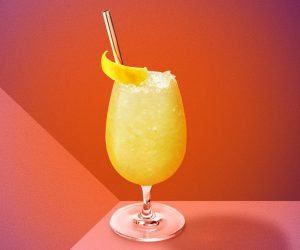 50ml (2oz) X by Glenmorangie
20ml (2/3oz) Lemon Juice
20ml (2/3oz) Elderflower Cordial
Club Soda or Sparkling Water, to taste
Directions:
Fill highball glass with crushed ice. Add X by Glenmorangie, lemon juice and elderflower cordial. Stir and top with club soda or sparkling water to your taste. Garnish with a lemon twist.
Dam Basil Lemonade
Ingredients: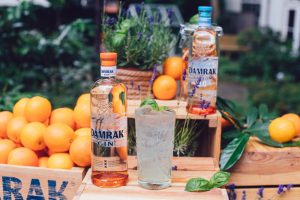 1 oz Damrak Original Gin OR Damrak VirGin 0.0
½ oz Basil syrup
½ oz lemon juice
Top up with lemonade
Directions:
Shake first three ingredients with ice, strain into a Collins glass over ice, top with lemonade and garnish with a sprig of basil.
Recipe by Damrak Gin.
Kabuki Lemonade
Ingredients:
2 oz Fresh Victor Lemon Sour
2 oz Matcha Tea-infused Vodka*
2 sprigs of mint
Directions:
In a mixing glass, muddle the leaves of one healthy sprig of mint (make sure the sprig has at least five good-sized leaves, if the leaves are small, double up). Add the remaining ingredients and fill with ice. Shake hard for 10 seconds and double strain over fresh ice, tall. Garnish with a slapped mint sprig.
Recipe by H. Joseph Ehrmann, Chief Mixology Officer, Fresh Victor Mixers.
Spiced Tequila Mango Lemonade
Ingredients: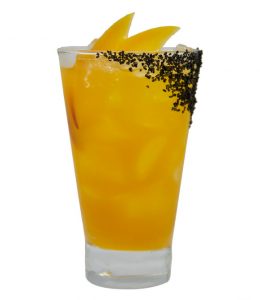 1 ½ oz. Tequila
1 oz. Monin® Mango Purée
1 pump Monin® Ginger Concentrated Flavor
3 oz. Lemonade
Garnish: Black salt, mango slice
Directions:
Chill serving glass. Pour ingredients into mixing glass with 2/3 ice in order listed. Cap, shake, and strain into chilled serving glass. Add garnishes and serve.
Recipe courtesy of Monin.
Tropical Lemonade
Ingredients: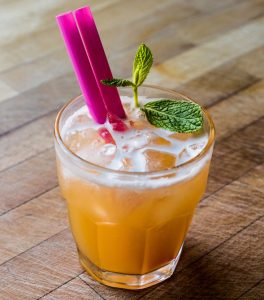 1 oz The Perfect Purée
Mango Passion Fruit blend, thawed
6 oz lemonade
Directions:
Combine all ingredients in a tall glass over ice. Stir to combine and garnish with lime slices.
Recipe by Manny Hinojosa. Photo by The Perfect Purée of Napa Valley.
Chamomile Lemonade
Ingredients: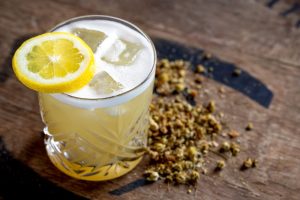 4 oz Fresh Victor Lemon Sour
1.5 oz chamomile-infused vodka*
.75 oz egg white (optional; for added texture)
Garnish: lemon wheel
*infuse each 6oz of vodka with one chamomile tea bag or 1 tsp chamomile tea for 20 minutes to 1 hour (4 bags for a 750ml bottle).
Directions:
Shaker Method
In a cocktail shaker, add all ingredients, fill the shaker with ice, shake well (to chill and dilute) and strain over ice in a 10-12oz glass. Add garnish and serve.
Build Method
In a glass full of ice, add all ingredients, plus 2 ounces of water (for dilution), stir gently, garnish and serve (do not use egg white if not using shaker method)
Recipe by H. Joseph Ehrmann, Chief Mixology officer for Fresh Victor Mixers.
Classic Vodka Lemonade
Ingredients: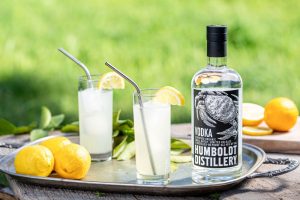 1.5 oz Humboldt Organic Vodka
Lemonade to taste
Directions:
Mix vodka and lemonade in a glass filled with ice. Enjoy!