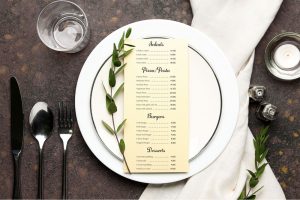 Monadnock Paper Mills , Inc., the oldest continuously operating paper mill in the United States, is pleased to announce its Sustainable Menu of printing papers to meet the quickly changing menu needs of bars, restaurants, and hospitality businesses operating under stringent COVID-19 regulations.
"The entire hospitality industry is facing huge challenges in how to safely operate under a patchwork of changing regulations," says Julie Brannen, Director, Sustainability Solutions, Monadnock. "We are here to help restaurants and bars deliver on their brand promise with premium papers for single-use menus that are sustainably produced, recyclable, and perfect for dine-in, take-out and catering menus."
Made with the environment in mind, all Monadnock's fine text and cover papers are FSC® Certified (FSC C018866), manufactured carbon neutral (VERs) and made with 100% renewable Green-e certified wind-powered electricity (RECs) under a third-party certified ISO 14001 Environmental Management System.
The Sustainable Menu features Monadnock's new Astrolite PC 100 Velvet C2S, notable for its bright white appearance and double-side coating; Astrolite PC 100, which is smooth, bright, and uncoated; and Astrolite PC 100 Digital+, which is 3-star certified for HP Indigo presses.
The Astrolite PC 100 line is readily available in a broad range of sheet sizes and weights for commercial sheetfed and heatset web offset, color laser/dry toner, and HP Indigo presses.
Monadnock Paper Mills (MPM) provides and custom engineers a diverse range of products including technical/specialty papers, and premium printing and packaging papers for leading brands worldwide. The company's ENVIPortfolio® of products features fiber-based solutions that replace plastic for uses such as gift cards and tags. Its technical papers are used in medical and pharmaceutical packaging, construction, interior design, manufacturing and other specialty applications and markets. Working as a true partner with its customers, Monadnock's technical expertise and agility result in products that lead the market in innovation and quality. With a passion for the environment and ingenuity, Monadnock turns ideas into reality.