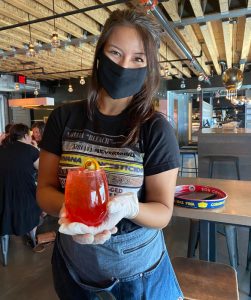 Ingredients:
1 oz. Vegas Baby Vodka
.75 oz. Montenegro Select Aperitif
.25 oz. fresh lemon juice
splash of Prosecco
orange peel
green olive
Directions:
Combine all ingredients except Prosecco in shaker with ice. Shake. Strain into an ice-filled glass. Top with Prosecco. Express orange peel and add green olive for garnish.
Recipe available at Carson Kitchen in Downtown Las Vegas.