This 'beertail' is the perfect complement to a warm summer day. The Hazy Daze features Elysian Brewing's Contact Haze, a 6% ABV Hazy IPA that offers citrus notes alongside flavors and aromas of raspberry, currant, guava, and passion fruit. The recipe calls for additional juices and a splash of rum to round things out, creating the perfect fruity concoction to beat the heat.
Ingredients: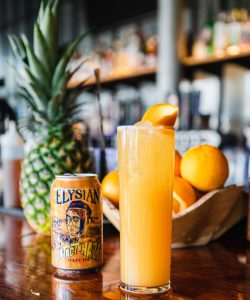 Elysian Brewing's Contact Haze IPA
.5oz Guava juice
.5oz Pineapple juice
.5oz Orange juice
.25oz Lime juice
.5oz Simple Syrup
1.5oz Light Rum
Directions:
Stir and strain over ice. Top off with Contact Haze Hazy IPA. Garnish with an orange twist.