Bourbon, a type of American whiskey that is a barrel-aged distilled liquor made primarily from corn, is celebrated on Monday, June 14.
Make sure your bar has a bourbon cocktail or two to celebrate this brown spirit. We've collected some inspiration for you, below!
BSB Blackberry Smash
Ingredients: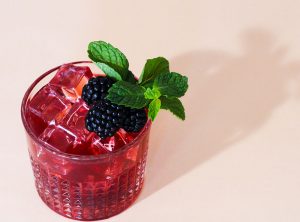 3-4 basil leaves
1/2 lime
1/4 cup frozen blackberries
2 ounces BSB 103
Ice cubes
2 ounces club soda
Directions:
In a cocktail shaker combine basil leaves, lime, blackberries, and BSB 103 bourbon. Muddle to break up the berries, basil, and lime. Add a generous amount of ice, shake to chill and combine. Fill an old fashioned glass ice. Strain cocktail over ice, top off with club soda
Garnish with additional basil, berries, and lime, if desired.
Sandy Cheeks
Ingredients: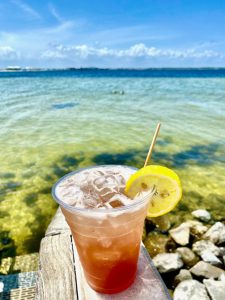 1.5 oz. Old Forester
2-3 oz. Lemonade
0.5 oz. Unsweetened Tea
0.25 oz. Pomegranate syrup
Directions:
Mix all ingredients together, shake and pour over ice with a squeeze of lemon.
Recipe and photo courtesy of Sneaky Tiki Bar in Pensacola, FL.
Harper Julep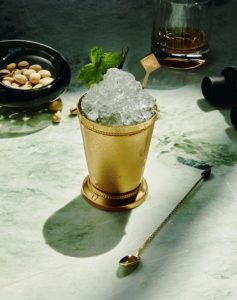 Ingredients:
1.5 fl oz I.W. Harper
8-10 mint leaves
.5 fl oz rosemary syrup
8 rosemary sprigs
1 cup granulated sugar
1 cup water
Glassware: Julep cup, or crushed-ice-filled old-fashioned glass
Garnish: Rosemary sprig, mint sprig
Directions:
Rosemary Syrup: Boil water in a saucepan, add rosemary and sugar, stirring until dissolved. Take off heat, and cool for 30 minutes. Fine-strain into an airtight container (it can last up to a week, refrigerated). Cocktail: Hand-clap mint and add it with all ingredients into serving glass, stir to mix, add crushed ice and stir again, top with more ice.
Pineapple Upside Down Cocktail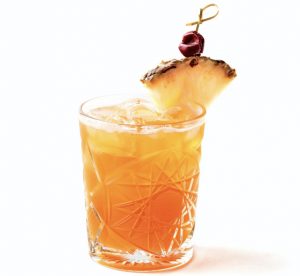 Ingredients:
2 oz BSB – Brown Sugar Bourbon
2 oz Pineapple Juice
2 oz Fresh Squeezed Lemonade
Directions:
In a shaker of ice, combine all ingredients and shake. Strain into a tumbler of new ice. Garnish with fresh pineapple and a cherry.
The Bee Keeper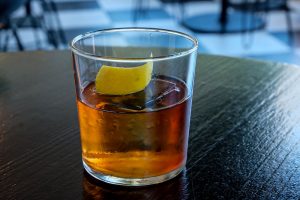 Ingredients:
2 oz. Bourbon
1 dash of Absinthe
.25 oz. honey syrup
2 dashes of Angostura Aromatic Bitters
Directions:
Add all ingredients into a mixing glass, stir 5-6 times and strain into a double rocks glass with a large ice cube. Garnish with a lemon twist.
Recipe and photo courtesy of The Kennedy Bar in Pensacola, FL.