With the arrival of 2022 also comes the beginning of New Year's resolutions, and many of your bar patrons may be partaking in Dry January.
Have a list of recipes on your bar's menu that are mocktails, spirit-free, non-alcoholic, or whatever you'd like to call them for those choosing to abstain from alcohol this January (and beyond).
Mad Pina
Ingredients: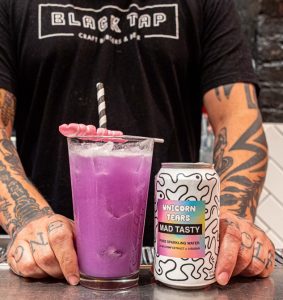 .75oz Pineapple Juice
.5oz Lime Juice
.75oz Coconut Milk
.5oz Pea Flower Syrup
Topped With Can of Mad Tasty Unicorn Tears
Garnish:
Pink Unicorn Stick
Directions:
Combine Pineapple, Lime and Coconut Milk in shaker. Shake and strain over fresh ice into a pint glass. Pour Mad tasty over mix. Top with pea flower syrup and garnish with unicorn stick.
Sparkling Carrot Sour Mocktail
Ingredients: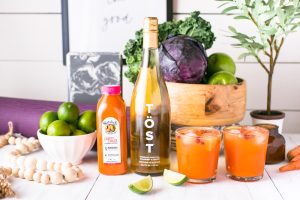 2 oz. Natalie's Carrot Ginger Juice
1 tbsp. Fresh lime juice
1 oz. Pomegranate juice
4 oz. Tost non-alcoholic sparkling beverage
Lime wedges, garnish
Pomegranate arils, garnish
Directions:
Add ice, carrot ginger juice, lime juice and pomegranate juice to a rocks glass. Stir well. Top with non-alcoholic sparkling beverage. Garnish with fresh lime and pomegranate arils.
TÖSTed Cranberry Apple
Ingredients: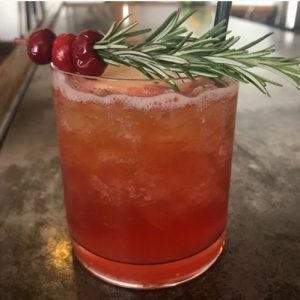 2 oz. apple cider, chilled
1 oz. cranberry juice cocktail, chilled
2 oz. TÖST, chilled
1 oz. fresh-squeezed orange juice, chilled
Crisp, think-sliced apple slices for garnish
Frozen cranberries, optional for garnish
Rosemary spring, for individual garnish
Directions:
Combine chilled juices in shaker; apple cider, cranberry juice, and orange juice. Pour over ice in a Double Old-Fashioned glass (14 oz.). Just before serving, add chilled TÖST and stir, gently. Garnish with crisp apple slice and a rosemary-cranberry skewer with a straw.
Recipe courtesy of TÖST.
Spiritless Ginger Snap Highball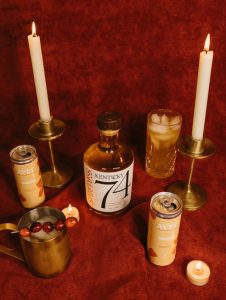 Ingredients:
2 oz St. Germain
¾ oz Maple Syrup
6 oz AVEC Ginger
Directions:
Add ice and ingredients to a highball glass. Stir, sip and enjoy!
Recipe courtesy of AVEC.
Hoptail Mocktail
Ingredients: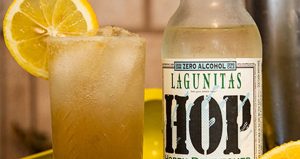 1 bottle Hoppy Refresher
1 oz. Seedlip Garden
½ oz. honey
½ oz. fresh lemon juice
Lemon slice
Directions:
Add Seedlip, honey and lemon juice to a cocktail shaker and shake with vigor. Strain over ice in a highball glass, top with Hoppy Refresher, and garnish with lemon wheel.
Recipe courtesy of Lagunitas.
Non-Alcoholic Gin and Carrot Cocktail
Ingredients: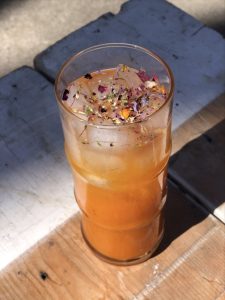 2 oz of Lyres Dry London Spirit
2 oz carrot juice
1/2 lemon
1/2 oz orange juice
Optional:
1/2 oz simple syrup
2-3 dashes of orange blossom water
Directions:
Add all ingredients to a shaker, shake with ice, strain into a glass, garnish with The Chef's Garden Edible Flower Petals.
Recipe courtesy of Farmer Lee Jones at The Chef's Garden.
Yuzu Fizz
Ingredients: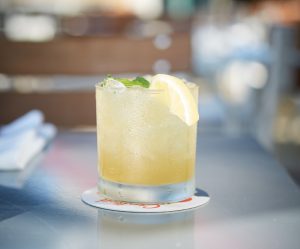 2 oz. The Perfect Purée Yuzu Luxe Sour blend, thawed
1/2 oz. fresh lime juice
2 sprigs, mint
2 oz. club soda
Directions:
Combine all ingredients in a cocktail shaker with ice, minus club soda. Shake, strain and serve in a cocktail glass. Top with club soda and garnish with a lemon wedge and mint.
Recipe courtesy of Manny Hinojosa, Global Brand Ambassador Tequila Cazadores. Photo by The Perfect Purée of Napa Valley.
Zero-proof Red Jalapeño Bloody Mary
Ingredients: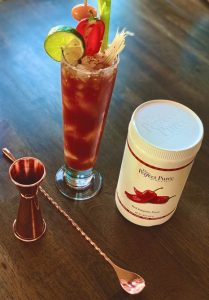 1/4 oz. The Perfect Purée Red Jalapeño Puree, thawed
5 oz. tomato juice
1/2 oz. soy sauce
1/2 oz. fresh lime juice
Dash of Maggi sauce
4 drops of sesame oil
Pinch of salt
Pinch of black pepper
Pinch of ginger powder
Directions:
Mix all ingredients then pour into glass with ice and salted rim. Garnish with red jalapeño, cherry tomato, celery, lime wheel, onion and toasted sesame seeds.
Recipe by Manny Hinojosa / Mixologist; Event – Winter Fancy Food Show 2020. Photo by The Perfect Purée of Napa Valley.

Fred's Lime Sour
Ingredients: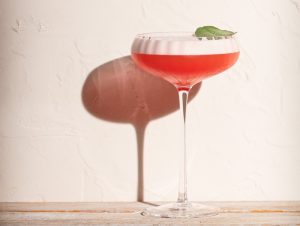 75 ml – Wilfred's Aperitif
25 ml – Squeezed lime juice
15 ml – Simple syrup
1 Dash egg white (or 25ml aquafaba chickpea water,
for a vegan alternative)
Directions:
Pour all ingredients into a shaker. Add ice. Shake until foamy. Strain into a cocktail glass.