Chambord Spritz
Ingredients: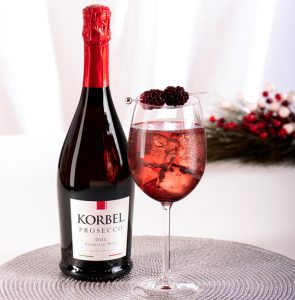 3 oz Korbel Prosecco
1 oz Chambord
Splash of Soda water
Directions:
Fill large wine glass with ice. Add Chambord, Korbel Prosecco, and soda water. Garnish with blackberries and raspberries.
Recipe courtesy of Korbel
2020 Last Call
Ingredients: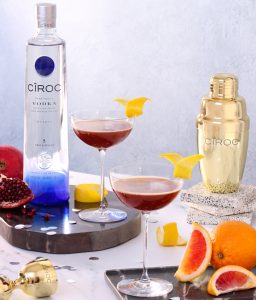 1.50 oz Cîroc Vodka
0.50 oz pomegranate syrup
0.50 oz blood orange syrup
0.75 oz lemon juice
2 dashes Aromatic Bitters
Directions:
Shake all ingredients together. Strain into a coupe glass. Garnish with manicured lemon swath.
Recipe courtesy of Cîroc Vodka.
Crystal Head Vodka Midnight Sparkle
Ingredients: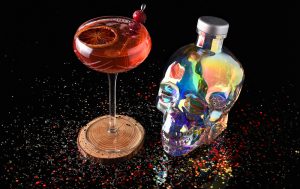 1 ½ oz. Crystal Head Aurora
½ oz. Elderflower Liqueur
1 ½ oz. Cranberry Juice
¼ oz. Simple Syrup
Sparkling Wine
Directions:
Add ingredients excluding the sparkling wine into a cocktail shaker with ice. Shake and strain into a chilled coupe glass, and top with sparkling wine. Garnish with sugared cranberries and dehydrated orange.
Holiday Sangria
Ingredients: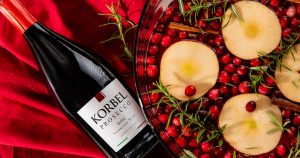 1 bottle Korbel Prosecco
½ cup Korbel California Brandy
2 cups cranberry juice
1 cup apple cider
2 cinnamon sticks
1 apple thinly sliced
fresh cranberries
Directions:
Mix all ingredients except for Prosecco into a pitcher or punch bowl. Cover and refrigerate until you're ready to serve. Top with Korbel Prosecco. Garnish with extra cinnamon sticks, extra sliced apples, and rosemary.
Recipe courtesy of Korbel
Cutwater Sparkling Roses
Ingredients: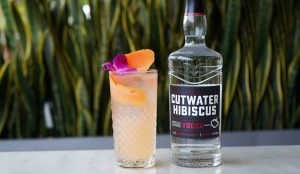 2 oz Cutwater Hibiscus Vodka
.75 oz fresh lime juice
.75 oz simple syrup
1 oz fresh grapefruit juice
Sparkling rose
Directions:
Combine all ingredients (except sparkling rose) into a cocktail shaker. Add ice and shake until cold. Strain over fresh ice in a Collins glass. Top with sparkling rose and garnish with a grapefruit zest and flower.
Tanteo Tequila Chai Spiced Chipotle
Ingredients: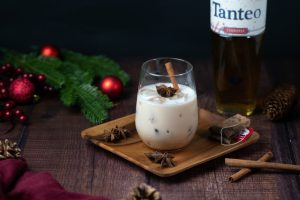 2 Oz. Tanteo Chipotle Tequila
1 Oz. Cold Chai Tea
1 Oz. Half And Half
Directions:
Combine ingredients in a shaker with ice. Shake well and strain into an ice-filled rocks glass.
French 75
Ingredients: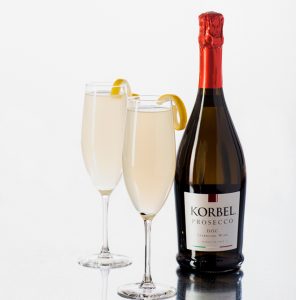 4 ounces Korbel Prosecco
1 oz Ford's Gin (or Finlandia vodka)
1/2 oz lemon juice
1 tsp simple syrup
Directions:
Combine gin, syrup, and lemon juice in a cocktail shaker filled with ice. Shake vigorously and strain into a champagne flute. Top up with Korbel Prosecco. Stir gently. Garnish with a lemon peel.
Recipe courtesy of Korbel
Korbel Pomegranate Cocktail
Ingredients: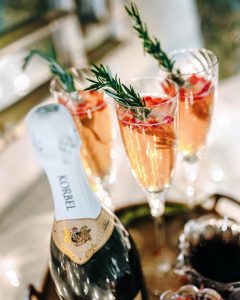 1 cup Korbel Brut
1/4 cup pomegranate juice
1 tablespoon rosemary simple syrup* (optional)
For serving: garnish with sprigs of rosemary and pomegranate seeds
Directions:
For rosemary simple syrup, combine 1/2 cup white sugar, 1/2 cup water, and 2 sprigs of rosemary in a small saucepan. Simmer for 2 minutes then remove from heat. For cocktail, combine ingredients and top with Brut. Garnish with rosemary and pomegranate seeds.
Recipe courtesy of Korbel
The Spark Negroni 
Ingredients: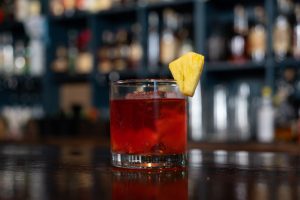 1.5 oz. Vamonos Riendo Mezcal
1 Fresh Pineapple Chunk
1 oz. Campari
1 oz. Sweet Vermouth
Directions:
In the bottom of a double Old Fashioned glass place your pineapple chunk. With a flat bottom muddler gently press the pineapple to release some of the juices to the glass. Do not smash it, just press it! Add remaining ingredients. Add a big ice cube and stir. Sprinkle with sea salt on top.
Cherry Tomato
Ingredients: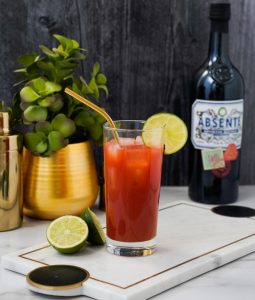 2 oz Absinthe Refined
4 oz tomato juice or Bloody Mary mix
1 oz lime juice
Directions:
Shake and serve in a cocktail glass. Garnish with a lime.
Brockmans 75
Ingredients: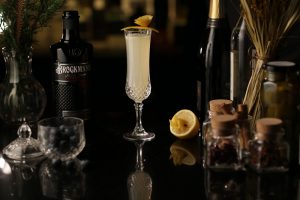 2.0 oz. Brockmans Gin
1.0 oz. freshly squeezed lemon juice
0.5 oz. simple syrup
Champagne or Prosecco
Directions:
Shake the gin, lemon juice and simple syrup with ice. Strain into a champagne flute and top with the sparkling wine. Garnish with a twist of lemon zest.
Recipe courtesy of Brockmans Gin.