Try this twist on a classic toddy with tropical flavors courtesy of Ron Abuelo Brand Ambassador Hedi Berkaou.
"The addition of the pineapple represents the warm climate of Panama and the Caribbean where Ron Abuelo is produced – it is a nod to Abuelo's heritage," says Berkaou. "It's an uplifting and warming cocktail that will pick you up with its light texture, fruity notes, and spice. The flavors highlight some of the earthier notes found in the Ron Abuelo 7 Años."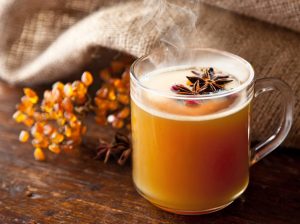 Ingredients:
1 1/2 oz. Ron Abuelo 7 Años rum
1/2 oz. Honey
1/3 oz. Lemon juice
1 oz. Hot water
1 oz. Pineapple juice, warmed
1 Cinnamon stick
1 Star anise
1 Orange peel
Directions:
Add all ingredients to a heat-proof glass or mug and stir gently, ensuring the honey is dissolved. Garnish with grated nutmeg.
Created by Hedi Berkaoui, Ron Abuelo Brand Ambassador.