National Rum Day is Tuesday, August 16. To help your bar guests celebrate, we've collected a list of rum cocktail recipes.
Soca del Mango
Ingredients: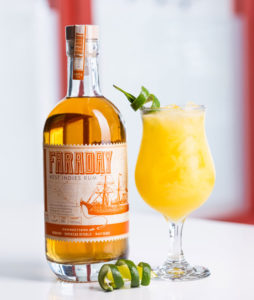 1.5 oz Faraday Rum
.5 oz ginger liqueur
2 oz fresh squeezed lime
1 oz mango purée
1 oz basil infused simple syrup
Directions:
Build all ingredients into a shaker. Shake and strain over ice into a hurricane glass. Garnish with a lime twist and a slapped basil leaf.
Recipe courtesy of Cody Getchius, Jumpin Jay's Fish Cafe, Portsmouth, NH.
Maui Medicine
Ingredients: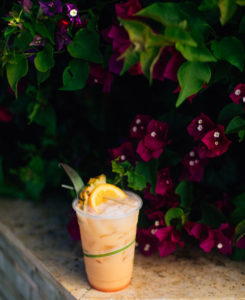 1 ½ oz Koloa Spice Rum
1 oz Coco Real
1 oz Pineapple Juice
1 oz Orange Juice
3 dashes Li Hing Mui
Directions:
Shake all ingredients together and strain into a glass.
Papa Shango
Ingredients: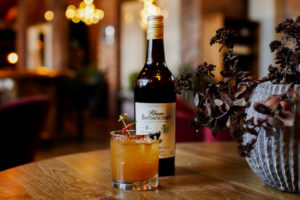 1.5 oz of Rhum Barbancourt 8 year
1 oz of Lemon Juice
0.5 oz of triple sec
0.5 oz of pineapple juice
A dash of red Chile cinnamon syrup
Directions:
Mix all ingredients and strain into a rocks glass.
Recipe from Rhum Barbancourt.
Flor Sparkling
Ingredients: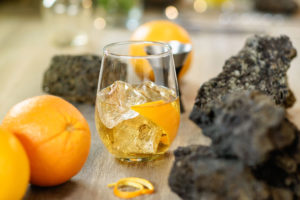 1.5 parts Flor de Caña 12 (SRP: XX)
Splash of premium Sparkling Water
Orange Peel
Directions:
Pour 1.5 parts of Flor de Caña 12 in a glass. Add premium sparkling water. Add the orange peel to the glass as a garnish.
Coco-Pandan
Ingredients: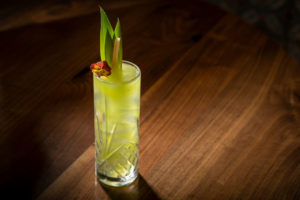 1.5 ounce Bacardi Rum
.75 oz Pandan Simple Syrup
.25 oz Lime Juice
2 oz Vita CoCo Coconut Water
Pineapple Frond and sugarcane stick for garnish
Directions:
Combine Rum, pandan syrup, and lime juice with ice and shake. Strain into highball glass over fresh ice. Top with Vita Coco coconut water. To make the pandan Simple syrup, brew 1 cup of pandan tea, and let it steep for 10 minutes, then pour into a blender with the loose leafs, along with 1 cup of spinach an 1 cup of sugar, blend thoroughly and strain.
Courtesy of Jazz Moralez, Beverage Manager at Finch & Fork (Santa Barbara, CA). Photo credit is Finch & Fork.
Guava-Colada
Ingredients: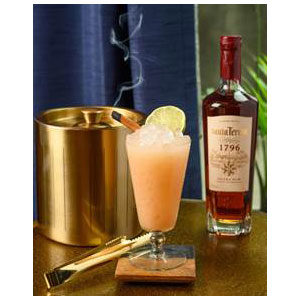 1.5 oz Santa Teresa 1796
.75 oz Lime Juice
.75 oz Monin Guava Syrup
.75 oz Coco Lopez Coconut Cream
Cinnamon stick and lime wheel for garnish
Directions:
Combine all in tin. Add ice. Shake. Strain.
Colonial Courage
Ingredients: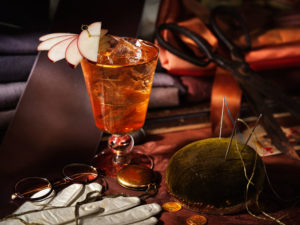 2 oz. Hercules Mulligan
5 oz. Hard Apple Cider
Directions:
Combine in a rocks glass over ice and gently stir together. Garnish with an apple fan.
Sweet Liberty's Passionista
Ingredients: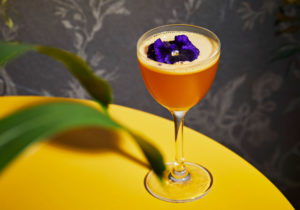 1 oz. Appleton Signature
.5 oz. Santa Teresa 1796
.5 oz. Tempus Fugit dark crème de cacao
.25 oz. Simple syrup
.5 oz. Passionfruit puree
.25 oz. Lime juice
3 Dashes saline solution
Directions:
Add all ingredients to tin. Shake and fine strain into a nick & nora glass. Garnish with an edible flower.
Recipe by Sweet Liberty. Photo Credit: Michael Pisarri.
Mama Mia
Ingredients: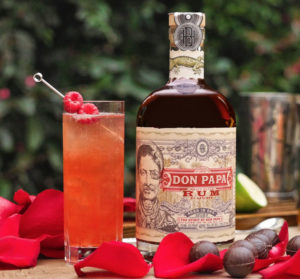 1.5 oz Don Papa 7
.75 oz Honey Syrup (1:1 Honey/Hot water)
.25 oz Lime Juice
5 Raspberries
Directions:
Muddle raspberries in a shaker and add ingredients. Shake and double strain into Collins glass. Top with Champagne, spray rose water over the cocktail. Garnish with remaining raspberries.
Mount Gay Rum Rum Skies
Ingredients: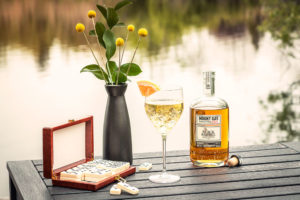 2 oz Black Barrel Rum Skies
1 Grapefruit
.75 Elderflower
4 oz Tonic Water
Directions:
Add all ingredients except tonic into the glass and stir. Add ice, finish with tonic and garnish with grapefruit wheel.
Cuba Libre Royale
Ingredients: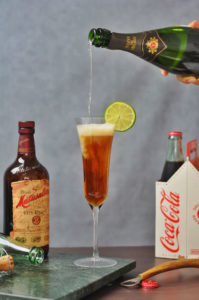 1.5 oz. Matusalem Ron Gran Reserva 15
.5 oz. Fabbri cola Syrup
1 oz. sparkling water
1.5 oz. Brut Champagne
2 ice cubes
Garnish with a Lime
Directions:
Shake all ingredients except champagne. Top with champagne.
Flying Fortress
Ingredients: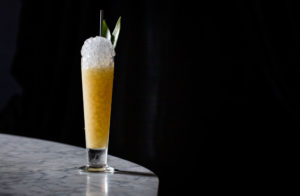 1 oz El Dorado 15
0.5 oz Lemon Hart 151
0.5 oz Batavia Arak
0.75 oz Durian syrup
0.5 oz Pineapple juice
0.25 oz Giffard banane du Bresil
0.25 oz Lime juice
Directions:
Whip shake. Dump into a footed pilsner. Garnish with pineapple fronds.