This fall, Apollo Publishers will publish How to Drink Like a Rock Star: Recipes for the Cocktails and Libations that Inspired 100 Music Legends (September 2022; $19.99 US/$25.99 CAD; hardcover).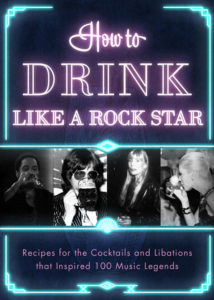 The follow-up to the successful How to Drink Like a Writer (2020), How to Drink Like a Rock Star pairs history's 100 greatest rock stars with recipes for their iconic drink choice. Each recipe is accompanied by original illustrations, fascinating profiles, and photographs depicting the stars.
Readers will learn hidden nuggets of intrigue about some of the world's most iconic musicians, including what fueled Ozzy Osbourne's bat-biting Prince of Darkness persona, as well how to quaff a Jack and Coke like Motörhead's Lemmy, or prepare Madonna's perfect dirty martini. In addition, there are special sections dedicated to epic rock clubs to drink, dance, and perform in, and even unusual hangover cures and favorite food pairings.
A comprehensive list of classic and contemporary musicians, the book includes every defining rock star from Elvis Presley to Lady Gaga, Johnny Cash to Whitney Houston, Jimi Hendrix to Björk, and Bob Marley to Stevie Nicks, Fergie, and Beyoncé. This remarkable book, the result of a deep dive into interviews, backstage tour riders, and much more, is perfect for any music fan, but also cocktail enthusiasts, pop culture afficionados, and history buffs.
From AC/DC to ZZ Top, the book offers 100 spirited drink recipes, as well as special sections dedicated to musicians' favorite excesses, famous rock and roll haunts, and unusual hangover cures, all accompanied by original black-and-white illustrations of ingredients, finished cocktails, favorite food pairings, and photographs.
In total, How to Drink Like a Rock Star is sure to inspire and impress. Sure, becoming a rock legend takes dedication, connections, and talent, but it also
takes vodka, gin, tequila, and whiskey.
Check out this sample recipe from the book:
The Beach Boys' Frozen Bahama Mama
Ingredients:
1/2 oz rum or pineapple juice
1/2 oz coconut rum or coconut juice
1 oz orange juice, freshly squeezed
1/2 oz grenadine
pineapple wedge and cherry for garnish
Directions:
Combine all ingredients except garnishes with 1 cup ice in a blender and blend until the drink reaches the consistency of a slushy. Pour into a poco grande glass and add garnishes plus a paper umbrella to really get into that tropical mood and emit good vibrations.
Recipe excerpted from How to Drink Like a Rock Star: Recipes for the Cocktails and Libations that Inspired 100 Music Legends from Apollo Publishers.