In the new book by Martyna Halas and René van Hoven, Rum Rebels is a story of female empowerment in a traditionally male-dominated industry.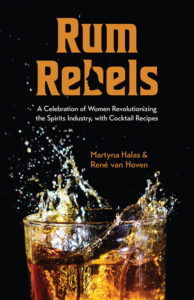 The book includes personal anecdotes from master blenders, fabulous recipes for artisan rum cocktails, and the inside scoop on the magic behind Appleton, Zacapa, Maria Izabel, Brugal, and more.
The book begins with a look back at the history of rum and the role of women within it. From there, each chapter takes a deep dive into a different woman in rum. Each chapter ends with a signature cocktail so you can learn a recipe that they created themselves!
Check out an example of a recipe, below:
Rum Buck by Joy
Ingredients:
2 oz Appleton Estate 8 Years
1 slice of Orange
3 drops of aromatic bitters
Splash of ginger ale
Directions:
Muddle orange and bitters in a strong glass. Add rum and ice, stir, top with more ice, and then with ginger ale.
Recipe courtesy of Joy Spence, Appleton Estate, Jamaica, excerpted from Rum Rebels by Marlyna Halas and Rene van Hoven.
Rum Rebels is the perfect read for anyone curious about the craft of rum distilling, artisan cocktails, or female leaders in history.