There are a multitude of marketing solutions that can automate external communications for companies. The downfall of these systems is that most emails, text messages and print mailers sent out either go unread, unnoticed, or straight into the trash. However, studies have shown that people do not ignore handwritten notes, these benefit from a 300% higher open rate than traditional mailers. The problem with handwritten notes has always been the time it takes to write them. Handwrytten has solved this problem by inventing robots to do the writing at scale. And, with Handwrytten's new outbound prospecting feature,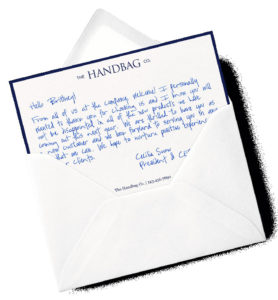 companies can now geo-target handwritten notes to households that meet certain demographic criteria as part of a mass-marketing campaign.
To create an outbound campaign using Handwrytten, companies start by selecting a location. This can be narrowed down by address, zip code, city/state, or by circling a region on a map. Additional parameters include target options for homeowners or renters, household income, net worth, length of residency, and home value. Once the total number of potential targets are tabulated, the sender can manage their budget by sending to some or all of the list. There are a variety of card types to select from, or the user can design their own print piece on Handwrytten's web site. The content inside the note can be customized, along with the handwriting style, signature, and users can even include their business card.
Handwrytten's robots help businesses achieve greater open rates, response rates and ROI than printed or email messages, at a scale that was previously impossible. Handwritten notes have response rates 7-21 times greater than printed mail and can be used in nearly every messaging situation.
"People understand the power of the personal note, but nobody has the time to sit down and actually pick up a pen and write one. This is why we built a platform to automate the process from end to end," said David Wachs, founder and CEO of Handwrytten. "By leveraging cutting-edge robotic technology, we are able to automate what is seemingly impossible to automate. These notes have been proven to drive incredible and lasting results for our clients."
"With the addition of our Outbound Prospecting tool," continued Wachs, "we are able to empower our clients to engage new potential customers in the most impactful way. While similar traditional mail tools have been available for quite some time, we are proud to be the first and only self-serve platform leveraging handwritten notes."
The handwriting on Handwrytten notes is indistinguishable from real human handwriting. There are 30 handwriting styles to choose from, or users can upload their own handwriting and signature for a truly personalized style (available with a one-time fee). Users can select from more than 100 card designs or design their own online,
Relationships with customers can be further fostered by including business cards or gift cards to over 20 popular brands, including Starbucks, Home Depot, Amazon, VISA and more.
Using the Handwrytten service is simple and can be fully automated. Contact lists can be uploaded to send hundreds of notes at once. Thanking customers, remembering birthdays, anniversaries and other special events with a thoughtful and personal message has never been easier. Handwrytten can be integrated with Salesforce, Zapier, Make and other services via its API.
Clients can pay as they go or purchase a monthly subscription. Plans start at $99 per month for 25 cards, writing and postage. Unused credits carry over from month to month, and can be canceled at any time with no long-term commitments