National Rum Day is Monday, August 16, but you should get the celebration started early by pouring some rum cocktails this weekend!
Below we've compiled a collection of rum recipes for you to add to your bar menus.
New York State of Summer Berry Roof Deck Daiquiri
Ingredients: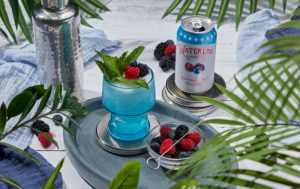 1.5 oz light rum
1 oz freshly squeezed lime juice
½ oz simple syrup
Waterloo Summer Berry Sparkling Water
Directions:
Place the two cups of crushed ice into a cocktail shaker. Add rum, lime juice, and simple syrup over the ice, cover, and shake well. Strain liquid into a glass. Top with Waterloo Summer Berry Sparkling Water.
Ocho Old Fashioned
Ingredients: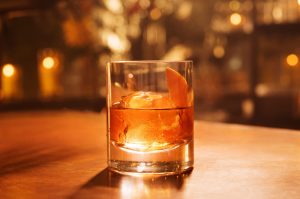 2 oz. BACARDÍ Reserva Ocho
¼ oz. simple syrup
2 dashes Angostura® bitters
Directions:
Add all ingredients into a rocks glass, fill with ice and stir until well mixed and very cold. Garnish with orange peel.
Recipe courtesy of BACARDÍ.
The Bali Hai
Ingredients: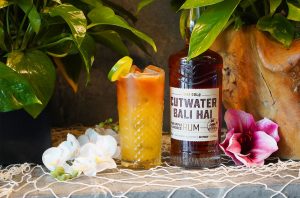 2 oz Bali Hai Tiki Gold Rum
3/4 oz Fresh Lime Juice
1/2 oz Ginger Syrup
2 oz Fresh Orange Juice
Angostura Bitters
Directions:
Shake all ingredients in a cocktail shaker. Strain over ice in a tall glass, then garnish with a lime wheel. Add a straw and finish with six dashes of Angostura Bitters.
SelvaRey Piña Colada
Ingredients:
1 1/2 oz SelvaRey Coconut Rum
3 oz pineapple juice
1 oz cream of coconut
Squeeze of lime
Method:
Combine in a shaking tin with ice. Shake and strain over fresh ice. Serve in a Poco Grande Glass. Garnish with a pineapple wedge and cherry.
Recipe and photo courtesy of SelvaRey.
Black Barrel Classic Daiquiri
Ingredients:

2 oz Mount Gay Black Barrel
1 oz Fresh Lime Juice
1 oz Simple Syrup
Lime wheel for garnish
Directions:
Add ingredients to shaker. Add ice, shake, and strain into a chilled coupe. Garnish with lime wheel.
Pineapple Rum Rush
Ingredients: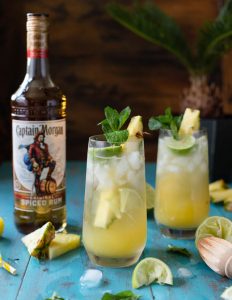 1.5 oz. Captain Morgan Original Spiced Rum
3 oz. Pineapple Coconut juice
½ oz lime juice
Top with Ginger ale
Directions:
Add pineapple coconut juice, Original Spiced Rum, and lime juice to a glass. Pour half the pitcher mixture into each glass and top each glass off with half of the ginger ale. Garnish with pineapple wedges, a slice of lime, and a pineapple leaf.
Catalina
Ingredients: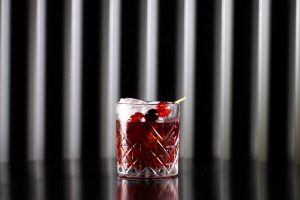 2 oz. Ron Abuelo 12 Años
1 Barspoon Cherry liqueur
4 Dashes Angostura bitters
1/2 Sugar cube
1 Spray (dash) Absinthe
Directions:
Stir all ingredients in a mixing glass and pour into a tumbler over ice. Spray the drink with a dash of absinthe.
Recipe created by Eleonora De Santis, Ron Abuelo Italian Brand Ambassador.
Strega Daiquiri
Ingredients: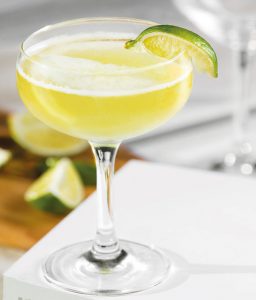 ½ OZ Liquore Strega
1 ½ OZ White Rum
1 OZ Lime Juice
⅔ OZ Brown Sugar
Directions:
In a shaker add lime juice and sugar. Swirl the bar spoon until the sugar has melted completely. Only then add the alcoholic parts. Shake well until the surface of the shaker is frozen and pour into a cup.
Recipe courtesy of Liquore Strega.
Butterfly Oasis
Ingredients:

1 ½ Parts Flor de Caña 12
¾ Parts Suze
½ Part Orgeat
½ Part Lime juice
½ Part Pineapple
Glass: Highball
Directions:
Method: Shake and strain, pour into short highball (no ice). Garnish with pomegranate powder rim & watermelon radish.
Recipe by Sebastien Derbomez, William Grant & Sons Brand Advocacy Manager.
Sweet Liberty's The Florida Cocktail
Ingredients: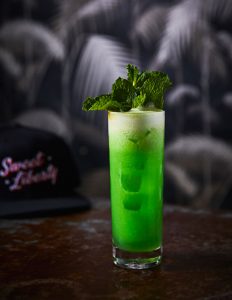 1.5 oz. Bacardi Anejo Cuatro
.25 oz. green crème de menthe
.25 oz. lime juice
3 dashes of saline
Mint sprig (for garnish)
Directions:
In a highball/collins glass,build over 3 ice cubes. Fill halfway with fluffy pineapple juice. Stir again and top with more pineapple. Garnish with a mint sprig.
Photo Credit: Michael Pisarri. Recipe by Sweet Liberty.
Rumhaven Jungle Bird
Ingredients: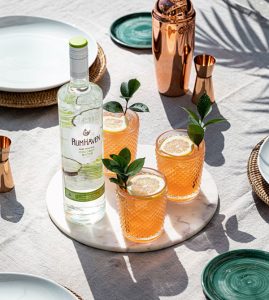 2 oz. RumHaven
¾ oz. Italian Aperitivo
2 oz. Pineapple Juice
¼ oz. Simple Syrup
¼ oz. Fresh Lime Juice
Directions:
Fill cocktail shaker with ice and add ingredients. After shaking, strain into a double rocks glass and garnish with pineapple and lime. Enjoy!
Recipe courtesy of RumHaven.
Pina CHEWlada
Ingredients: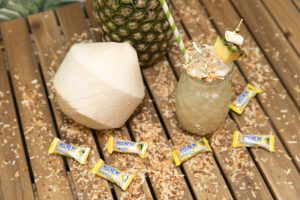 1 ounce HI-CHEW Piña Colada Combo-Infused lime juice
1 ounce white rum
1 ounce golden rum
1 teaspoon blackstrap rum
1.5 ounces fresh pineapple juice
1.5 ounces coconut cream
.5 ounce coconut milk
Directions:
Combine all ingredients in a shaker (leave out the rum for a virgin cocktail), shake well with ice and strain over pebble ice in a tall soda glass or tiki mug. Garnish with toasted coconut flakes, and a skewer of fresh pineapple wedges and HI-CHEW candy. Want to make it frozen instead? Add all the ingredients to a blender with 1 cup of ice and blend until smooth. **INFUSIONS: The infusion ratio is one piece of candy per ounce of liquor. Soak the candy until dissolved.
Recipe courtesy of HI-CHEW.
Cruzan Rum Watermelon Daiquiri
Ingredients: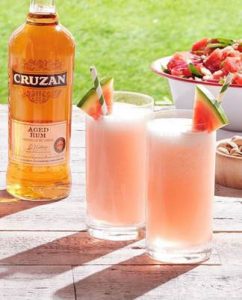 1 part Cruzan Aged Dark Rum
1 part DeKuyper Pucker Watermelon Schnapps
½ part
2 parts Sour Mix
Watermelon Wedge
Directions:
Blend with ice and serve. Garnish with a watermelon wedge.
Recipe courtesy of Cruzan.