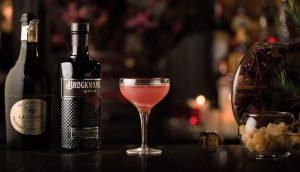 Ingredients:
1 part Brockmans Gin
0.25 part Fresh Ginger Juice
1 tsp. Cherry Bitters
Edible Silver Sugar Luster
Chilled Prosecco
Directions:
Half-fill a cocktail shaker with ice, add the Brockmans Gin, ginger juice, cherry bitters and sugar luster and stir. Strain into a chilled coupe glass and top with Prosecco. Garnish with a sugar cube soaked in aromatic bitters.
Recipe and photo courtesy of Brockmans Gin.