Thinking about launching a bar/restaurant? Here are five things to take into consideration.
1. Avoid pricey POS systems.
A reliable POS (point of sale) system is the backbone of any new bar or restaurant. It can process all of your orders, keep your inventory up to date, and send important messages to your staff. When thinking of starting a new restaurant, finding a solid POS system seems like it would be an obvious first step for many. But what if these systems are no longer a requirement?
Did you know the average POS system costs $1,400 up front and $75 per month to operate? And that's for each terminal!
Companies such as Barpay are creating mobile order and pay platforms to help eliminate the need for expensive POS equipment. With a mobile ordering platform, customers no longer need to see a physical menu or order from a server. Customers scan a QR-code to view your menu, select their food and drink items, and even pay from their phone. The entire process is completely contactless, adding an additional health benefit as the COVID-19 pandemic continues.
2. Hire less staff.
Labor costs can easily become one of your most significant monthly expenses. On top of that, it has become increasingly difficult for restaurant owners to maintain a consistent staffing schedule, due to last minute notice from servers not being able to come in to work due to getting sick or being exposed to someone with Covid-19. Limiting the amount of staff members you hire as well as the hours they work is the most efficient way to keep labor costs down and keep restaurant operations consistent. This can be done by using a mobile order and pay platform for all customer ordering needs and reducing the burden on servers.
On average, your labor costs should be no more than 30% of your restaurant's revenue.
Once customers order their food and drink through the mobile platform, including any special requests or dietary restrictions, items can then be delivered to tables by food runners. Managers or Assistant Managers can periodically check-in with tables to ensure customer quality, rather than keeping hourly servers clocked-in for continual check-ins. This process can really optimize the use of your staff to provide a high-quality customer experience.
3. Maintain a small menu.
Keeping a limited number of items on your menu can hold several benefits for both you and your customers, including a much more user-friendly experience for customers looking at your menu on a mobile device. Using a small list of in-demand items can also help create your brand, where customers will view you as the go-to place for certain items.
Did you know? Most bars generate 90% of their revenue from around 10% of the products they sell.
Having a small amount of menu items will also keep your inventory costs low, where the only items kept in house are being put to use. Testing out new menu or drink items can create a confusing experience for guests as well as create unnecessary inventory costs during an uncertain market.
4. Eliminate tedious tasks.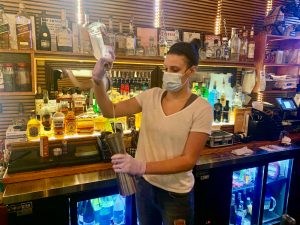 By hiring less staff, the team members you do have working will likely provide a better quality of service. In order to provide a better quality of service, employees should practice eliminating tedious tasks from their workflow. One of the quickest and most efficient ways to shorten the customer waiting period is by eliminating the need to close out a check. By allowing your guests the opportunity to pay by mobile device, customers have much more time to themselves instead of waiting around for waitstaff.
5. Begin with a pop-up venue or food truck.
The best way to try your business idea without fully investing is by testing a smaller version of it. Prior to investing in a large brick-and-mortar space, many restaurant owners start with either a pop-up venue or a food truck. This allows the opportunity for customers to try your menu items without investing in a full inventory of products. These small venues also let you test out various geographic locations in order to test out your market.
By Joe De Pinto is the co-founder of Barpay, the first contactless mobile order and payment app built specifically for high volume bars and event venues.