In the next installment of our Tracking the 2022 Trends series, we spoke with President of Skrewball Peanut Butter Whiskey Carl Carlson to get a sense of what's on the horizon for whiskey, cocktails, and the on-premise in 2022.
Check out our Q&A below!
Bar Business Media (BBM): What whiskey trends do you foresee for 2022?
Carl Carlson (CC): The current whiskey market is exciting as year-to-date dollar sales of whiskey are up 1.2%, with flavored whiskey serving as the catalyst with 10.2% growth. Currently, flavored whiskey has gained a 3% share from unflavored spirits year-to-date.  We expect that trend to continue in 2022.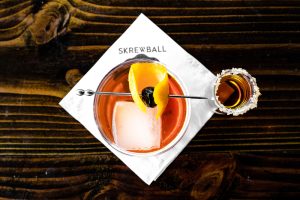 BBM: What cocktail trends do you predict will be popular in 2022?
CC: The trend is towards new twists on the classics—from adding passion fruit to your mimosa to adding peanut butter whiskey to your old fashioned. People had to become home bartenders during the pandemic. While they learned the classics, they are going to be looking to the creativity of bartenders to elevate their drinking experience.
BBM: Do you have any predictions for what the on-premise market will look like in 2022?
CC: The on-premise market should continue to rebound for operators that can provide an experience people cannot recreate at home. People became self-reliant during the pandemic and learned to do many things they never thought they could do at home. But, after nearly two years, people are eager to be inspired by new combinations and feel a semblance of their pre-pandemic lives.
BBM: Do you think to-go cocktails will continue to remain a viable option for the on-premise in 2022? 
CC: We believe so. Many states and markets that changed local regulations to accommodate cocktails to-go have extended the availability on a more permanent basis.
BBM: Anything you can share with us about what to expect from Skrewball in 2022?
CC: We'll continue to drive meaningful investment in a wide array of experiential marketing activations that reflect the diversity and interests of our valued community. We are looking forward to 2022 and continuing to collaborate with our valued distributor and trade partners creating meaningful consumer experiences in the year to come, while making a difference in people's lives and giving back to our community.