By Ashley Bray
All aspects of the bar industry were changed due to COVID-19 and the ensuing restrictions, but the changes were most visible in bar design itself. From curbside pick-up stations to sneeze guards at the bar to dividers and increased distance between tables, bars have looked a lot different in the past two years.
So what will 2022 bring? More of the same as the Omicron variant threatens progress? Or something else entirely?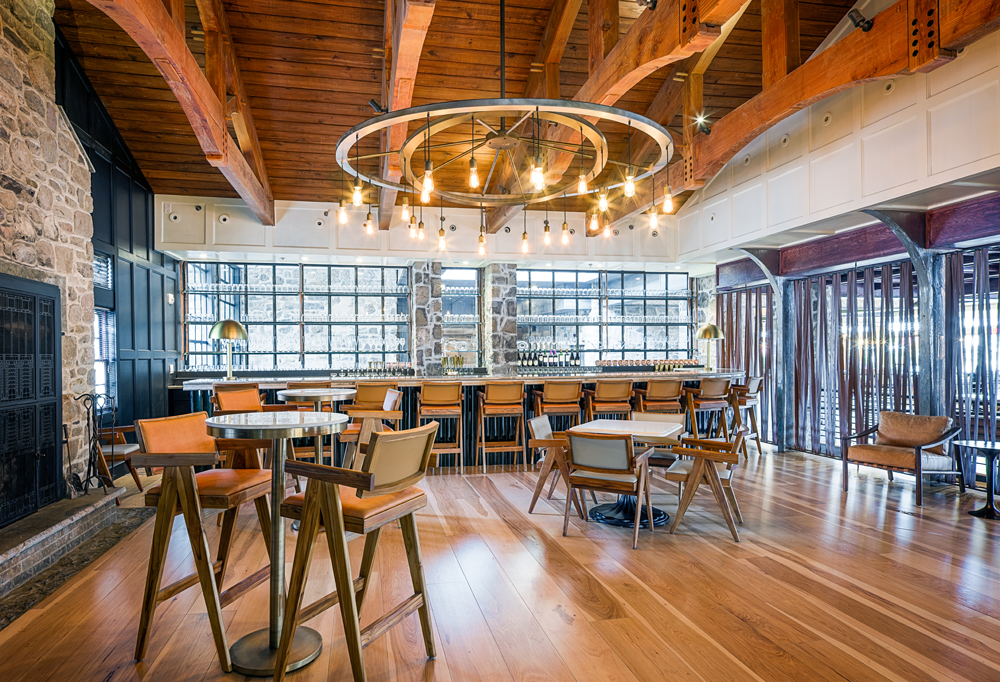 In the next installment of our Tracking the 2022 Trends series, we speak with a number of architect and design experts to get the inside scoop on bar design in the New Year.
What Will Be Some of the Biggest Bar Design Challenges in 2022?
The design and architect specialists we spoke with have identified two main challenges for bars heading into 2022: designing for the ongoing pandemic, and meeting customer expectations.
Pandemic Design
Shay Lam, managing executive / studio creative director at TPG Architecture, says one of the challenges is that traditional bar design focuses on closeness versus distance. "Current bar design does not consider 'social distancing,' which feels like a foreign concept to a lively and crowded bar scene," says Lam. "Creating an atmosphere that is simultaneously animated and safe is one of the biggest challenges."
Clay Markham, AIA LEED AP BD+C, senior vice president of CallisonRTKL, says bars will look to step away from temporary fixes like Plexiglas barriers to something more permanent. "[They will] explore new ways to organize their layout to limit overcrowding," says Markham. "If you have ample space, you can segment your bar to allow people to congregate in smaller groups. Alfresco dining will continue to be attractive to diners. In the case where outdoor space is limited, bars can utilize more operable walls and windows to create an indoor-outdoor experience to give the space flexibility. For any successful drinking and dining space, flexibility is always the best solution whether in a pandemic or not. It's just smart."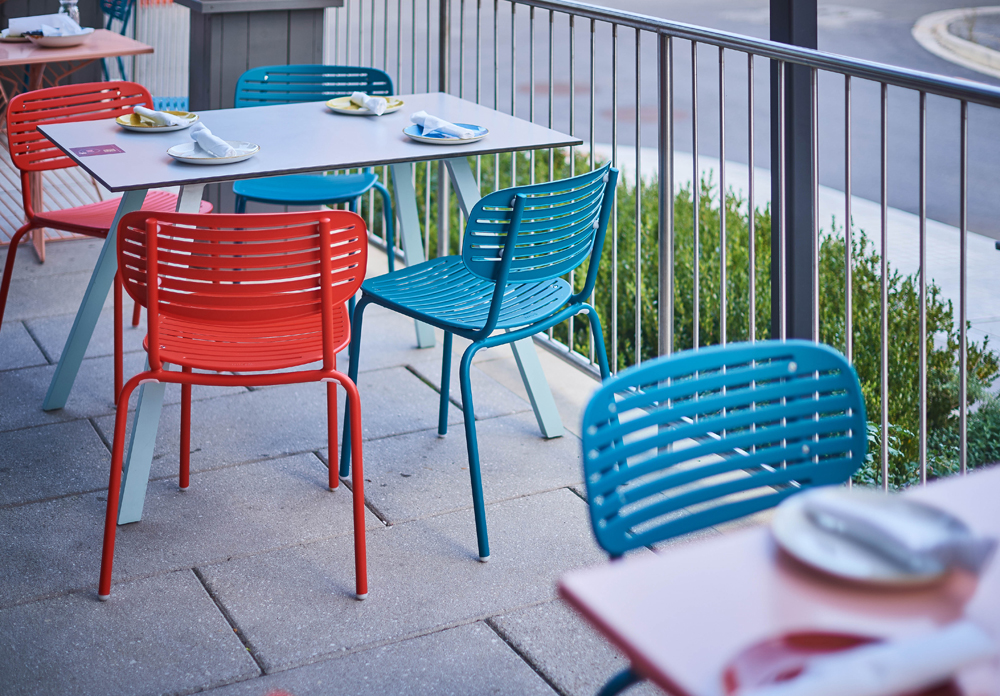 Customer-Centric Design
The other side of the design coin is the challenge of meeting customer expectations for fresh and interesting experiences. "The once-trusted pub evolved into speakeasies, which then transformed into social clubs that focused on specialty cocktails, to mega sports bars with over 100 beers on tap," says Lam. "We are seeing a renaissance of ye olde pub come back. While substantially similar, every change in the offering will create changes in operations, finishes, flow, and other aspects including bar equipment and AV."
A rise in design that reflects a locale or sense of community can also help to meet customer demand for connection. "People are looking for something other than an anywhere-everywhere experience," says Dwayne MacEwen, Founder and Principal of DMAC Architecture. "They want something that's localized and has a sense of place."
The experts caution to use local artists' work and authentic antiques to make sure a space feels genuine versus contrived.
Aside from demands for something new and interesting that fosters a sense of community, bars also need to figure out how to accommodate an audience that is returning to crowded spaces. "We're back to working on function, spacing, and creating environments that people not only want to visit, but where they also feel comfortable as crowded social spaces make their return," says Griz Dwight, AIA LEED AP, principal and owner, GrizForm Design Architects.
Some of the spacing factors to consider are how guests navigate through the bar. "In 2022, one of the most prominent challenges designers will face is navigating how guests move through interiors and accommodating a need for additional or higher quality space," says Markham.
That "higher quality space" can take the form of more space in general. "Bars have become a sort of nucleus to the return of going out—visitors want larger, open spaces that celebrate bar life," says Jared Bradley, AIA, NCARB, principal and co-founder of The Bradley Projects. "The challenge will be giving space back to patrons to create these larger social areas while also ensuring bartenders are allocated the efficient amount of square footage to hit the balance of good service and atmosphere."
How Will Bar Design Change in 2022?
Our experts identified a few areas of change on the horizon.
1. More Areas to Mix
Bars will be tasked with providing a variety of areas for guests to commune in the New Year. This can be achieved with both open and private areas, dedicated corners and pods, and seatings like high-top tables.
"This way, everyone still has the opportunity to mingle, but feel as though they have a separate, safe space of their own," explains Dwight.
Frank Cretella, co-founder and president of Landmark Hospitality, believes the bar top will get bigger. "We will see an increase in the popularity of multi-sided bars with different zones for groups to settle into, allowing friends to congregate privately but also have visibility across all sides of the bar. This design allows for a communal feeling in the space, allowing patrons to feel like a part of the environment and everyone in it," he says. "This design, however, creates other challenges, such as tall bottle displays and merchandising being forced to lower levels at the bar, losing real estate to market product."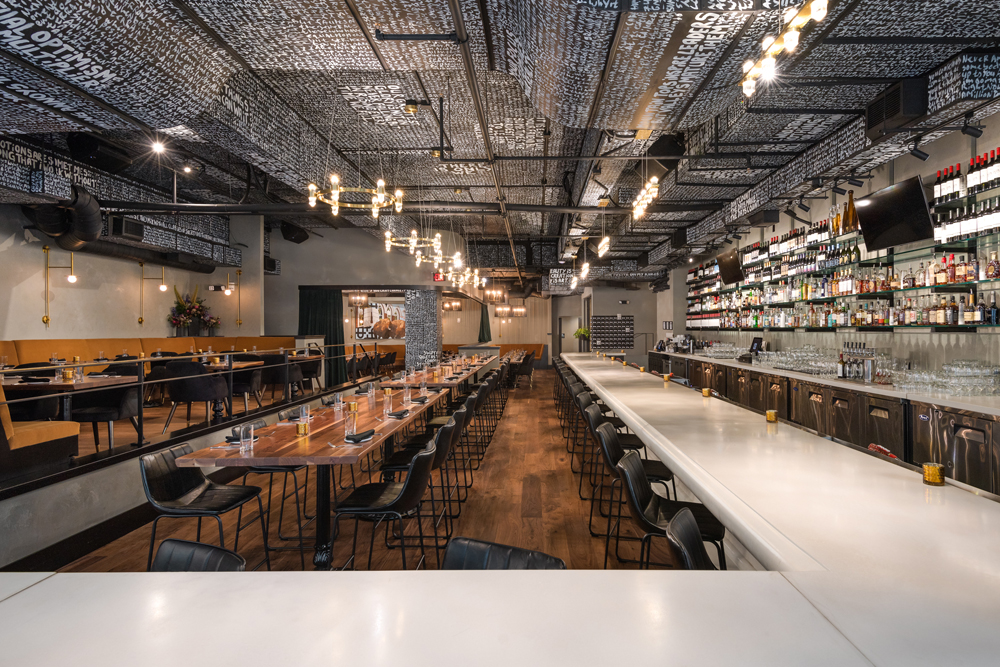 2. Efficient Use of Space
Navigation and ease of movement for both guests and staff will be top of mind for many bars. "Designers are thinking intentionally about the patron experience, down to servers having alternate bar locations to pick up drinks so as not to crowd the main patron bar. There's a focus on how people circulate and their perspective and first impressions upon arrival," says Bradley, explaining that the dark bar in the corner is being replaced with airy, lighter spaces.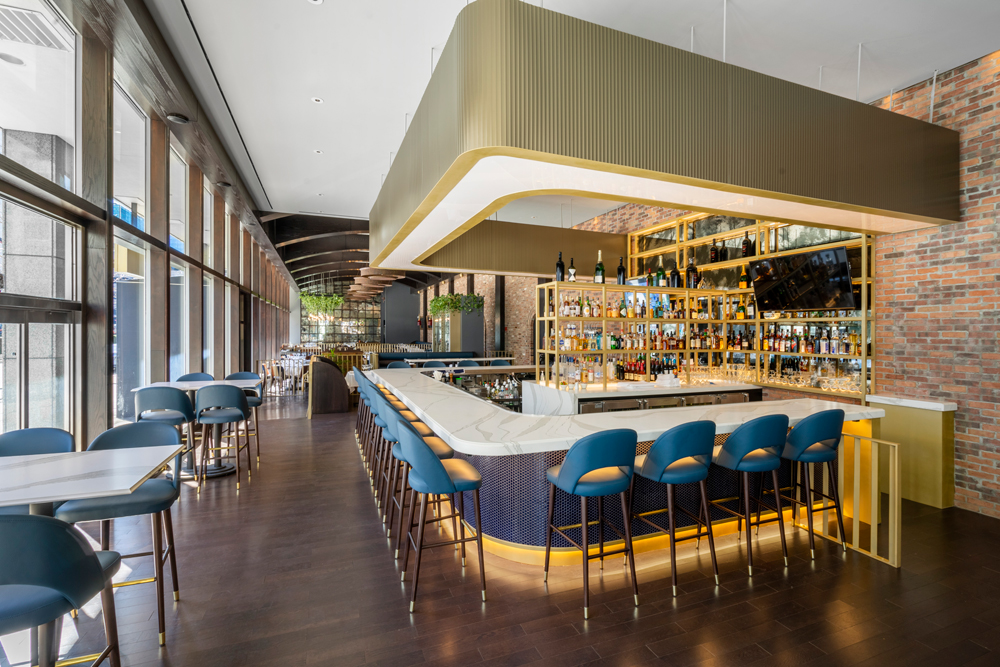 Maximizing space may also help with the ongoing labor shortage. "Owners and operators who never looked at the deficiencies of their layouts because they had the luxury of available staffing are now realizing how smart design can be a business asset," says MacEwen. "With good design fundamentals and planning, you can eliminate, or at least alleviate, some of the major pinch points—which is always better for business."
MacEwen says to ask the following questions:
How can the flow of work take fewer hands and fewer steps?
What is the capacity of the space, and how do we design for better adjacencies?
What's the best way to position the bar relative to the main dining room so that servers aren't having to navigate around a crowded bar?
Incorporating New Business Models into Design
With the continued popularity of things like to-go cocktails, contactless order and payment, and curbside pickup, we asked the experts how bars can more permanently work these services into their design. They had a few suggestions:
Consider creating a takeout space / door for to-go orders and delivery drivers so they don't have to walk through the bar. The constant disruptions and revolving door can affect the bar's vibe and distract workers.
Reconsider your kitchen space. Chances are, you have enough space to create another food program, like a ghost kitchen. "Bars can leverage these back-of-house areas to introduce new food programs as different brands both within the bar itself and for the community," says Markham. "This allows bars to supplement revenue while staying in line with online ordering, pickup, and third-party delivery trends."
Don't let your takeout space become an afterthought. The carryout process can also make an impression on a guest, and it should be a continuation of your bar's experience. "You have only a few minutes to make an impression to keep them coming back," says MacEwen. "Why wouldn't you create a pickup experience on par with the front-of-house space?"
QR codes are here to stay, but bars should focus on better integrating them into the space and workflow as well as perfecting the platforms they lead customers to. Bars should also be using them for more than digital menus—be sure you're tracking and analyzing the customer data on the back end to better inform your purchasing and marketing decisions.