By Dala Al-Fuwaires
The New Year is almost here and that means it's time to start planning for what will be trending in 2022. Grabbing the customers' attention is a top priority for bar owners. In the race to become one of the more popular establishments, it takes more than pouring good drinks and making good food—it also requires a striking aesthetic that will grab customers, pull them in, and keep them coming back.
Having been in the hospitality design space for over a decade, I have seen many trends come and go. As we head into the New Year, here are a few design ideas I believe we will be seeing more of in the future.
Enticing the Senses Through Design
Experiential design is classified as using art, audio, visual, textures, and even aromas to create a unique space. An experientially designed bar will engage a guests' senses to create a special experience unlike any other.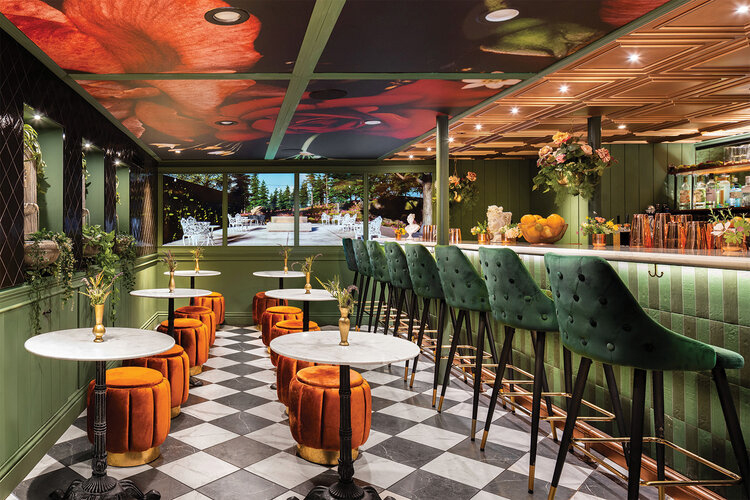 Biofiliac design is an aspect of experiential design. Biofiliac design uses techniques that bring the outdoors inside. Using vegetation and florals in a bar design will make the customers feel like they are outside and not cooped up indoors. Use natural tones in the material palette to replicate tones found in nature. Also consider using terrazzo, a composite material used in wall and floor treatments, to tie in elements of stone and wood tones.
One space where my team and I at House of Form used experiential and biofiliac design is 36 Below in Phoenix, Arizona. At 36 Below, my team and I designed a space that takes the guest into a garden landscape. Plants and foliage don the walls to create a unique greenhouse experience. Digital screens project a garden that makes the customer feel as if they are walking into an underground oasis while water trickles down to add to the effect.
Work with the interior designer when creating your menu as well. Tie in the aesthetic of the restaurant with the drinks and food you are serving. If your restaurant is garden themed, like 36 Below, consider aroma-infused cocktails that have a heavy floral influence. For
darker toned bourbon bars, consider drinks that have leather, smoke, and maple influences. Tying in your menu with the design will create an even more immersive experience for the guests.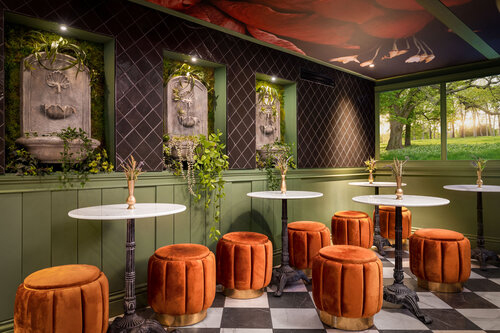 Development From COVID-19
As bars began reopening towards the beginning of this year, many design techniques were put in place to keep people socially distanced and safe. Bar owners can still implement these safety techniques to create a unique space. However, many of the COVID-19 designs—like self-isolated plastic dome dining areas—are now being put out of use as more people become vaccinated.
Consider using higher back seats that make the customer feel like they are being hugged and in a space of their own. Use architectural materials that allow for transparency. Instead of putting up solid walls, consider different materials to create see-through barriers. This allows for separation from other groups of people but also allows everyone to feel like they are part of the overall experience of the establishment.
You may also want to consider using dining pods. These dining pods make a table at a restaurant or bar feel like its own intimate space. The customer is still able to enjoy being in a public space while feeling safe in their own designated pod. These are often used in spaces where people want a private experience such as a date night but want to experience the overall ambience of the bar.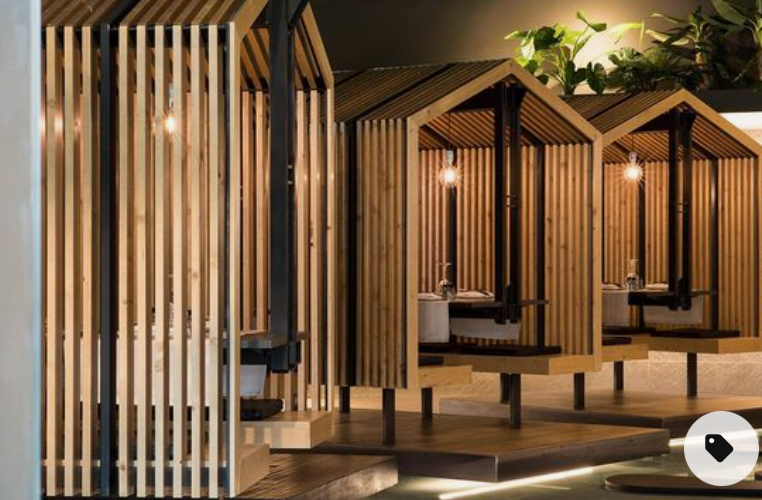 Elimination of Distractions
Bar owners want their customers to enjoy the food, drinks, and service the establishment provides. As people begin going out more, they want to interact with each other and not be distracted. One of the biggest distractions in bars are televisions. Often bars have multiple TV's playing whatever game is on and people tend to focus on them instead of the people they are there to spend time with.
To have your guests have a better experience, eliminate televisions from the walls. This is of course determined on a bar-by-bar basis because sports bars are different from cocktail lounges. Even in higher-end bars, owners are tempted to drop a television in to draw a certain style of consumer, but these and cocktail-based bars should consider eliminating this distraction so customers focus on the drinks and food instead of the game.
These are just a few of the design trends for bars I see coming up in 2022. The key to a good bar experience is to craft a unique design. Create a space that draws people in, keeps them there, and brings them back. If you have a space that is cookie cutter then it won't be memorable and word of mouth about your great cocktails and food won't travel. Aim to be unique in your design.
Dala Al-Fuwaires is the Owner and Principal Designer at House of Form in Scottsdale, Arizona. House of Form is a boutique hospitality design firm that specializes in creating memorable spaces for your guests and customers.