Combat sports, in which competitors compete in one-on-one combat, have been growing in popularity and are now rivaling mainstream sports staples like football and basketball. Boxing is one of the most popular examples of combat sports, and mixed martial arts (MMA) has experienced tremendous growth in the last decade to become a fan favorite as well.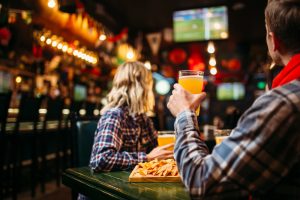 "Combative sports are so much fun," says Nicolas Gagliardi, president of G&G Closed Circuit Events, LLC. "There's something that just draws people to combative sports. If there's a good match-up, people will tune in in droves to watch it."
Gagliardi says combat sports harken back to the days of the gladiators, and they still have a cathartic effect for modern viewers. "With all that's going on, people get their own stress out watching that with the excitement and the back and forth," he says.
G&G Closed Circuit Events provides boxing and MMA events to commercial establishments like bars, restaurants, nightclubs, and casinos. The family-owned company has been in business since 2009, but Gagliardi learned the ropes from his father long before that. His father ran J&J Sports Productions and was involved in professional sports for nearly 50 years.
"We work with promoters or anybody who has content, and we work a deal to do the distribution for those rights nationwide," explains Gagliardi. "We've mainly done combative—boxing, MMA—but we've done soccer, concerts, and other stuff in the past."
Prior to COVID-19, G&G Closed Circuit Events offered content packages to bars/restaurants. In the wake of the pandemic and an uncertain fights schedule, all the content will now be offered as single events. The good news is that more MMA and boxing fights will be lined up in the coming weeks. Gagliardi says the schedule through the end of the year should be packed with some great content and fun match-ups.
Gagliardi also recognizes the challenges his on-premise accounts are currently facing with shutdowns, increased regulations, and reduced seating capacities.
"We try to work with people. We want to make sure that people are successful and they can do well with this and make it a staple of their businesses," he says. "We're trying to structure pricing going forward for the rest of the year and maybe into the next. [We want] prices that make sense for people so they can have the content, draw people in, and they can afford to do it."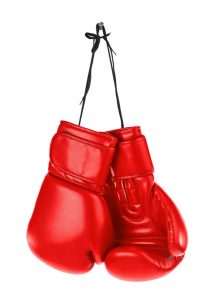 That's the main goal of the content—to help establishments draw in a wider customer base and keep them there longer. "Now especially in this day and age with what's going on," says Gagliardi, "people want to be able to sit in a spot they're comfortable in and enjoy themselves—have a couple of drinks, some appetizers, and unwind. It's been mentally exhausting for so many people, and to have the entertainment now to be able to put across the board in your establishment helps you draw a larger base of customers."
Gagliardi has a few suggestions about how to last through all the rounds and run a successful fight night in your bar. First and foremost, he says consistency is a must. "It's not something you just jump into and all of a sudden the money starts pouring in. You've got to show people that you're consistent and you're there to stay with this kind of content," says Gagliardi, who notes that the goal should be to become the to-go place to watch the fights. "By showing it consistently, you build a base of customers that know that they can come to you and watch great content, get out of the house, enjoy themselves, have a couple of drinks and some food and appetizers."
Gagliardi also says that consistency can help you to bring in new customers as well. He cites the example of a bar client that showed their first fight a few years ago. As a result of that showing, he had a group of 15 first-time guests tell him they had only discovered his bar because he was showing the fight, and that they would all be back on a regular basis since they had enjoyed themselves so much.
"It was really an eye-opener for him to see that it does a lot of good," says Gagliardi. "If you do it right, you can really create a new buzz and business for yourself and attract people not just for those nights but to come in on a regular basis and enjoy your establishment and what you have to offer."
Part of "doing it right" is in marketing the content you'll be offering. G&G Closed Circuit Events helps its accounts get the word out with posters, digital artwork, banners, and other marketing materials. They also post the bar on their site's directory so that people looking for a local place to watch the fight can find the bar by searching by city or zip code.
"There's a multitude of ways that we try to help people," says Gagliardi, "and depending on what their budget is and what they have in mind, just trying to direct them to an approach that they can take to be really successful for that night and to draw as many customers in as possible."
Other ways to promote the event include posting on all social media channels and taking advantage of traditional advertising methods as well. "If you want to go big, do local advertising with either your local newspaper or with radio ads," he says. "Do your own T-shirts for that night where you have your staff wearing shirts. You can do a higher priced ticket and include two well drinks or an appetizer."
Offering a raffle or giveaway in between the rounds of the fight can also generate interest. Gagliardi recommends giving away gift cards as prizes to get people to return to your establishment, noting that people often spend much more than what is on the gift card. "You're creating another experience and memory for them to come back to your establishment," he says.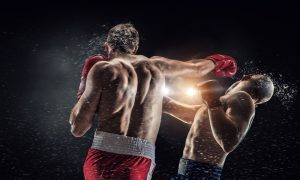 One of the big questions surrounding fight night is whether or not to charge a cover. "Our theory has always been it's good to charge something," says Gagliardi. "By charging at least five to 10 bucks, you're tracking somebody who wants to spend money. They have disposable income and they want to go out and have a good time.
"The appeal [of combat sports] is there, and it still resonates with everybody," continues Gagliardi. "It should show very well and do very well for folks who want to provide that content."
By Ashley Bray
Photos: Shutterstock.com