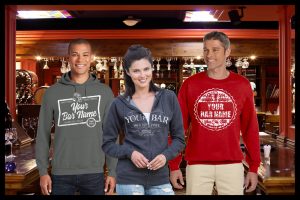 When you think about branding, what comes to mind? Your company logo? The signage used throughout your bar or restaurant's exterior? Or maybe the branded apparel that you are considering introducing to employees and patrons? In fact, all of the above constitute your company brand. Branded items can effectively leverage your bar in the minds of consumers, which is paramount to your success.
Nick Hogan is Co-Owner of Mover & Shaker, a company that offers professional branding and photography services along with creative concepting for branding. He says competition is fierce in the food and beverage industry, and battles are no longer lost and won simply through the final product—namely cocktails and beer—anymore.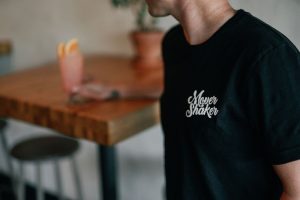 "As more and more bars are elevating their beverage programs, they're turning towards full-scale branding with their concepts in order to make a name for themselves—whether it's through social media, merchandising, or even writing books," says Hogan. "Creating a brand image gives your bar life beyond its walls."
As Hogan explains, Death & Co. basically cemented this theory with their 2014 self-titled book, Death & Co: Modern Classic Cocktails.
"They created such a strong image around their bar through the cocktail book, an amazing, aesthetic Instagram page, and recent merchandise, that the Death & Co. name has become a household name amongst cocktail enthusiast and cocktail bartenders alike," says Hogan.
Indeed, for bars owners and operators who are considering introducing branded apparel and other merchandise, it's important that they recognize that if their employees aren't their own biggest fans, then how can a bar owner convince guests to be?
"Your employees are your family, your teammates, they should always be willing to carry your name with them with pride," says Hogan. "Nowadays, any guest can walk into any bar or restaurant and have a decent Old Fashioned or Negroni or craft beer, but they choose your bar because of the ambiance, employees, and attitude, so why not give them a piece of that to take home?"
According to Kevin Pelz, Owner of BarRags Drinkwear, there are two different opinions about what to do with branded apparel and promo items. One thought is to give the items away to customers and employees. The other thought is to sell the items for a profit.
"Whatever your belief, the ultimate goal is to get your bar's name and logo out there on as many bodies as possible," says Pelz.
BarRags has specialized in offering branded apparel for bars and nightclubs since 1994. The company offers a wide assortment of T-shirts and sweatshirts to help bars promote themselves in a fun and fashionable way.
BarRags offers over 50 designs that can be sold every day as well as special event designs for St. Patrick's Day, Cinco de Mayo, and Halloween. With small minimum order quantities and no art charges, BarRags caters to the small neighborhood bars that want to offer great-looking shirts to their customers but do not have huge advertising budgets.
"At BarRags, we tell our bar customers that 'their customers will pay them to promote their bar.' This means that the bar's customers will buy the shirt, usually for a profit to the bar owner, and the customer will advertise that bar every time they wear that shirt," says Pelz. "If you figure a customer wears his favorite shirt from 'Joe's Bar' every other week—he is promoting that bar about 25 times a year."
And while T-shirts are still the most popular form of branding for a bar, coozies and sweatshirts are also very popular items that bars use to promote themselves.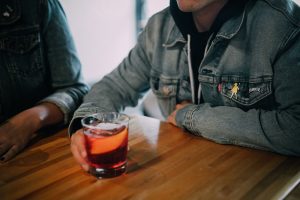 Branding Tactics
When talking about branding, it's important to first establish what is meant by a brand. The primary purpose of a brand is to differentiate a particular product or service in the minds of its customers so as to create customer loyalty.
Many people and organizations imagine only a logo when they think of a brand. A logo is indeed an important element of successful branding, but it's only one component. An organization's brand is actually the sum total of the opinions held by all stakeholders who are aware of and engaged with that business. It includes the name, any tagline, a visual identity, a style of communication materials, reputation for customer service, and so forth.
"In today's environment, the marketer is challenged more than ever on how to connect with their customers," says Chad Everett, Chief Service Officer at Success Promotions, a leading provider in headwear and apparel with sourcing to supply valued items at affordable prices. "Social media plays a big role today, but so do wearables. If the wearable is creative and comfortable, they will be worn and the impressions made within the social circles of that customer are immeasurable."
Aside from choosing what promo items to offer, bars need to consider how to sell the items.
Success Promotions, for example, can run and design websites that drop ship the product to the customer's door.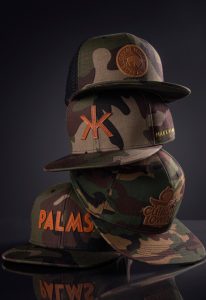 Hogan says there is no right or wrong way to disperse branded apparel, it just depends on what it is and how you'd like to be perceived. That said, a bar should be creating really special, one-of-a-kind merchandise that people want to buy. If they are not willing to pay for it, then do they even really want it if you're giving it away for free?
"One mistake we see bar owners make is not having a plan or a goal in mind, or they get caught up in deciding if they should sell the items or give them away," says Everett. "If the item doesn't sell as expected, they think of it as a failure. Then they give the item away and say they will never buy again, when in reality, they have handed out a product that will be used by their customers with lasting value. That's why it's important for bar owners to be clear on the agenda to start."
The most successful branded items are functional items—items that will be used over and over again. "Target your audience, think outside of the box, and execute," says Hogan. "Anyone can make any item with enough money, but you want to create something that people build a connection with and use over and over again."
Another common mistake when it comes to promotional items is taking the cheap route, which will only tarnish a brand name. "Take your time, do your due diligence, and invest in products that last and that people will use, and you will reap the benefits," says Hogan.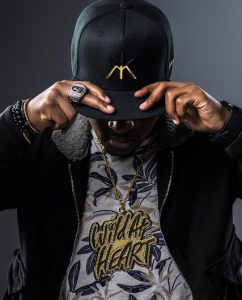 Pelz also sees bars underestimating their customers' loyalty and their desire to have shirts from their "favorite watering hole."
"People love to show where they have been or where they like to go to on a regular basis," says Pelz. "Branded apparel has always served that purpose. Whether it's showing what concerts you have been to, where you have traveled, or what your favorite team is—branded apparel shows everyone where you have been and what you like."
By Maura Keller
Photos (top to bottom): BarRags Drinkwear, Mover & Shaker, Mover & Shaker, Success Promotions, Success Promotions.