Kegs aren't just for beer anymore. Plastic kegs, like KeyKegs, are becoming a popular distribution method for wine, sangria, and more. They're lightweight, recyclable, and easy to transport. Best of all, they help bars reduce waste and make money.
"Kegged wine has really been booming the last five years," says Alex Sirico, Vice President & Founder of Cellier Wines Distributing.
As a distribution company specializing in kegged wine, Sirico says, "We trialed every single one-way disposable keg in the market." He determined that KeyKeg was the best. "It's a plastic, one-way recyclable container with an aluminum bag inside."
John Dorminey, National Sales Manager at Lost Vineyards, also uses KeyKegs. "The way a KeyKeg operates is fantastic," he says. "It's basically like a bag in a box. It's a double-hulled, very strong plastic keg, and inside is a bag that is an oxygen barrier."
Lost Vineyards
Lost Vineyards uses the KeyKegs to distribute its brand of Tiki Sangria, a high-quality sangria from Spain.
"The sangria goes into the keg, but it actually just fills the bag up," says Dorminey. "Then the gas goes into the keg, but outside the bag. So the pressure just squeezes the bag and that forces the sangria up the line through the faucet."
Unlike traditional kegs, the KeyKeg does not require a particular gas since the bag inside the keg acts an oxygen barrier. "You can use air if you want," says Dorminey. "You can use a hand pump, or you can tee off the gas line on a soda gun compressor. You just need pressure to squeeze that bag."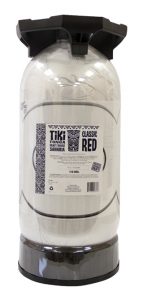 This feature gives the keg functional flexibility. "We are selling a ton of Tiki kegs to caterers because they can use a hand pump for an outside catering event. They don't have to bring along a tank of gas," says Dorminey. "Because the bag is an oxygen barrier, they can actually untap the keg after the party, store it for the next event, bring it back out, and retap it, and it's good for nine months because there's no oxygen getting to the sangria."
When you have a kegged beverage that stays fresh for months, you aren't going to waste any of it. Whereas when using bottles, the product deteriorates after a few days.
"Oxygen is the enemy of wine," explains Dorminey. "Zero waste is a really big part of the kegged wine profitability factor."
The keg also allows for greater consistency. For example, Dorminey says, if you have six bottles of cabernet open behind the bar, chances are all of them are not going to be perfect.
"So you're serving inconsistent product or bad product part of the time, or you're throwing it away,"   he says.
Kegged sangria prevents that waste and provides consistency between different bartenders.
It's also cost-effective. Each keg of Tiki Sangria contains the equivalent of 110 six-ounce pours. Because sangria is poured over ice, six ounces can fill a 12 to 14-ounce glass. "If you charge $6 per glass," says Dorminey, "that's $660." And depending on the state, the kegs can cost less than $100.
Serving sangria over ice also means the kegs don't need refrigeration. To make installation as easy as possible for its customers, Lost Vineyards manufactured special draft towers that can clamp onto a bar or shelf, creating the option of adding draft sangria without switching out another beer on tap.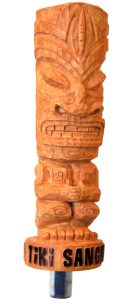 Tiki Sangria also comes with a unique, complementary tap handle, offering an opportunity for brand recognition. "One thing some of the wineries are not thinking about as much is the power of a tap handle," says Dorminey.
If a customer orders a glass of wine from a wine list and that wine is poured from a bottle, it doesn't come with logos or imagery like a beer bottle would. "A big part of our success has been how much attention that Tiki tap handle gets," says Dorminey. "It gets people to taste it for the first time—and as long as they taste it, we know the quality's there, and they're going to be really happy about it and re-purchase."
Tiki Sangria's distinctive tap handle was inspired by the craft beer scene. "Most beer drinkers," Dorminey explains, "they walk into the bar, they go over to where the draft beer is, and they look at all the tap handles."
People recognize their favorites and ask about new handles, giving bartenders a chance to engage.
Tiki Sangria comes in two year-round flavors: a classic red sangria made with citrus, and a tropical white sangria with pineapple and mango. The brand also recently introduced a seasonal berry sangria with blackberries and blueberries. "We specialize in the sweet palate consumer," says Dorminey.
Although there's a popular perception that sweet wine is seasonal or for warm, touristy locations, Dorminey says that's starting to change. "People drink cold beer watching the Super Bowl when it's cold outside," he says as a comparison. Similarly, someone who enjoys sweet beverages won't stop enjoying them just because the seasons change.
Cellier Wines Distributing
Cellier Wines Distributing offers a wide variety of wines in KeyKegs. When Sirico first encountered kegged wine a few years ago, he analyzed it from a margin standpoint. "It's 26 bottles for every 20-liter keg," he says. When this is broken down by the ounce rate, it's a substantial savings compared to bottles. "We calculate it based on a six-ounce pour," says Sirico. "You're getting much better quality of wine for a phenomenal ounce rate."
A standard glass of wine is four to six ounces, so he uses a six-ounce measurement to capture the largest potential cost. Kegs of wine can range from $80 to $400. A hundred-dollar keg translates to 14.8 cents per ounce. Kegs allow you to buy wine at a bulk standard. They also cut out the cost of glass and corks.
"We've been building up a portfolio of wine on tap as well as bottles for years," says Sirico. "We specialize in tap wine."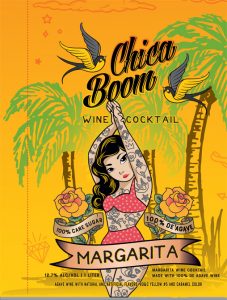 Cellier Wines Distributing offers several different kinds of each varietal, so it is a one-stop shop for kegged wine. For instance, the company has a few types of Chardonnay, giving its customers a large range to choose from.
Cellier also offers its own kegged sangrias under the brand JAM'N Sangria. It comes in red (with strawberry, apple, and orange), white (peach and pear), and rosé (strawberry, peach, and pear). It also has a ready-to-drink margarita wine cocktail called Chica Boom made with agave, orange, and lime.
Hakutsuru Sake
For bar owners who want to explore kegged products, sake will soon be an option. Hakutsuru is a Japanese brand with plans to bring kegged sake to the American market. Founded in 1743, the company is the largest sake producer in the world. It uses Miyamizu spring water from Nishinomiya, proprietary yeast, and its own unique sake-specific rice, Hakutsuru Nishiki.
Like Cellier Wines Distributing and Lost Vineyards, Hakutsuru also uses KeyKegs. Gaku Saito, General Manager of Hakutsuru Sake of America, says, "[By filling in the] KeyKeg right after pressing, this revolutionary style can keep freshness without any oxidation until the last drop, allowing you to drink fresh sake that could only [otherwise] be enjoyed at the brewery."
The KeyKeg system creates a new opportunity for customers to enjoy fresh, unpasteurized sake from the tap. So far, Hakutsuru has sold two types of sake in ten-liter kegs: Junmai Genshu Namasake and Junmai Dai Ginjo Genshu Namasake.
Hakutsuru kegged sake is not yet available in the American market, but the company plans to do test marketing in the near future. Saito anticipates that kegged sake will be valuable not only for Japanese restaurants in America, but also for Asian restaurants in general as well as sports bars. Saito says, "We would like to make KeyKeg [a part of] sake culture in America."
With so many options to choose from, and with such distinct advantages over bottles, bar owners should consider adding kegged beverages beyond beer to their inventories.
By Emily Eckart
Photos (top to bottom): Shutterstock.com, Lost Vineyards, Lost Vineyards, Cellier Wines Distributing.