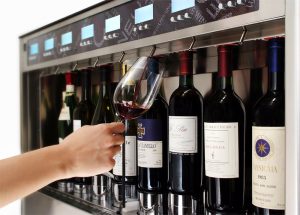 Bars and restaurants with carefully curated wine lists know that there's a great amount of profit to be made from wine. But there can also be a great amount of lost profits through spoilage, overpouring, or lack of upselling and marketing.
We look at two technologies aimed at making the sale, serving, and dispensing of wine easier and more efficient.
Wineemotion
Wineemotion is a preservation and dispensing system for wines. Depending on the model, the system can hold from four to eight bottles. There's even a unit called Bartender that holds and dispenses liquor bottles.
Each unit contains diagnostic screens and wine balance indicators that show if a portion is not available, or if a bottle is empty or near empty.
Wine typically has a short shelf life once opened, but Wineemotion preserves the quality of the wine for 30 days after the bottle is opened. This is thanks to food-grade argon gas that is injected into the bottles to create a barrier against oxygen. Patented ISOL-PLUS™ Total Isolation Technology preserves each bottle individually in its own pressurized atmosphere to avoid aromatic cross contamination between each bottle position. In addition, the system makes sure white wines and red wines are served at the right temperatures.
Bottles of different sizes can be easily and quickly hooked up to the system thanks to spring-loaded pneumatic pistons that efficiently raise and lower to mount bottles from beneath, which creates a reliable, hermetical seal. This eliminates the possibility of mechanical stress and gas leaks associated with systems that suspend bottles from above. Automated pressurization monitoring confirms that each bottle is pressurized without leakage before allowing any wines to dispense.
On the dispensing side, Wineemotion reports that freehand pouring of wine can result in an average 15% overpouring. In contrast, their system enables precise pour control with the option to program up to three different volumes for each bottle position. The most common pour volumes are tasting, half glass, and full glass.
Bars and restaurants typically offer expensive wines as bottles only, which limits sales. But with the ability to open a wine, dispense it in smaller portions, and keep the remaining bottle fresh, that changes. "When a wine is available for taste, half glass, or full glass, there are no reasons to not drink such wines," says Roberto Rinaldini, President of WineEmotion. "The Wineemotion system helps to sell more wines and consequently to increase revenue."
In fact, according to Wineemotion, by offering more expensive wine by the glass at higher price points (which could range from $18-$30 a glass compared to on average $12 or less), the average revenue per ounce will grow 25%.
Plus, Wineemotion offers bars and restaurants a sleek, eye-catching way to display their wines, which can also help to sell them. The system can be operated by staff behind the bar, or by customers as a self-serve station where they use special prepaid smart cards to dispense wine themselves at their leisure, which frees up staff.
Wineemotion systems even offer users data about their wine dispensing, including sales statistics and reports and inventory management. "These analytics are a great tool to monitor sales and to know which wines the customers like more or less," says Rinaldini. "This helps to make the right decision with the selection of the wines, consequently increasing the revenue."
vSpin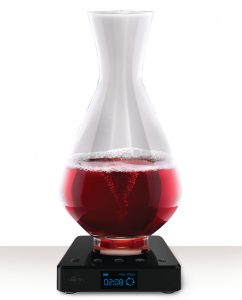 Another problem bars and restaurants often face when serving wine is properly aerating it. Certain wines can take hours to fully open up. While seasoned wine drinkers know to call ahead and have an establishment open up a bottle hours before their dinner reservation, the reality is that the typical patron may have no idea that wines even need to be aerated. So what's a server to do when a table orders a bottle of wine that should have been opened hours before?
Charn Rai, CEO/Founder of Bevstir Innovations USA Inc., believes he's created a solution with vSpin. vSpin aerates wine in minutes rather than hours thanks to the product's patented methodology, which creates a gentle and silent wine vortex. As a result, the surface area of the wine is increased in a controlled and continuous manner. By accelerating oxygenation, vSpin mellows the harsh tannin textures and releases the wine's subtle flavors.
"vSpin is not another wine gimmick, but rather an innovative tool that showcases new and older delicate wines in their best light by infusing old world tradition with new world innovation aerating the wines without forcing micro bubbles in mere minutes," says Rai.
This isn't Rai's first foray into the vortex technology. He originally developed the system for use in mixing tumblers, but when he stumbled onto information about wine aeration, he knew his technology would be a great fit in the world of wine.
Rai created a prototype and contacted Sommelier Alistair Veen to test the wine. "When I first started developing this unit, I really wanted somebody who knew wine to tell me honestly if I had something here and if it did anything," says Rai.
Veen gave his approval of the product, and the buzz didn't stop there. vSpin was nominated for a 2018 German Design Award for Excellent Product Design. Michelin Three-Star Mixologist and Owner of Creative Cocktail Consultants Brian Van Flandern also endorsed the new product, "Every sommelier, restauranteur, and serious wine connoisseur should have one if they want to increase check averages and offer a superior guest experience."
Rai next reached out to glassmakers Riedel and performed a demo of his product. The company agreed to manufacture the decanter for vSpin through its Spiegelau division. "They said they would in fact co-brand it with us," says Rai. "This is the first time in their 400-year history that they've attached their name to another product."
vSpin will launch at the end of October with a decanter that retails for $299 and will fully aerate a 750 ml bottle of wine. In 2018, vSpin 1-2 will launch, which will decant just one or two glasses of wine.
Aside from the benefit of quickly aerating wine, vSpin enables venues to upsell and increase check size. "There's a possibility if it's made that wine taste so good, the restaurateur may be able to sell a second bottle," says Rai.
Having the vSpin at work on the table also gives staff the opportunity to have
a more meaningful interaction with guests. "Now the restaurant can really allow their guest to have a great wine experience and to wow the guest right at the table with the vSpin spinning for 3, 4, or 5 minutes," says Rai. "It changes the conversation between the server and the guest. There's a whole different topic now to talk about it."
Tiki Time
Tiki Sangria offers an alternative to the time-consuming and inconsistent process of making sangria.
"Consistency seems to be the biggest issue with sangria on-premise right now," says Joshua Preston, Procurement & Northeast Sales for Tiki Sangria.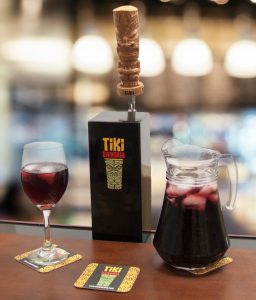 Tiki Sangria is imported authentic Spanish sangria that comes in a recyclable 20- or 30-liter Key Keg. "It's double-walled plastic so the product's inside in a food-grade aluminum bag. So when you use CO2, compressed air, nitrogen, or a hand pump with our Tiki Tower system, it's very easy to dispense," says Preston. "The product's good for over 10 months after it's been tapped. And it can be re-tapped an unlimited amount of times because whatever air you're using actually squeezes the bag and never comes into contact with the product itself."
Bars can hook up the keg to an existing tap or use the company's "Tiki Tower" dispensing system, which is a vise unit that clamps onto any surface and includes wine-friendly 304 stainless steel parts. The keg, which doesn't need to be refrigerated, goes underneath the unit, and the sangria is dispensed via a hand pump.
The unit also includes a tap handle in the shape of the Hope Tiki. Customers looking to custom brand the sangria can do so by creating and printing tap labels, which Tiki Sangria provides templates for on their website.
Once set up, Tiki Sangria serves up big profits. Take a six-ounce pour over ice. "That's going to come in at 18 cents an ounce with both the 20 and the 30 liter keg, so $1.08 per serving. If they charge $6 a glass, they're going to gross $1,008 on the first 30L keg or $672 on the first 20L keg," says Preston.
By Ashley Bray
Pictures (from top to bottom): Wineemotion, vSpin, Tiki Sangria.