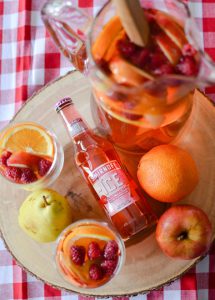 Ingredients:
1 Bottle Smirnoff Ice Raspberry
1/2 Bottle Crisp White Wine
7 oz. Smirnoff No. 21 vodka
18 oz. White Grape Juice
Apples, Pears, Oranges and Raspberries for Garnish
Directions:
Pour Smirnoff Ice Raspberry, white wine, and Smirnoff No. 21 vodka into a large pitcher. Stir. Stir in white grape juice. Top with slices of apples, pears, oranges, and raspberries. Stir. Let sit in the fridge for 4-6 hours, stirring every hour. Serve and enjoy! Serves 8.
Courtesy of Smirnoff.