Like everything else, the holidays may look a little different this year. COVID-19 has tested our industry greatly this year, and that's why it's more important than ever to spread some holiday cheer to your favorite industry insider (or yourself!).
Take a look at the gift guide for the hospitality industry (extended from the version running in our October/November issue) below for some gift ideas for the bartender, wait staff, or bar owner in your life!
NICELY Gifted Puzzles from Smirnoff ICE
Just in time for all of your last-minute holiday gifting needs, Smirnoff ICE has once again teamed up with premium imported home goods brand, Cremsiffino, to create a new line of limited-edition NICELY Gifted Puzzles featuring three festive designs that pack an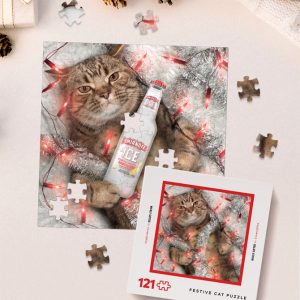 unexpected surprise for just $21 each. The NICELY Gifted puzzles collection offers several captivating scenes for giftees to choose from including a festive cat for the cat-lover on your list, a happy snowman for those who embrace the magic of the holidays, and a starry night for those whose holiday spirit knows no bounds. And these puzzles aren't just any puzzles, they come with a hidden bottle—as the holiday puzzle starts taking shape, the builder will soon see that it actually includes the image of a bottle of Smirnoff ICE that wasn't featured on the box. Even better, once giftees crack the puzzle, they'll be treated to a $5 offer from ecommerce platform Drizly, redeemable for new users until December 31st.
Cascade Moon Edition No. 2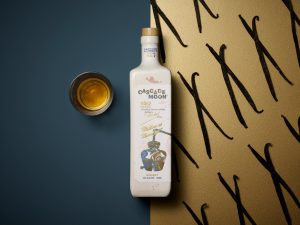 Cascade Hollow Distilling Co. is excited to announce the latest release of their Cascade Moon Whisky series, Cascade Moon Edition No. 2, which honors the heritage of the George A. Dickel & Co. brand. Celebrating 150 years of passion for making quality whisky and further tying back to George Dickel's history, the liquid for this second release was taken from a small batch blend curated around the first barrel of TN Whisky filled after the distillery returned from shutdown in 2003. Even the release's packaging pays homage to whisky making over the last 150 years. This unique sandblasted ceramic bottle is sourced from one of limited producers in the world. The labels are hand printed using a 130 year-old press, to create a stunning look and feel. When tasting this liquid, whisky fans can expect to come across notes of vanilla, oak, leather and oil. Cascade Moon Edition No. 2 will be regionally available in Tennessee, California and Texas for a limited time at a suggested retail price of $249.99.
Limousin Rye
This $44.99 gift set from Dancing Goat Distillery includes award-winning Limousin Rye whiskey and a 12 ounce bottle of 100% pure Wisconsin maple syrup aged at Dancing Goat in used whiskey barrels. Maple syrup is a great alternative for the sugar cubes in an Old Fashioned, as Limousin Rye whiskey pairs so well with the pure maple flavor. Limousin Rye is the first release from the Dancing Goat Distillery. A smooth & flavorful American rye whiskey that's wonderfully neat yet complex enough for the perfect cocktail.
Death's Door Gin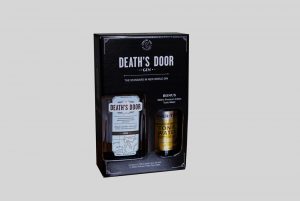 Death's Door Gin is a product of a simply perfect recipe made from only three botanicals, which all sing through in the taste: Juniper, Coriander, and Fennel. Loaded juniper berries up front; spicy, citrusy notes from the coriander seeds in the mid-palate; and a soft, cooling finish provided by the fennel seeds for a remarkably smooth yet distinctive flavor at 94 proof. All three botanicals interact delightfully with quinine, the basis for tonic. The $34.99 gift set includes a 500ml bottle of Premium Indian Tonic Water.
Teremana Small Batch Tequila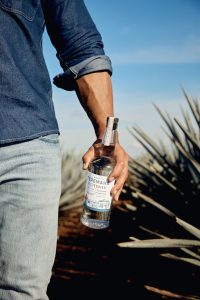 Founded by Dwayne "The Rock" Johnson, Dany Garcia, Jenna Fagnan, and Ken Austin, Teremana Small Batch Tequila is an ultra-premium tequila crafted in the Jalisco Highlands of Mexico that is ideal for gifting this holiday season. Available in Blanco ($29.99) and Reposado ($32.99), Teremana is made from mature, naturally sweet agave slow roasted in small traditional brick ovens and distilled in handmade copper pot stills. The smooth finish of Teremana is meant to be savored one sip at a time or added into your favorite cocktail to give it a fresh flavor profile.
Skrewball Tasting Glass Set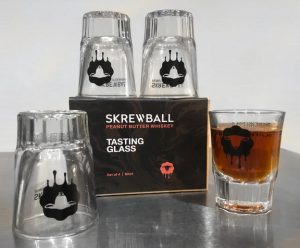 Peanut butter flavored whiskey has been a big hit recently. Gift the whiskey lover in your life a set of four officially branded SKREWBALL 60ml whiskey shot glasses for $19.99 so they always have a glass at the ready. The high-quality, heavy duty shot glass has a thick, heavy base for added stability. The durability of this glass makes it ideal for that morning espresso shot as well.
Absente Absinthe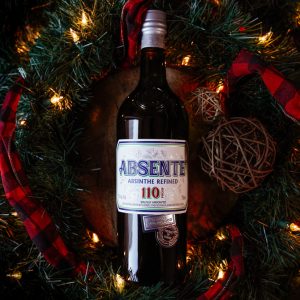 This year, we might not be able to spend the holidays like we want to, but there is only one green color that we should put on display and that belongs to Absente Absinthe Refined! Absente Absinthe Refined is handcrafted in the South of France at Distilleries et Domaines de Provence by following one of the oldest recipes dating back to the 19th century, as well as by using the highest quality artisanal distillation methods and ingredients. Absente is the leader in its category and the first one to be introduced in the US market in 2001 when the ban was lifted, thanks to visionary marketer Michel Roux. Slightly bitter and with a sophisticated taste, Absente has hints of anise and peppermint and can be enjoy mixed or by itself.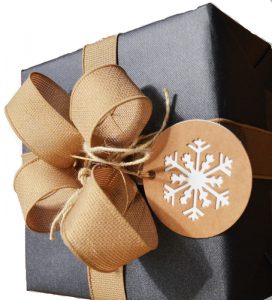 The Bulleit x Yeti Bundle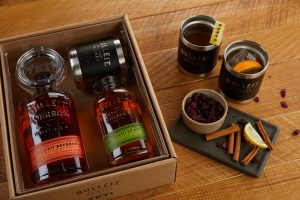 Right in time for the holidays, Bulleit Frontier Whiskey has collaborated with Yeti to debut its one-of-a-kind gift pack featuring the whiskey they love along with a specialty Bulleit rambler. Retailing at $72.00, the custom rambler creates the perfect, sustainable way to responsibly enjoy cocktails anywhere and anytime. Not to mention, that the Bulleit x Yeti bundle is the ultimate gift for the host or hostess of any socially distant holiday party.
Magellan Gin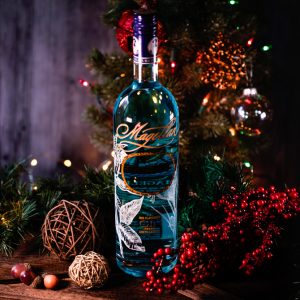 Named after the explorer, Magellan Gin is distilled three times in small batches using a column still, and then redistilled for a fourth time using a small artisanal copper pot still, where the botanicals (all 11 of them!) are vapor infused. Then, the master distiller selects the "heart" of Magellan Gin, which is the moment when the gin is absolutely perfect. This fresh distillation process captures the intricate and complex flavors of the fresh botanicals. For the finishing touch, Magellan is infused with natural iris root and flower, which creates the crisp taste and beautiful blue color.
Rhum Barbancourt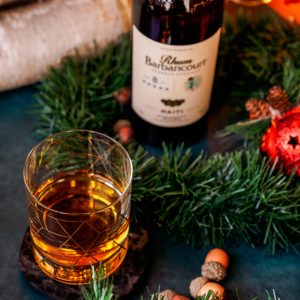 Gift the rum lovers in your life a bottle of Rhum Barbancourt, which has been crafted in Haiti since 1862 from pure sugar cane juice (excluding molasses, a residue from the sugar-refining process which is used by other rums from the region). Sugar cane juice has a much richer flavor (wider diversity of aromas) than molasses, and that difference in the raw material distilled translates in the taste of the distilled rum. Rhum Barbancourt is available in five varieties.
Heaven's Door Trilogy Collection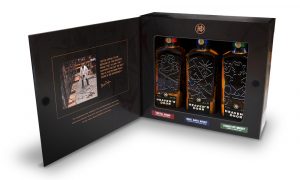 The Heaven's Door Trilogy Collection for $59 makes a great gift for any music or whiskey fan. The gifting pack is complete with three 200ml bottles of the brand's core portfolio, and each bottle itself is a piece of art, showcasing the gates Bob Dylan made in his welding studio. The gift pack includes 90-proof Heaven's Door Tennessee Straight Bourbon with robust notes of oak and rye; 100-proof Heaven's Door Double Barrel Whiskey, which is comprised of a blend of two Tennessee whiskeys and one rye whiskey; and 92-proof Heaven's Door Straight Rye Whiskey, finished in toasted oak cigar barrels.
Absolut Elyx Boutique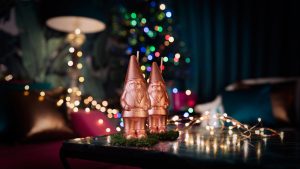 Have a lover of luxury in your life? Why not peruse Absolut Elyx's exclusive Absolut Elyx Boutique, which features a collection of signature copper drinking vessels, bar tools, and gifts that combine stylish design with industry-professional quality. You can find everything from cufflinks to clothing to drinking vessels all in the brand's iconic copper hue. May we suggest a copper gnome vessel or maybe a limited edition unicorn cocktail cup?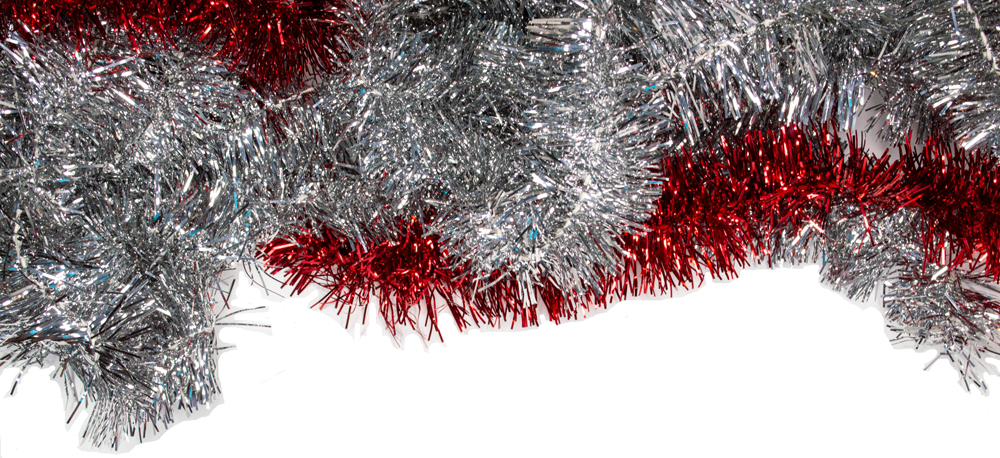 Woodford Reserve Baccarat Edition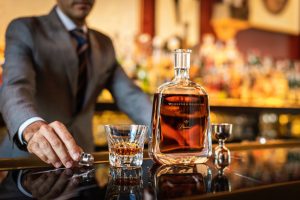 Woodford Reserve Baccarat Edition marries the world's finest bourbon with the world's finest crystal. The exclusive 90.4-proof whiskey is Woodford Reserve Bourbon that has been aged an additional three years in XO cognac casks from France. The result is the best of both spirits – a balance of crisp American and French oak notes, complex fruit character, subtle spiciness, and a creamy confectionary finish. It is bottled in a handmade crystal decanter that took five days to create in Baccarat, France. The spectacular bottle design is meant to evoke the iconic Woodford Reserve bottle silhouette and is engraved in gold with Woodford Reserve's and Baccarat's iconic logos. It is presented in a signature Baccarat red box and includes a crystal stopper adorned with Woodford Reserve's initials.
Hennessy X.O X Frank Gehry Limited Edition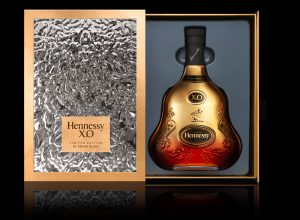 In celebration of the 150th anniversary of Hennessy X.O., world-renowned architect Frank Gehry has created a limited edition bottle for the holiday season. Presented in a golden case with plexiglass, the gold and rich amber coated Hennessy X.O bottle shines through, creating a sophisticated present of utmost originality. This new giftbox is a great synthesis of Frank Gehry's inspirations: the Charente river movement, the force of the nature, and the richness of the Hennessy X.O blend. The golden carafe embodies Frank Gehry's main theme in art: the reflection of light. The box also reveals the carafe's iconic silhouette by transparency. It's a perfect gift for cognac and art enthusiasts alike!
LTD x Cocktail Kingdom First Edition Bar Kit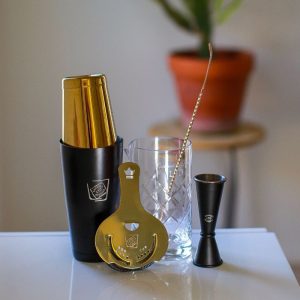 For the fashion or style fanatic in your life, look no further than Licensed to Distill's first edition cocktail kit created in partnership with Cocktail Kingdom. For $149, it is a premium set of professional quality bar tools that mixes parts from black and gold colorways. It includes one large engraved matte black and one small gold plated Koriko Weighted Shaking Tins; a Koriko Hawthorne Strainer with an engraved gold plated frame and matte black spring; an engraved matte black Cocktail Kingdom Japanese Style Jigger; a gold plated reproduction of a turn-of-the-century barspoon from Hoffman House in New York City; an engraved Yarai Mixing Glass; and a free online cocktail class with Ice and Alchemy.
2020 Special Releases Single Malt Scotch Whisky Collection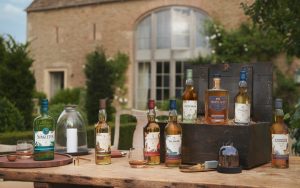 Diageo's 2020 Special Releases Single Malt Scotch Whisky Collection is inspired by the globally celebrated theme, "Rare by Nature." Curated by Master Blender Dr. Craig Wilson, this exclusive selection is comprised of eight cask-strength Single Malt Scotch whiskies, drawn from some of Scotland's most beloved distilleries. Ranging in price from $111-$755, the annual collection explores unusual age points, experimental maturation techniques, and welcomes its first-ever release finished in pot-still Caribbean rum casks. The encore theme highlights the extraordinary nature that surrounds each distillery, with each whisky visually brought to life through intricate illustrations that decorate the bottles. The collection includes: Pittyvaich, from the Speyside ghost distillery, finished in first fill ex-bourbon casks; a rare Highland expression of Dalwhinnie matured in refill hogshead casks filled in 1989; the best of Isle of Skye, Talisker, our foremost finished in pot-still Caribbean rum casks; the stalwart Lagavulin, a perfect expression of this Islay distillery's character; and more.
The Dalmore 18, Scotch-Infused Chocolate Gift Set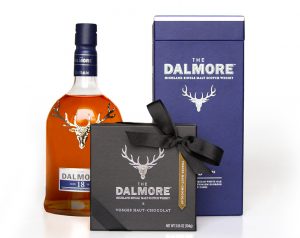 A rich, lush, sherried expression, The Dalmore 18 is aged in American oak for 14 years and transferred to Spanish sherry butts for its final flourish. In a one-of-a-kind collaboration with Vosges Haut Chocolate, the Dalmore 18 gift set features three chocolate parfums to complement and enhance the aromas of The Dalmore. Each truffle is infused with single malt expressions and paired with raw honey ganache, candied orange peel, early-harvest first press Mediterranean olive oil, spiced ginger crumb, and vanilla bean coffee burnt sugar caramel.

High West x Coalatree Adventure Blanket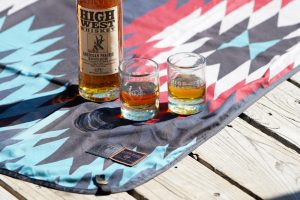 High West, the state's first whiskey distillery, has partnered with eco-minded outdoor gear and apparel company, Coalatree, to create the versatile High West X Coalatree Kachula Adventure Blanket for $83. It's the perfect gift for the outdoorsy type or for anyone on your list as we all spend more time outside. The blanket is made from 100% recycled materials and is easily convertible into a travel pillow or poncho. As an added bonus, $30 from each blanket sale will be donated to support the conservation efforts of the American Prairie Reserve.
The Wine Club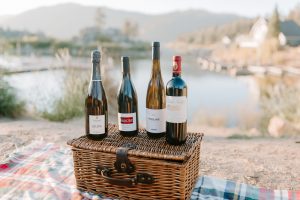 The female-founded Wine Party Co is a new wine e-commerce company that aims to make organic, boutique wines more accessible. The company offers The Wine Club, tasting packs, sommelier consultations for personalized advice, virtual classes, and an online community for the casual wine drinker. Featuring personalized recommendations from a sommelier, The Wine Club is perfect for those wine lovers on your gift list looking to make shopping for wine for easier. For $125/month, subscribers receive four, curated organic wines per month with a seasonal tasting guide and can choose between a signature mix, red wines only, or light wines only.
Brockmans Gin Ultimate Gift Pack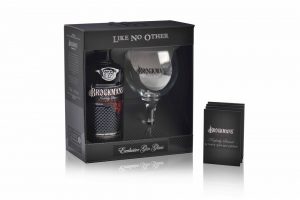 Brockmans Gin, the super-premium, new style gin 'like no other', is introducing the ultimate value-added gift pack just in time for the fall and holiday gift-giving seasons. The super-premium pack includes a 750ml of Brockmans Gin, a Brockmans cocktail recipe booklet and a handsome Spanish style Copa Glass – the perfect vessel to enjoy delicious Brockmans Gin cocktails. The gift pack is designed to provide shoppers with a unique and convenient gifting option.