The Loramie Bank building in Ohio is one versatile structure. Originally built in 1919 as a bank, the building has housed several businesses, including a retail meat market and two different pizza shops. In 2020, 101 years after the building was constructed, a group of friends and business partners have come up with the building's newest resident: a brew pub.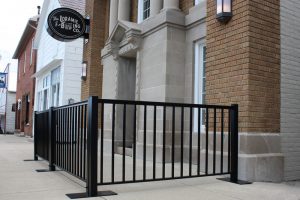 The Loramie Brewing Company is as versatile as the building that houses it: from coffee to craft beers, frozen drinks to pizza, music, and entertainment, the team is banking on a broad spectrum to bring folks in from the community. An outdoor patio outlined by Ready Railing by Superior Aluminum Products allows the bar to host music outside or have a smoking patio while still meeting social distancing and liquor license requirements. At the end of the night, employees can disassemble the patio and store it or set it up for the next event.
Ready Railing was designed to create temporary outdoor dining spaces that are easy to assemble, disassemble, and store, while still looking professional and meeting the needs of the establishment.
Rick Barhorst, the owner of Loramie Brewing, needed something that looked professional. He deposited hours of work re-tucking bricks, painting, and replacing wiring and windows on the 101-year old building. Almost every element of the building reflects the history of the community: the pub tables are made from nearby wood, and a pergola inside was made of material from an old building down the street that was torn down.
Loramie Brewing opened in July of 2020, so the owners have only experienced the bar under COVID-19 protocols, which mandate strict social distancing and space for people to spread out. As the local community have begun to ease out of isolation and businesses are starting to re-open, bars and restaurants are turning to outdoor space.
Outdoor space provides more room for visitors to spread out and social distance, and also a place for the Loramie Brewing Company to host music over the summer. The bank didn't come equipped with a patio, so Barhorst had to get creative.
The building has a parking lot behind it with a great view of the building. Eager to show off the historical building, Barhorst took a few parking spaces and outlined a patio. Ohio's liquor license requirements dictate that outdoor space has to be defined and closed in, but doesn't dictate the materials.
Many pubs and bars are creating temporary outdoor spaces with temporary materials: cement blocks with wood, twine, traffic cones, etc. Barhorst wanted a solution that looked as good as the beautifully renovated historical building—after all his work renovating the historic bank, the last thing he wanted was a temporary patio outlined by twine or caution tape.
Barhorst turned to Ready Railing as a temporary solution to meet COVID-19 and liquor license requirements, without the cost of building out a permanent patio. He wanted a product that looked professional but could also offer flexibility as his needs changed. When Craig Purpus, Sales Engineer at Superior Aluminum called and told him about Ready Railing, Barhorst knew it was just what he needed.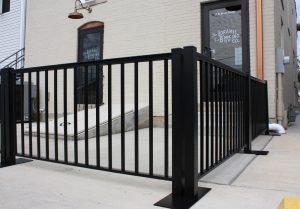 The Ready Railing consists of aluminum railing panels that insert into base plates. While Superior Aluminum provides many colors, Barhorst opted for classic black railing. The railing blends right into the historic look.
A small team from Superior Aluminum delivered the railing and installed it in five minutes. A few adjustments were made to make sure everything was just right, but the whole process took less than ten minutes.
"If you didn't know, you'd have thought we set up a permanent wall there—it doesn't look out of place at all," he said.
Each railing panel can be inserted into a single or double base plate, allowing for a continuous run or a 90-degree turn. The aluminum construction means that Barhorst and his team can easily move the lightweight panels individually or even as assembled units depending on the needs of the bar. They've added sections to expand the patio into the parking lot to accommodate larger crowds. They've even taken some panels out to make multiple narrow outdoor patio areas. Nothing is set in concrete or screwed into the ground, so it's all flexible and versatile.
The durable, high-quality aluminum won't rust or rot, meaning Rick can leave it outside overnight if he needs to. Right now, his team takes the railing down each night and stores it out of the way between two buildings. Even after a full shift of slinging craft brews for visitors, disassembling and moving the railing at the end of the night only takes minutes.
From bands and music enthusiasts to locals on a smoke break, Loramie Brewing Company's outdoor patio has hosted no shortage of visitors this summer. With a great view of the historic Loramie Bank Building and all the fresh air you can drink—in between sips of craft beer, of course—the Ready Railing has defined an outdoor space that has defined the way visitors see the new brew pub.
For Barhorst and his team, the Ready Railing has provided a simple, easy to use method of creating an outdoor space that they can move, remove, expand or shrink without breaking the budget or their backs. Loramie Brewing can host more visitors thanks to the extra square footage, all while staying within the bounds of the liquor license requirements. The durable, maintenance free aluminum will last for years while helping Loramie Brewing be as versatile as the bank building itself.
Headquartered in Russia, Ohio, Superior Aluminum Products is an industry leader in the manufacture of aluminum railings and fencing, and aluminum and fiberglass columns. This third-generation family-owned and operated company has been making aluminum products since 1956. Their decorative and functional products are custom built to customer specifications, with CAD drawings created for layout, design and manufacture. This allows them to identify and prepare for any slight difference or oddity in any area, and greatly simplifies installation. All products are designed to meet local, state and federal building codes, including the American with Disabilities Act. Their maintenance-free products are ideal for commercial, municipal and industrial facilities, as well as single-family and multi-family residential locations. Their Russia, OH headquarters facility includes over 100,000 square feet of manufacturing floorspace, as well as engineering, design, research & development, customer support and administrative offices.
For additional information contact Superior Aluminum Products Co., 555 East Main Street, P.O. Box 430, Russia, OH 45363, or visit www.SuperiorAluminum.com, e-mail

[email protected]

, or call (937) 526-4065.