West Cork Distillers, in partnership with its importer M.S. Walker, has introduced a new limited release Stout Cask finished blended Irish whiskey into the U.S. market. This new release joins West Cork's recently introduced limited release IPA Cask Finished blended Irish Whiskey and core line of craft whiskeys, which includes its popular Bourbon Cask, Black Cask, 8-Year Single Malt Irish Whiskeys and variety of limited release offerings.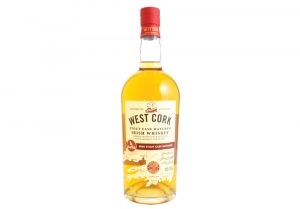 West Cork Stout Cask finished blended Irish whiskey is a 75:25 blend of grain & malt Irish whiskey crafted using Irish malted barley and Irish wheat, tripled distilled and aged in first fill bourbon casks for four years. The malt and grain components are then blended and aged for an additional 6 months in casks that had held Ireland's Blacks of Kinsale's beloved Stout offering. The whiskey delivers aromas of chocolate, raisins and cracked nuts, with flavors of dark chocolate, coffee and vanilla.
West Cork Distillers, which is 100% Irish-owned and uses only local Irish ingredients, was founded in 2003 by childhood friends John O'Connell, Denis McCarthy and Ger McCarthy. The three men shared a passion for preserving the fine craft of traditional Irish whiskey. West Cork Distillers has become a recognized leader in innovation, distilling and bottling the finest craft Irish whiskey to come out of Ireland. The Distillery prides itself on hiring locally and working with local service providers to do their part to stimulate the economy of Southern Ireland.
This special limited release Stout Cask Irish whiskey (9,400 bottles), along with the IPA Cask offering, becoming available now for $31.99 throughout the United States.