A bar's website is an important information tool for your customers. Since this is the case, it is crucial to update your website with the most recent and relevant information for your establishment. Knowing the kind of content your patrons are looking for and what changes to make is just as important. A well-designed bar website will help bring guests from online into your bar's front door. As a website developer who has over 20 years of experience in the industry, here are a few ways I would suggest you update your website to attract business.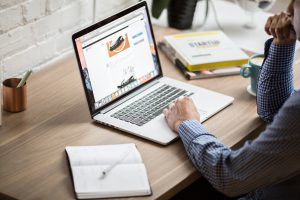 Be Mobile
61% of mobile searchers are more likely to contact a local business if they have a responsive website that works on all devices. If your bar's website isn't responsive, the changes you make to your website are obsolete. Even with updating your desktop site regularly with new specials and deals, it will be difficult to get over half of your guests to find that new information online.
When updating the design of your website, you should be thinking mobile first. All of the major search engines have switched to a mobile-first initiative in recent years. Your mobile website needs to look the best and then account for how the mobile design transfers to the desktop.
Simplify Your Website
Keeping your website simple will help get your message across easier than having a lot of motion, unnecessary photos, and unimportant information. Remove all of the sliding picture panes, which often take up the most expensive real estate on the website. Instead, replace these sliding pictures with one optimized image. The image should be of what you are promoting at the moment or of your biggest money-making drinks or food.
Having too many moving pieces can cause your website to load slower. 40% of mobile visitors will leave your site if it takes more than three seconds to load.
Have your phone number in the upper right-hand corner, accented with a color to catch the eye. Keep the overall color palate of your website on brand with your business. Adding bright and unnecessary colors can distract the person looking at your website from what you actually want them reading.
Another important aspect to your website is the font size. This may seem like a minor point but too many websites use small fonts making the site difficult to read, especially on mobile. When you increase the font size, even just a little, people will stay on your page longer.
Lastly, have a form somewhere on every page of your website where the guests can put in their name, email, and phone number. This form can be for customers to leave questions and comments. Keep the form simple and easy to use. Typically, you will want to put the form link in the footer next to your logo and contact information.
Be Careful with Social Media Integration
Social media is an easy way to attract customers to your website but once they are on your page you don't want them to leave or be distracted. When integrating your website with your social media accounts, you want to bury your links on the page in order to keep people on your site. Once someone leaves the site to look at your social media, it is easy for them to get distracted with notifications, messages, and other content on their own social media accounts. Try to limit social media icons, especially on the homepage and guests will be more likely to stay on your website.
Navigating Your Website
For a bar website, you should have certain tabs listed along the top navigation bar. These include, home, about us, menu, events, contact us, and order online. Be sure to make your navigation easy to use. You want your customers to get back to the homepage as easily as possible and not have to click back through multiple pages in order to reach it.
Ordering Online
The COVID-19 pandemic has more than doubled online food ordering and delivery. If ordering online is now a major part of your business, then you want this tab to stand out more than others. Making this button stand out can be done by adding a special color or font. You can also integrate ordering online into your menu tab. Have an area on your menu where the customer can click to easily access the order online page. Having a couple different options for people to order online can help you lock the customer in your website and have them place an order.
Making your responsive website easy to use will keep your customers on your page longer and inform them of the special deals you are promoting at any given time. By keeping your site simple, customers will not be distracted and lose focus on why they decided to look at your webpage in the first place. Following these simple steps in designing your bar's webpage will help you attract more customers.
By Steve Comer, the President/Owner of Split One Technologies, a web-based software development company in Tempe, Arizona focused on website development, search engine optimization, and internet marketing. Comer has designed thousands of websites for businesses in a myriad of industries across the United States.