Today, two states announced COVID-19 vaccine eligibility for foodservice workers.
New York
New York Governor Cuomo recently announced that given the state's increase in COVID-19 vaccine doses, he is granting localities the flexibility to add restaurant workers to the 1B vaccine prioritization group.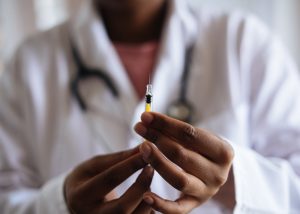 "We're in a footrace to vaccinate the entire eligible population while continuing to keep the infection rate low," said Governor Cuomo. "We're moving heaven and earth to administer as many doses as possible, but on a global level we are experiencing high demand and scarce amounts of the vaccine. We have much more distribution in place than we have supply, and as soon as we have more doses from the federal government we can get those shots in the arms of New Yorkers as quickly and fairly, while continuing to make sure the communities hardest hit have access to and trust in the vaccine."
Reactions to this announcement have been unsurprisingly enthusiastic. "Since COVID-19 struck New York City, restaurant workers have been heroes on the frontlines interacting with the public to sustain our city's food supply, feeding our most vulnerable populations, and helping maintain some sense of normalcy in our communities by offering limited dining options," said Andrew Rigie, executive director of the NYC Hospitality Alliance. "Restaurant workers have been essential to our city during the pandemic, and we applaud Governor Cuomo for expanding vaccine 1B eligibility requirements to include them. The NYC Hospitality Alliance is committed to advocating for our industry, and is ready and willing to support vaccine education and outreach to the restaurant community immediately upon its availability to these essential workers."
In another piece of good news for New York bars/restaurants, Governor Cuomo also recently announced that he will lift the ban on indoor dining starting on Valentine's Day, Sunday, February 14.
New York restaurant workers seeking to check their eligibility and schedule an appointment can visit the state's Am I Eligible page.
Michigan
Detroit, Michigan restaurant workers are also eligible to receive the vaccine as Detroit Mayor Mike Duggan announced a major expansion for those in the city eligible for the COVID-19 vaccine. Those eligible will now include any employee who works or lives in the city that works in grocery stores, restaurants, or any food/beverage industry.
Detroit food workers can schedule a vaccine appointment by calling 313-230-0505.