In response to rising COVID-19 numbers, New York Governor Andrew Cuomo shut down indoor dining in New York City for two weeks starting Monday, December 14. He warned that a widespread shutdown is imminent if the numbers don't turn around.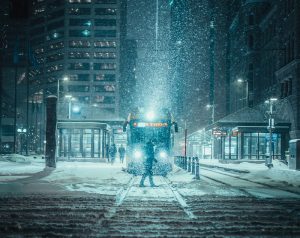 Restaurants will be allowed to continue serving guests via outdoor seating and takeout. However, with a winter storm bearing down on the city midweek, even outdoor dining won't be viable for at least a day or two.
The New York City Department of Sanitation issued a "Snow Alert" on Monday, December 14 that will take effect on Wednesday, December 16 at 2 p.m. since 8 or more inches of snow is expected.
During the Snow Alert, outdoor roadway dining must close by 2pm on December 16 and remain closed until the City notifies restaurants that they can reopen the seating. Given the current forecast, the Snow Alert is expected to be lifted Thursday night, but that could push into the morning of Friday, December 18.
At this time, the City is not asking that restaurants remove any barriers or structures for roadway dining. The Advisory did provide some guidance for restaurants during the Snow Alert, however:
Diners may not sit in roadway setups. Restaurants should remove or secure any tables and chairs in the roadway.
All electrical heaters in roadway must be removed.
If possible, restaurants should remove any overhead coverings, or regularly remove the snow from overhead coverings until the snow alert ends.
Additional preparation information can be found here.
Losing indoor dining is a blow to many area restaurants. Losing outdoor dining as well—even for just a few days—adds to an already difficult situation in a state where the restaurant industry is facing some of the worst circumstances in the country.
According to a recent survey released by the New York State Restaurant Association, 54% of New York restaurants said they would likely not survive the next six months without federal relief, compared to 37% percent of restaurants nationwide.
New York City is far from alone in shutting down indoor dining. Certain counties in California and Maryland, the city of Chicago, and the entire state of Pennsylvania are just a few of the places also temporarily hitting pause on indoor dining as cases continue to surge around the country.