The Balvenie Single Malt Scotch Whisky announces the release of the seventh bottling in the coveted and highly collectable Tun 1509 series.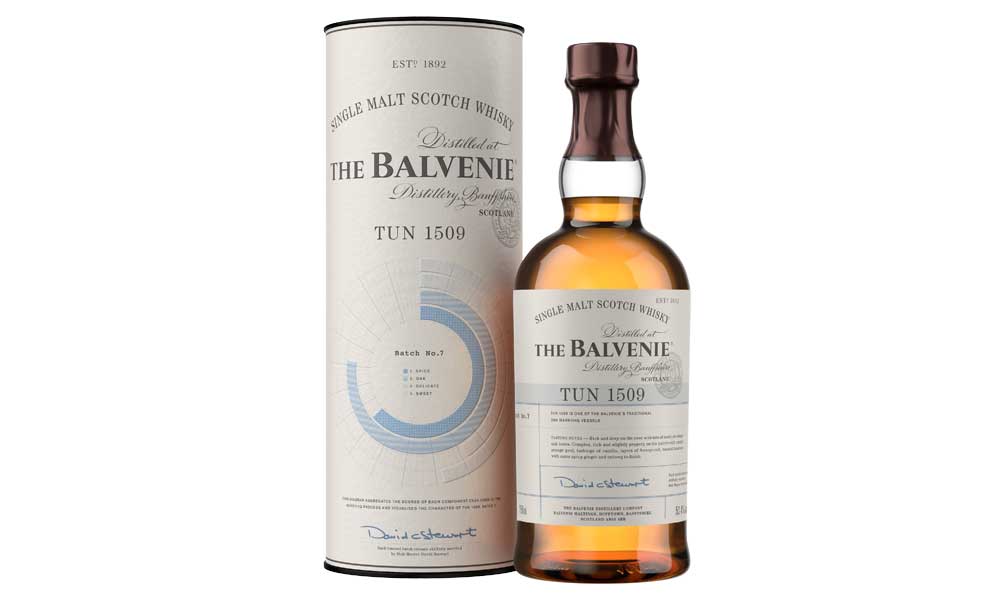 Following in the footsteps of batches 1 through 6 of The Balvenie Tun 1509, Batch 7 – a non-chill filtered whisky, bottled at 52.4% ABV – brings to life David Stewart MBE's 58-years' worth of experience and art of whisky stock management through an expression of exemplary quality and character.
To produce Batch 7 of Tun 1509, Stewart continued his exploration of the Speyside distillery's aged and precious stocks to find 21 unique casks to marry in the Tun, which is maintained by the distillery's team of on-site coopers and sits proudly in Warehouse 24. The liquid was left to marry for three months before being bottled at the distillery. This rare technique creates the perfect environment for the different casks to 'knit' together, allowing each of their composite qualities to mix and create a unique single malt Scotch whisky which is more than the sum of its constituent parts.
"The Tun 1509 series has been hugely popular with whisky enthusiasts over the years and I'm in no doubt that this expression will receive a similar response," says Stewart. "Batch 7 showcases this remarkable liquid resulting in a deep and rich Balvenie. It is intensely spicy with sweet aromas of dried fruits, notes of candied orange peel, golden syrup and honeycomb on the palate."
Launching across the United States this month, The Balvenie Tun 1509 Batch 7 is comprised of liquid from Sherry Hogshead, Ex Bourbon American Oak Barrels and DoubleWood Refill Sherry Butts, which were used once to finish DoubleWood before being filled with New Make and aged.
Every bottle of Tun 1509 Batch 7 comes with a breakdown chart showing in-depth detail on the whisky, with visual representations of the flavor profile of each of the 21 casks and the overall character of the resulting single malt.
Batch 7 of Tun 1509 will be available from October 2020 onwards at an SRP of $409.99.
The Balvenie Tun 1509 Batch 7 tasting notes:
Nose: Rich and deep, lots of exotic and elegant oak notes, followed by sweeter aromas of dried fruits raisins and dates, then a spicy outburst of ground ginger and some melted brown sugar.
Taste: Rich and lush and slightly peppery with candied orange peel, lots of oak vanilla, some golden syrup, layers of honeycomb, toasted hazelnuts with some spicy ginger and nutmeg to finish.
Finish: Sweet and malty with oak vanilla and spices.