Ten To One, the premium Caribbean rum brand from proud Trinidadian Marc Farrell, unveils its first-ever Reserve — a limited-edition expression sourced from four hand-selected casks of 17-year-old Trinidadian rum ($150). Serving as an homage to Marc's birthplace, Ten To One Reserve encapsulates his deep appreciation for his cultural roots and challenges expectations of what a luxury spirit can be.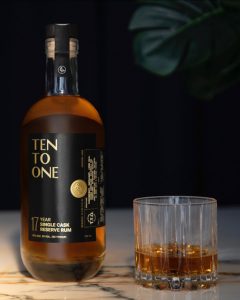 CARIBBEAN MADE
Aged in ex-bourbon American oak barrels, Ten To One Reserve contains notes of pawpaw, passion fruit, ginger and apricot, evoking a savory fruit and flower medley reminiscent of the Caribbean. Designed to stand effortlessly on its own, the rum has a refreshing acidity and textural fullness in body, and like Ten To One's extra-proof white and aged dark rums, contains no additives of any kind.
RUM REIMAGINED
Born and raised in Trinidad, Marc attended MIT at age 16, followed by Cambridge University and Harvard Business School, before joining Starbucks as its youngest VP. He always noticed a discrepancy between how rum is regarded in the U.S. vs. the Caribbean, often relegated to trope-ish narratives, fictional themes and sugary cocktails. Propelled to create a product that genuinely reflected his heritage and a contemporary view of the Caribbean, Marc launched Ten To One in 2019, showcasing rum's versatility by appealing to everyday occasions and food pairings.
Ten To One Reserve is available at select spirits retailers and online at shoptentoone.com ($150) with a limited supply.