Templeton Rye Whiskey announces Templeton Rye Maple Cask Finish Whiskey , the first limited-edition expression in their innovative Barrel Finish Series. In collaboration with Wood's Vermont Syrup Company, Templeton Rye Maple Cask Finish has been expertly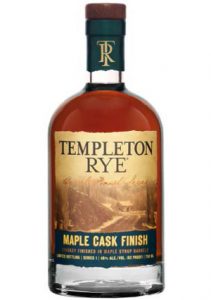 finished in ex-Templeton Rye American Oak barrels that were specifically seasoned with the finest Maple Syrup, resulting in a whiskey beautifully balanced between subtle tones of sweetness and Templeton's complex notes of rye spice.
"We were delighted to work with the family at Wood's Vermont Syrup Company for our Maple Cash Finish Rye Whiskey, the first limited-edition expression in our Barrel Finish Series," said Tim Grimes, Brand Ambassador of Templeton Rye. "As they were the first company in the Northeast to ever barrel age Maple Syrup and have that process down to perfection, we felt they were the perfect fit for us on this project."
To make this authentic Maple Cask Finish Whiskey, fresh maple syrup was produced and shipped from the Vermont farm to the Iowa distillery, where the Templeton team then seasoned 80 empty Templeton barrels with the premium Maple Syrup. To ensure the required influence on the wood, the barrels were then turned daily for a two-month period to allow the syrup to soak into the wood staves and maximize the flavors that would later be imparted into the whiskey during the secondary maturation period.
After the maple syrup is removed, the barrels are then filled with Templeton Straight Rye Whiskey and left for an additional maturation period of two months. The resulting expression is a whiskey with new, elegant notes of dark chocolate enhanced by the time in maple syrup barrels.
Templeton Rye Maple Cask Finish is available in limited quantities, producing a total of 4,000 cases of six for the global market, at a suggested retail price of $34.99-39.99 for a 750ml bottle, depending upon region. It is bottled at 46% ABV (92 proof) and can be enjoyed neat or on the rocks, and beautifully enhances your classic rye cocktails.