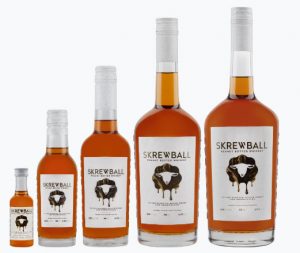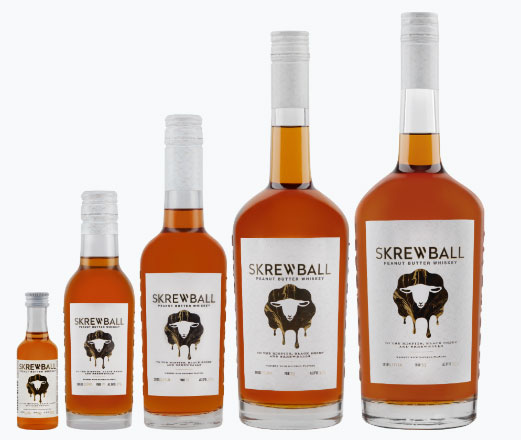 On the eve of its first full year of national distribution, Skrewball Peanut Butter Whiskey introduces new bottle size offerings, adding 200mL, 375mL and 1L custom replica glass bottles to the lineup, which also includes the standard 750mL and 50mL sizes. Showcasing a massive 3800% sales growth in the last three months, Skrewball Peanut Butter Whiskey recognized the increasing demand for varying bottle sizes and acted. The new line of five bottle sizes ensures the brand remains top of mind among competitors and provides options for consumers at multiple price points.
Launched in San Diego in July 2018 by husband and wife duo, Steven Yeng and Brittany Merrill Yeng, Skrewball Peanut Butter Whiskey is the only certified women-owned and disability-owned alcohol brand in the United States. After instant success locally, the brand partnered with Infinium Spirits in 2019 to grow on a national scale and was available in all 50 states by the end of the year. In 2020, Beverage Information & Insights Group named Skrewball Peanut Butter Whiskey one of the fastest growing whiskey brands after showing unprecedented growth of more than 500% the previous year. The brand has also earned several awards, including Best of Class in the 2019 SIP Awards and a Double Gold Medal for Best Flavored Whiskey in the 2018 and 2019 New York World Wine & Spirits Competition.
"We've seen exponential demand for Skrewball Peanut Butter Whiskey in the last six months and we knew the next step in our continued growth was to add new bottle sizes to our offering," said Carl Carlson, President of Skrewball Peanut Butter Whiskey. "Not only are the small bottle sizes growing for super premium propositions, but we've seen consumers gravitating to these sizes based on our community's lifestyle and wide range of consumption occasions. It helps promote trial to create greater brand awareness."
Skrewball Peanut Butter Whiskey is made with premium ingredients and has a smooth, nutty flavor. It can be enjoyed on the rocks or part of a premium cocktail, several of which can be found on the company's website.
"We're humbled by the support we've received from the Skrewball community over the past few years and the launch of these new bottle sizes showcases yet another step in the development of our company," said Brittany Merrill Yeng, Co-founder of Skrewball Peanut Butter Whiskey. "We believe these new sizes will be great portable options for people who know and love the brand."
"We could have never dreamed of this success when we started as just a mom and pop business in a beach town in San Diego," added Steven Yeng, Co-founder of Skrewball Peanut Butter Whiskey. "We're thrilled to be launching expanded options to our product line and are confident our community will enjoy the new ways to taste our premium quality ingredients. We look forward to continued growth as we enter our next year in business."