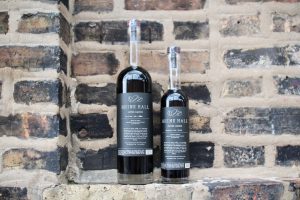 Located just west of Chicago's Fulton Market neighborhood, Rhine Hall (2010 W. Fulton Street) is Chicago's exclusive fruit brandy distiller. The family-owned distillery was founded in 2012 by father-daughter duo, Charlie Solberg and Jenny Solberg Katzman.
The family's involvement with distilling was sparked from their time living in Europe during Jenny's childhood, where they were exposed to local spirits. This passion for distilling followed them home to Chicago, where they would experiment making brandy in
their backyard. Helmed by Jenny, she has transformed her family's passion for distilling into a business. Seven years later, Rhine Hall makes more than a dozen products, which are available in more than 300 retailers, bars and restaurants in Illinois, New York, California, Colorado, Wisconsin, Utah and most recently, Washington D.C and Minnesota.
Arguably its most interesting project to date, Rhine Hall's Coffee Liqueur was originally born out of a partnership with award-winning Alinea in early 2019. It's made from hand-picked coffee beans, slowly infused vanilla beans, and a fruit brandy base, predominantly
Barrel Aged Pineapple Brandy.
The juxtaposition of sweet vanilla and acidic beans creates a balanced, yet dynamic sip. Until recently, the Coffee Liqueur was only available at Alinea and The Aviary.
As of this fall, Rhine Hall's Coffee Liqueur is now available at their tasting room and major retailers, including Binny's Beverage Depot (Chicago) and Independent Spirits (Chicago) and Astor (Manhattan). The cost of Coffee Liqueur is $25-30/375ml and $45-50/750ml.
In addition to the Coffee Liqueur, Rhine Hall has continued to develop other exciting new products, such as:
Barrel Aged Pear Brandy
Launched in October 2019, pears sourced from Michigan helps achieve a silky, aromatic experience with a juicy, ripe finish.
The 3-Year aged Bourbon County Stout Bierschnaps
Slated to launch alongside Goose Island's annual Bourbon Stout release at Binny's Beverage Depot on Black Friday, this year's Bourbon County Stout Bierschnaps
integrates specialty stout beer that is distilled into a clear, 80-proof spirit. A sip of this liquor provides a boldness in both alcohol content and flavor.
Rhine Hall's new products highlight a creative expansion on an already revered selection
of spirits.. Some notable current products include:
Apple Brandy
Each batch uses up to eight varieties of apples from local farms in Southwest Michigan. A mix of sweet, bittersweet and tart apples lends a consistent and balanced product.
Barrel Aged Apple Brandy
The original Apple Brandy is aged for up to 12 months in new American oak barrels. The blend of toasted and charred barrels help preserve apple aroma and taste while bringing in more wood and baking spices.
La Normande
La Normande, an American-style Pommeau, is made with Apple Brandy and fresh pressed
apple cider. The product is then aged in bourbon barrels for roughly nine months, creating a rich apple cider taste.
Mango Brandy
The most aromatic of their menu of spirits, the Mango Brandy is an extremely bright and tropical product.
Rhine Hall was founded upon the Solbergs' love for eau de vie. Also known as fruit brandy
and schnapps, these spirits are entirely made of fruit. Due to the similarity of climates in Austria and Chicago, Rhine Hall is able to source the majority of their fruit from the Great Lakes Region, without sacrificing the flavor's authenticity. Since the products are made with fresh fruit and without any added flavorings, sweeteners or neutral spirits, it takes roughly 25 pounds of fruit to make each bottle. Eau de vie isn't sweet but, instead, embodies the essence of the fruit in both taste and aroma.
Rhine Hall's brick and mortar location features a production facility and immersive experiences in their tasting room, including tours, private events and classes. Rhine
Hall's tasting room is open Wednesdays, Thursdays and Fridays from 4:30pm until 9pm,
and Saturdays 2pm until 7pm.
Photo: Ellen Evangelides