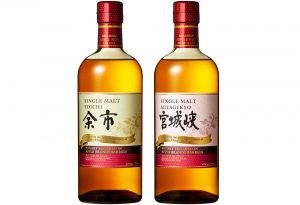 For more than 80 years, apples have persisted as a symbol of promise for what has evolved into one of Japan's leading whisky makers, Nikka. Known for mastery in blending, Nikka has released a pair of limited edition single malts finished in apple brandy barrels: Yoichi Single Malt Whisky Finished in Apple Brandy Barrels (40% ABV; $249.99 SRP) and Miyagikyo Single Malt Whisky Finished in Apple Brandy Barrels (40% ABV; $249.99 SRP). Imported by San Francisco's Hotaling & Co. and produced to commemorate the 100th wedding anniversary of Nikka's founder Masataka Taketsuru and his Scottish wife Jessie Roberts "Rita" Cowan, who were married in 1920, these whiskies will be available for purchase at select retailers beginning September 2020.
The Apple Brandy Finish whiskies represent the beginning of Nikka's story, which started with an apple orchard on the island of Hokkaido, Japan. While Mastataka waited for the first whiskies to mature, it was apples that sustained Nikka's business in its early years. The company produced various products made from local Hokkaido apples, including apple juice, apple jelly, apple sauce, and apple wine. In fact, Nikka was initially established in 1934 as "Dai Nippon Kaju" – The Great Japanese Juice Company – before launching the first Nikka Whisky in 1940 and officially changing the company name to Nikka Whisky in 1952. To this day, apples are often associated with Rita to pay homage to the way she supported Masataka, just as apples supported Nikka.
Yoichi Apple Brandy Finish is produced at Nikka's first distillery in Japan's northern island Hokkaido and is aged in various casks including new American oak and sherry casks. The sweetness from the apples highlight the pear and gentle peaty notes. By comparison, the Miyagikyo Apple Brandy Finish is produced at Nikka's second distillery Miyagikyo, located in Sendai, in the northern part of Japan's main island. Aged in mainly new American oak, ex-Bourbon barrels, and sherry casks, with the sherry casks providing a dominant flavor component, the whisky contains notes of apple honey, sage, and vanilla. Both expressions are distilled from 100% malted barley, finished in carefully selected Nikka apple brandy casks for over six months, and are non-chill filtered to enhance the delicate aroma from the casks and maximize the rich flavors of the whiskies.
"The marriage of Masataka and Rita means a lot for us as it is the prologue of Nikka Whisky, prior to the foundation," says Emiko Kaji, Nikka Whisky international business development manager. "For this anniversary, we came up with the idea to release something special using our assets of apple products symbolizing Rita. These whiskies showcase the elegant effects of apple brandy wood finish, in addition to the beautiful contrast between Yoichi and Miyagikyo."
"We're honored to celebrate this significant anniversary and share the story of two Japanese whisky icons and their mark on whisky history," says Hotaling & Co. CEO and President Dan Leese. "Nikka returns to its origin with this pair of limited release single malts, and it is exceptional whiskies such as these that make Hotaling & Co.'s portfolio of artisanal world whiskies unrivaled."
The Nikka range also includes the newly released Nikka Days (40% ABV, $50 SRP), an elegant whisky for everyday drinking occasions; Nikka From The Barrel (51.4% ABV, $65 SRP), named the 2018 Whisky of the Year by Whisky Advocate; Nikka Coffey Malt Whisky (45% ABV, $75 SRP), the malted barley whisky distilled in a column still; Nikka Taketsuru Pure Malt (43%, $80 SRP) ABV, a combination of whisky from both Nikka distilleries: Yoichi and Miyagikyo; Nikka Coffey Grain Whisky (45% ABV, SRP $70), an elevation of the style of whisky that is more typically used for blending and rarely bottled on its own, and Nikka Coffey Gin (47% ABV, $50 SRP) and Nikka Coffey Vodka (40% ABV, $45 SRP) which arrived stateside in 2017.
The Apple Brandy Finish whiskies will be distributed in California, New York, Texas, Illinois, Massachusetts, Florida, Colorado, Washington State, and Tennessee.