Fruit Smash Hard Seltzer is a ridiculously refreshing seltzer made with real fruit juice, which means real color and bold fruit flavor, while still just 100 calories to prove that low cal doesn't need to be lame. Produced by New Belgium Brewing and weighing in at 4.7% ABV each, Fruit Smash Hard Seltzer is here so you can say bye to your basic seltzer and Smash instead.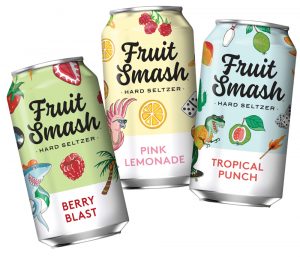 Fruit Smash Flavors
● Pink Lemonade: Brings refreshing notes of lemon and raspberry. Light and bubbly, this light pink seltzer is a thirst-quenching offering.
● Tropical Punch: Big notes of tropical juiciness like mango and tangerine. Golden in color, this is an easy-drinking seltzer with a crisp finish.
● Berry Blast: A splash of strawberry, raspberry and cherry notes. This pink beauty is light and spritzy.
Fruit Smash is available at $14.99 – $15.99 USD for a variety 12-pack depending on your location.
"New Belgium is thrilled to expand into the growing hard seltzer category with the launch of Fruit Smash," said New Belgium CEO Steve Fechheimer. "Our first-ever hard seltzer offering addresses the need for a seltzer that stands for ingredient transparency and bold, natural flavor—something we know consumers are looking for and excited to enjoy."
Why Should You Smash?
● Real, simple ingredients that aren't so basic : Unlike your mom's boring seltzers with preservatives and artificial ingredients you can't pronounce, Fruit Smash is made with real fruit juice and natural flavors, including raspberry juice, mango juice and lemon juice not from concentrate. Leave the funky aftertaste behind!
● Better for you with no BS: Fruit Smash is gluten-free with only 100 calories, 1-2 grams of carbs and zero added sugar, so you can enjoy guilt-free.
● Beer sleeve-friendly: Fruit Smash is packed in a normal 12 oz. can, making it one of the few seltzer brands that can actually fit into one of those beer sleeves.