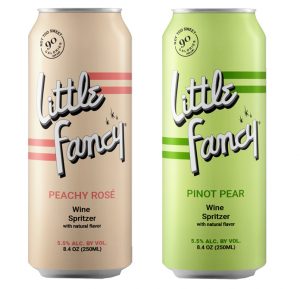 Since its New York release in 2018, Little Fancy has quickly started a buzz as a premium standard for the beer alternative market. As the demand for low sugar, low alcohol content sparkling drinks has increased dramatically over the last two years, so has the demand for Little Fancy's two spritzers, Peachy Rosé and Pinot Pear.
Crisp and refreshing, not heavily sweetened like the wine coolers of the 80's, Little Fancy comes in beautifully designed retro-chic Instagram friendly cans.
The Company was founded in 2017 by Grant Smolen, a veteran hairstylist in LA/NYC, when he saw an opening in the adult beverage industry that wasn't addressing the needs of the emerging health and image conscious consumer. Convenient like a beer, yet elegant and sophisticated like a sparkling wine, Little Fancy's Spritzers are made with a pairing of naturally flavored sparkling water and curated wines.
Containing only 90 calories, 4g of sugar and 5.5% ABV, Little Fancy has proved itself to be a premium to other malt liquor-based beer alternatives like Truly and White Claw.
"We are really excited to have seen this category grow with such excitement this past summer," said Grant Smolen, Chief Executive Officer of Little Fancy. "If hard seltzers, which didn't exist three years ago, can outsell most beers on the market, Little Fancy has an opportunity take these new trends and offer an affordable luxury option."