Bully Boy Distillers announces the release of The Rum Cooperative Volume Two , a rich and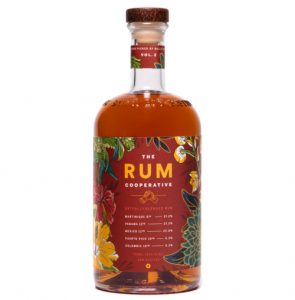 exotic spirit comprising super–premium rums sourced from five prominent rum-making regions – Martinique, Panama, Mexico, Puerto Rico, and Colombia.
The latest addition to The Rum Cooperative lineup, the spirit is an exceptional blend of distinct yet harmonious flavors that emphasize the superior qualities of each rum. As an extension of the Bully Boy Distillers portfolio, the second volume further amplifies co-founders Will and Dave Willis' fascination with how rum flavors vary by region and their passion for capturing the different flavors with a compelling expression of their own.
"Since releasing our award-winning Volume One this past spring, we are thrilled to add a new and distinct blend to The Rum Cooperative collection," said Will Willis, co-founder of Bully Boy Distillers. "Volume Two has a higher proof, and also includes some rhum agricole in the blend making it great for mixing in cocktails. We hope folks have as much fun drinking it as we had making it."
To complement the rich and earthy notes of Volume One, Volume Two evokes floral and fruity notes. A carefully crafted blend of eight to 12-year pot-stilled and column-distilled rums, the addition of Martinique rum creates a highly perfumed and complex flavor profile, while Mexican rum aged in used Brandy casks rounds out the blend with a robust flavor. The rum also features notes of toasted almonds, coconut, stone fruit and brown sugar, which enhance the aromas. The bottle's vibrant label, which contains illustrations of the national flower of each region represented in the blend, further highlights the brightness and complexity of the spirit.
"Our growing rum portfolio allows us to continually experiment and push the envelope when it comes to crafting unique, compelling and exciting spirits," said Dave Willis, co-founder and head distiller of Bully Boy Distillers. "Not only have we created a balanced blend of rums that work together harmoniously, but we also highlight the flavors and aromas that each distinct rum brings to the table. We're excited for rum fanatics and curious imbibers to enjoy what we've discovered."
Priced at $34.99 SRP for a 750ml bottle, The Rum Cooperative Volume Two is 42% alcohol by volume and joins Bully Boy's diverse portfolio of handcrafted spirits at restaurants, retailers and bars in Massachusetts beginning November 2019 and throughout the entire Bully Boy footprint in Rhode Island, Connecticut, New Hampshire and Maine by early 2020.